Cimabue Masterpiece Found in Woman's Kitchen Sells for Over $26 Million—$20 Million More Than Expected
A long-lost masterpiece dating back to the 13th century sold for over $26 million at auction on Sunday, just months after it was discovered in an elderly French woman's kitchen.
Christ Mocked, by the Italian painter Cimabue, was sold for $26.8 million at an auction in Senlis, France, reports CBS News.
The painting's hefty price tag far exceeds the $6.5 million it was expected to sell, as per a pre-auction estimate in September.
The pre-Renaissance artwork had previously been in hanging in the kitchen of a French woman in the town of Compiègne, near France. The owner had no idea of the work's provenance or its value.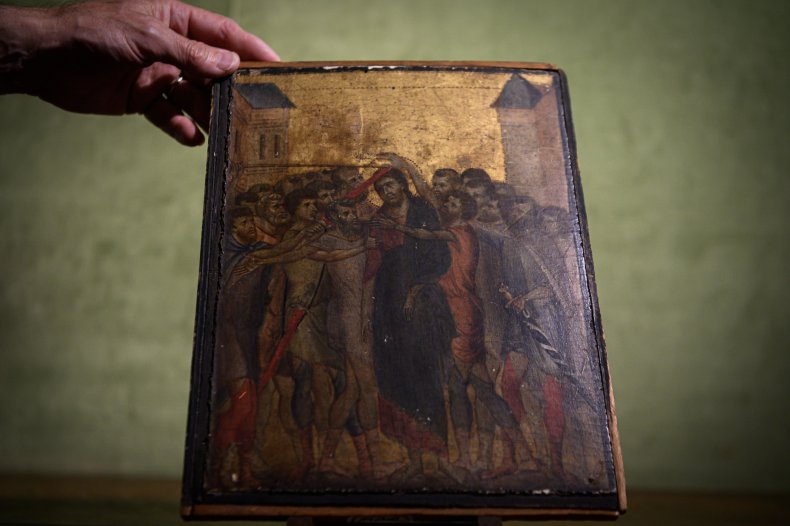 The woman had it valued, believing it was an old religious icon. Infrared testing conducted on the work determined that it was painted by Cimabue, also known as Cenni di Pepo, who was active until his death in 1302.
Jerome Montcouquil, who works for French art specialists Cabinet Turquin, which carried out tests on the painting, said it became apparent quite quickly that the owner was in possession of a special piece of work.
"It didn't take long for us to see that it was an artwork by Italian painter Cimabue. He's a father of painting so we know his work very well," Montcouquil told CNN prior to the sale.
Christ Mocked, which is 10 inches by 8 inches, is believed to be a panel from a larger piece of work—a polyptych in art terms—that depicts Christ's passion and crucifixion. It is dated to 1280.
Two other panels from the same polyptych are currently on display in galleries around the world. The Flagellation of Christ is in the possession of the Frick Collection in New York, while The Virgin and Child with Two Angels was acquired by the National Gallery in London. The latter was discovered in 2000 in the ancestral home of a British aristocrat in the county of Suffolk.
"They are all made with the same technique on the same wood panel so you can follow the grain of the wood through the different scenes," Montcouquil told CNN. "We also used infrared light to be sure the painting was done by the same hand. You can even see the corrections he made."
Cimabue is believed to have been the teacher of painter Giotto, one of the most famous artists of the Italian Renaissance era.
Other Cimabue works on display around the world include the Maestà, which is showing at the Louvre in Paris, and the Maestà of Santa Trinita, part of the Uffizi Gallery in Florence, Italy.