Judge Says 'It's Not Racial Profiling' to Call ICE If Defendants 'Speak Spanish' and Are Charged With Carrying Drugs
A Hamilton County judge in Cincinnati has defended calling the U.S. Immigration and Customs Enforcement (ICE) agency on defendants he suspects of being undocumented immigrants, claiming "it's not racial profiling."
Speaking to WCPO-TV, an ABC-affiliated local television station, Common Pleas Court Judge Robert Ruehlman said he calls ICE at least "10 to 20" times a year when he suspects a defendant of being in the U.S. undocumented.
"I call ICE in a minute. I have no problem calling ICE," he told WCPO.
"I do not think every judge does that," Ruehlman acknowledged. In fact, he said: "I think I'm the only judge that does that, but I do. I think it's important."
The Cincinnati judge suggested that if a person speaks Spanish and has been charged in connection to drugs, that may be enough for him to give ICE a call.
"They speak Spanish, they're charged with carrying a lot of drugs, and they're not from here. It's pretty clear they're illegal immigrants, you know, and if it turns out they are a citizen, then there's no harm, no foul," he said.
His system, Ruehlman claimed, is "not racial profiling. It's just common sense."
In cases where his supposed hunch turns out to be right, the judge told WCPO: "I call them. I say, 'I think we have an illegal immigrant here.' And they confirm it. I give them the name and birth date and where they're from. They run them. They say, 'Yeah'."
"Then they go to the jail and they put a holder on them," the judge said, referring to a request preventing someone from being able to make bail before their trial. "But I resolve my case first and send them to prison on my case first and usually they let them serve their sentence and then they get them out of prison," he said.
Ruehlman's comments come as ICE continues to face scrutiny over its courthouse arrests, which immigration advocates have warned will have a chilling effect on undocumented immigrants feeling safe to report crimes.
In a 2018 survey conducted with the National Immigrant Women's Advocacy Project, the American Civil Liberties Union (ACLU) said it found that the presence of ICE agents at courthouses had created deep insecurity and fear within immigrant communities, preventing people from feeling safe to visit court or even call the police in times of need.
The survey, which included responses from 232 law enforcement officers across 24 states, 103 judges in 25 states, 50 prosecutors across 19 states and 389 survivor advocates and legal service providers across 50 states, found that immigrants were less likely to make police reports and work with prosecutors in the wake of ICE's crackdown at courthouses under the Trump administration.
According to the ACLU, "22 percent of police officers surveyed reported that immigrants were less likely in 2017 than in 2016 to be willing to make police reports; 21 percent said immigrant crime survivors were less likely to help in investigations when police arrived at the scene of a crime; 20 percent reported that they were less likely to help in post-crime scene investigations; and 18 percent said immigrant crime survivors were less willing to work with prosecutors."
Further, the organization said, "67 percent reported an impact on police ability to protect crime survivors generally and 64 percent reported an adverse impact on officer safety," while "more than 50 percent of police surveyed said domestic violence, human trafficking, sexual assault crimes are now harder to investigate because immigrant crime survivors are afraid to seek assistance."
Nearly 55 percent of judges participating in the survey also said that court cases had been interrupted due to an immigrant crime survivor's fears over attending court.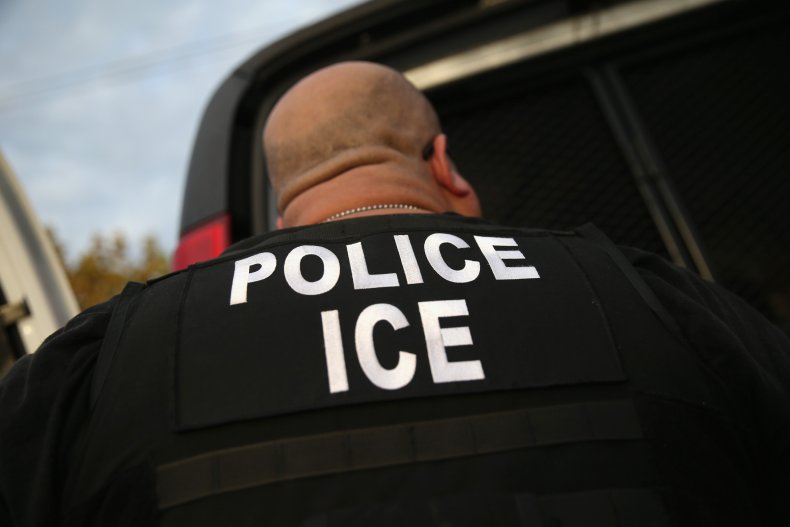 "Courts can't operate fairly or effectively when people don't feel safe coming forward," the ACLU has said. "When the federal government insists on conducting immigration arrests in courthouses, it is harder for prosecutors, police, public defenders, and judges to do their job. This tactic, by instilling fear and essentially excluding noncitizens and their relatives from the courts, threatens constitutional rights, like equal protection and due process, as well as the safety of the broader community."
In his interview with WCPO, Ruehlman maintained that he did not believe his decision to work with ICE was damaging to the court process.
"That's never even come up," he said. "That's just a red herring thrown in by the people against it who think that we should allow people that are here illegally to stay. I don't think they should."