Ohio Police Officer Who Allegedly Used Racial Slur While Arresting Black Woman Suspended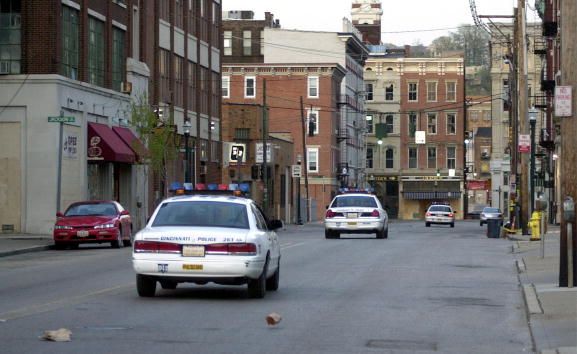 A white Cincinnati police officer was suspended for allegedly using a racial slur while arresting a black woman.
Officer Dennis Barnette of the Cincinnati Police Department was suspended on Wednesday for allegedly using a racial slur while attempting to arrest a black woman following an incident at the Brownstone Nightclub in Roselawn, Ohio, on Saturday, the Cincinnati Enquirer reported.
In an email obtained by the publication, Cincinnati Police Chief Eliot Isaac wrote to City Manager Patrick Duhaney that the use of the racial slur can be heard on Barnette's body camera.
"This type of behavior is unacceptable and will not be tolerated inside the department," Isaac wrote.
Isaac wrote in the email obtained by the Cincinnati Enquirer that Barnette was responding to a call at the nightclub to help control traffic and deal with parking complaints on Saturday night. While he was responding, the officer attempted to arrest a black woman who then pushed him.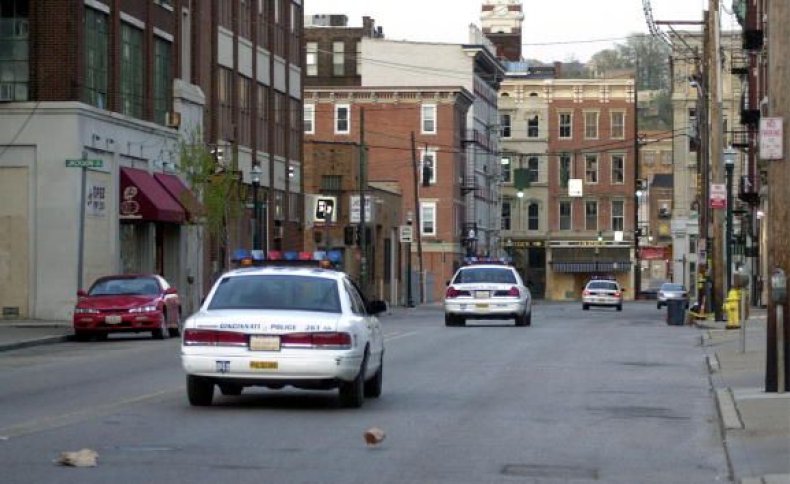 "Subsequent to the incident, Officer Barnette is clearly heard on a nearby Officer's Body Worn Camera using a racial slur…(the "N" word)," Isaac wrote, according to the emails obtained by the publication.
Barnette has been suspended and placed on desk duty, according to the Cincinnati Enquirer. In an email to city officials obtained by the publication, Duhaney called the officer's actions "unacceptable."
"I share Chief Isaac's concerns regarding this matter," Duhaney wrote in his email, according to the publication. "It is unacceptable and not in line with the standard of conduct we expect from city employees."
In response to the allegations, the Cincinnati NAACP said it was investigating the matter.
"CPD Officer Dennis Barnette, allegedly called a female the N-word while responding to a call. This is unacceptable and he needs to be told, resign or be terminated," the group wrote on Facebook on Thursday. "His true feelings slipped out and he doesn't need to continue policing in the community. He is currently on desk duty. We are investigating."
Barnette was awarded the department's Award for Exemplary Conduct in 2014, according to a police memo obtained by the Cincinnati Enquirer. The honor is given to department members who show professionalism and lead an example for other officers.
Earlier this year, a Cincinnati Police officer violated the department's use of force for using a Taser an 11-year-old girl who was accused of shoplifting from a grocery store. Officer Kevin Brown confronted the girl and two of her friends at the Kroger grocery store for allegedly stealing more than $50 in clothing and food. He reportedly tasered the girl when she tried to run away, KPRC previously reported.
During the arrest, Brown, who was working theft prevention detail at the grocery store, made racially charged comments toward the black community while arresting the 11-year-old girl.
"You know, sweetheart, this is why there's no grocery stores in the black community, because of all this going on," Brown could be heard saying on his body camera, according to KPRC.