Cinco De Mayo 2020: Deals at Taco Bell, Chipotle and More
Cinco de Mayo, May 5, is a holiday celebrated in Mexico and the U.S.
The holiday, which honors the Mexican army's win against French forces led by Napoleon III in the Battle of Puebla in Mexico in 1862, was a symbol of Mexican resistance against foreign rule. From around the mid-20th century, the day has been more generally associated with celebrating Mexican national pride, culture and heritage.
The city of Puebla was later renamed Puebla de Zaragoza, in honor of Ignacio Zaragoza, the general who led the Mexican army in the battle. Today the city houses a museum tracing the history of the battle, while the battlefield itself has also been maintained as a park.
In Mexico, the day is celebrated in Puebla with parades, speeches and sometimes reenactments of the 1862 battle. The holiday also sees several promotions of Mexican food and alcoholic beverages in the U.S.
Here we look at some of the best deals and virtual events on offer to celebrate Cinco de Mayo.
Cinco de Mayo deals and events
Taco Bell, the Mexico fast food chain, launched its new At Home Taco Bar food deal on Friday, in time for Cinco de Mayo celebrations. The offer serves six people and includes "8 flour tortillas, 12 Crunchy Taco shells, 6 oz. of nacho chips, seasoned beef, shredded lettuce, refried beans, nacho cheese sauce, cheddar cheese, diced tomatoes, reduced-fat sour cream, Hot Sauce packets and napkins for $25," the company announced in a statement.
The company is also launching a series of recipe cards from the "Taco Bell Test Kitchen" which provides instructions on how to make Taco Bell's classic dishes as well as "Taco Bell-inspired cocktails and mocktails" such as the Taco Bell Wild Strawberry Tequila Sunrise. The recipe cards will be available on Taco Bell's blog from May 3.
Chipotle, another Mexican fast food chain, is offering a free Queso Blanco dish with the purchase of any entree on May 5 using the code QUESO55. It has also extended its free delivery for orders of $10 or more via the Chipotle app and Chipotle.com through May 10, the company confirmed in a statement.
Taco Molino, Mexican restaurant based in South Carolina, is offering a Cinco de Mayo drive-thru family meal deal for four to six people at $75 plus tax, the company confirmed on its official Twitter account.
Bartaco, the Mexican restaurant chain, is having an "all-day virtual cinco celebration" on May 5, hosted on the company's Instagram account.
The virtual Cinco de Mayo party will entail various activities including cooking demonstrations, crafts, a live online yoga class, live fitness session with Barry's Bootcamp, live DJ music sets and other "special surprises along the way," the company notes.
The company is also offering "cinco kit" food packages. Customers can choose from a "veggie kit or our carne kit + add margaritas or fresh marg mix for the group. Each kit includes 2 taco fillings (makes 16 tacos), 3 sides and salsa verde + chips," the company said on its Instagram account. Orders must be placed at the Bartaco website by May 4.
Bahama Breeze Island Grille, the American restaurant chain, is hosting a Cinco de Mayo Happy Hour Facebook Live event on May 5 from 5 p.m. (local time), featuring live music from Orlando artist Patrick Simpson, who will be taking song requests.
Customers can order a "Happy Hour Bundle" of drinks and a 15 percent discount on food orders using the code 106 at checkout via the restaurant's website. The discount is valid through May 17. Tax and gratuity are not included and the offer excludes alcoholic beverages.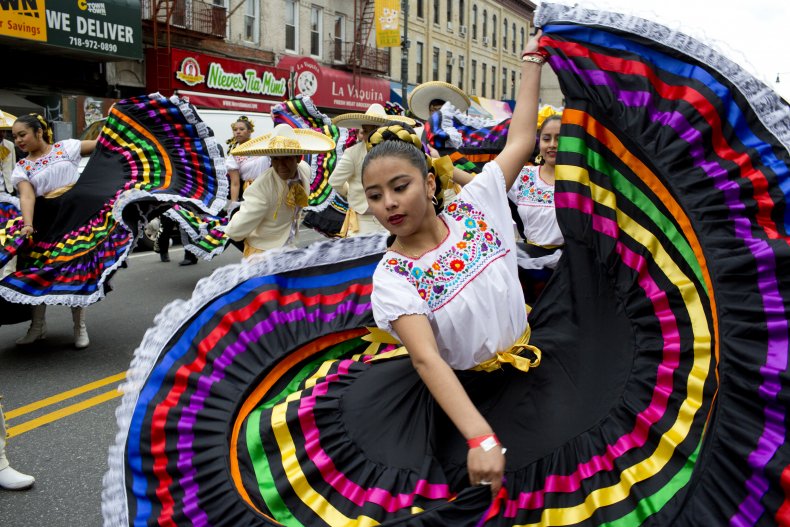 The supermarket chain Price Chopper is offering sales on various grocery items through May 5, including a $15 chicken meal for four, the company confirmed in a post on its official Twitter account.
The El Super grocery store at the Anaheim Plaza in Anaheim, California is also offering deals on "quality meats, fresh produce, grocery, drinks and more" through May 5, according to a post on its official Twitter account.
Newsweek has affiliate partnerships. If you make a purchase using our links, we may earn a share of the sale.