#CincoAtHome — 9 Ways To Celebrate Cinco De Mayo While Still Keeping 6 Feet Apart
Cinco De Mayo commemorates the Mexican army's win against French forces led by Napoleon III in the Battle of Puebla in Mexico in 1862. It is a symbol of Mexican resistance over foreign rule. Today, many connect it with celebrating the country's culture and heritage.
Even though the coronavirus pandemic prevents us from gathering to celebrate, there are still plenty of ways to do so and still keep 6 feet apart. From delicious recipes to brushing up on your Spanish, and even learning some traditional dances, you can make the most of the holiday in the safety of your own home.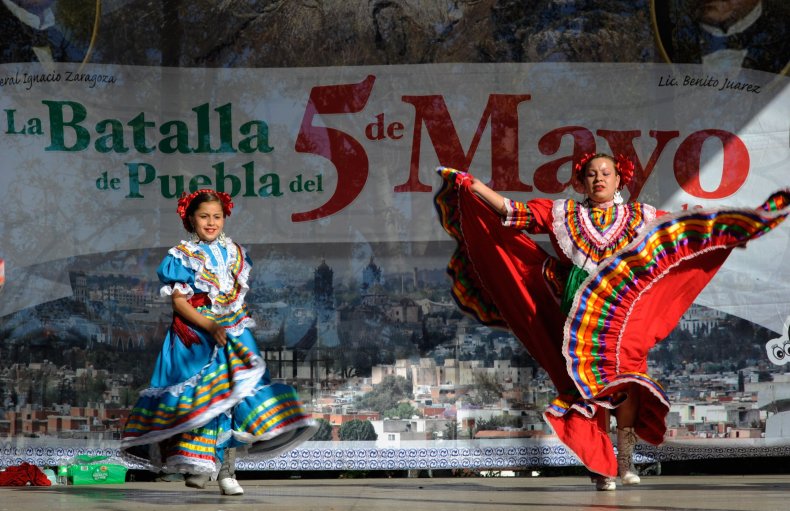 Here are some fun and creative ways to celebrate Cinco De Mayo in the days of social distancing.
Set up a DIY taco bar at home.
And what better day to do it than Taco Tuesday? Pick up taco shells, meat, some veggies, cheese and toppings. Set it up to serve for dinner, and everyone can load up their tacos with their favorite fillings.
Make homemade guacamole.
Chipotle recently shared their highly coveted guac recipe, so you can recreate this dip at home without paying extra.
Chipotle is offering a free Queso Blanco dish with the purchase of any entree, and Taco Bell has a taco bar kit that feeds six people.
Mix up a margarita.
A simple three-ingredient margarita has 1 1/2 oz tequila, 1 oz cointreau, and 3/4 oz lime juice (plus the salt rim and some ice). There are dozens of variations on the tequila cocktail, from a smoky mezcal version to a spicy jalapeño drink. Once you're done playing bartender, Zoom your friends and make it a virtual fiesta.
Get your music on
Listen to some traditional Mexican music, such as Ranchera, Norteño, Grupero, Tejano, and of course, Mariachi. Spotify, Amazon, Apple Music and YouTube have playlists already made to help you get started.
Hola!
Brush up on your Spanish, the official language of Mexico. Apps like Duolingo, Memrise and FluentU can help you learn.
Boogie woogie
Learn a traditional Mexican dance. There are plenty of videos on YouTube that demonstrate how to do the Jarabe Tapatío, more commonly known as the Mexican Hat Dance in English. This dance also makes it possible to keep six feet away from your partner. Check out this one:
Decorate the place
Craft a papel picado banner. If you have kids, this is a great way to keep them busy. These traditional banners use colorful paper cut into intricate patterns. All you need is colored tissue paper, scissors, a marker, yarn and some tape. You'll want to leave these bright decorations up all spring and summer.
Escape into a book
Read some classic Mexican literature while you munch on your nachos and sip your margarita. Check out the dozens of options here.