Is Cinda Canning Bunny's Killer? 'Only Murders in the Building' Theories
The penultimate episode of Only Murders in the Building Season 2 not only gave us some of the answers audiences had been waiting for, but also opened a whole new can of worms in the process.
In Episode 9, Mabel (played by Selena Gomez) tracked down Detective Kreps (Michael Rapaport) to confront him about being the man dressed in glitter who has been haunting her, Oliver (Martin Short) and Charles (Steve Martin) since Bunny's death.
To much surprise, Kreps was really the suspicious figure dressed in glitter who had been hit by Oliver's glitter bomb and had attacked Mabel on the subway—he even had the arm injury and glitter stains to prove it.
Mabel's suspicions were also confirmed when she spotted the image of a chicken, sown into a towel in Kreps bag she stole in the days after she had stabbed him and the same image spotted on a towel at his boxing gym.
However, what Mabel did not expect next was to uncover that the chicken image would be the key piece of evidence taking her to another, much bigger suspect, their rival podcast host, Cinda Canning (Tina Fey).
It turns out the image is the symbol of Chicken Chug, the local bar and grill he and Cinda Canning meet at, where she works for "clues and gossip" on the latest unsolved crime.
Is Cinda Canning Bunny's killer? Newsweek takes a look at the evidence below.
Is Cinda Canning Bunny's Killer?
1. Cinda Canning is a Criminal Mastermind
Since Season 1 of Only Murders in the Building, it has been hinted that Cinda would fake her own true-crime cases for her podcast, 'All Is Not Okay in Oklahoma,' so she could be the one to solve them.
At the end of Only Murders in the Building Season 2, Episode 9, Oliver, Mabel, and Charles's suspicions about Cinda were confirmed (that she creates her own crimes) when her assistant Poppy (Adina Verson), admitted she was Becky Butler—the case of Cinda's major podcast that Mabel, Charles, and Oliver bonded over in the first place.
The discovery has led the trio to suspect Cinda may not technically be Bunny's killer, but she may be the true criminal mastermind behind her death.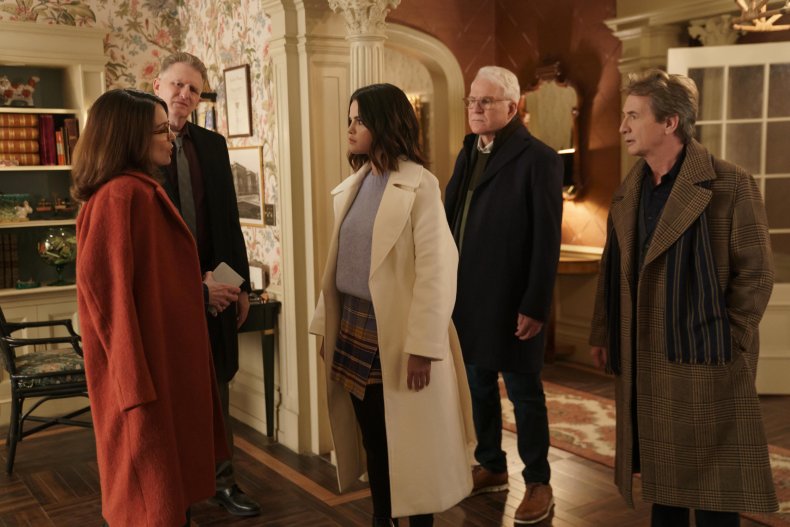 2. Her Connection to Kreps
If Kreps is the Glitter guy who attacked Mabel and stole evidence linking to Bunny's death, surely there must be some involvement there in her murder?
And if Kreps is involved in Bunny's death, Canning may be too, considering their connection was revealed in Episode 9.
When Mabel came face to face with Kreps in Episode 9, Kreps confessed to hating "stupid amateur bull**** podcasts" and being a megafan of Cinda's podcast All Is Not OK in Oklahoma.
He also bragged about landing "the smartest woman on the planet" who turned out to be Cinda.
As expected, nothing positive comes from a corrupt cop and a manipulative true-crime podcaster working together and at the end of the episode, it is revealed Kreps had been helping falsify evidence for Cinda all along, including in the Becky Butler case.
Kreps and Cinda may not be the killers but they may be accomplices in some way, considering how closely they are to Bunny's case and working together.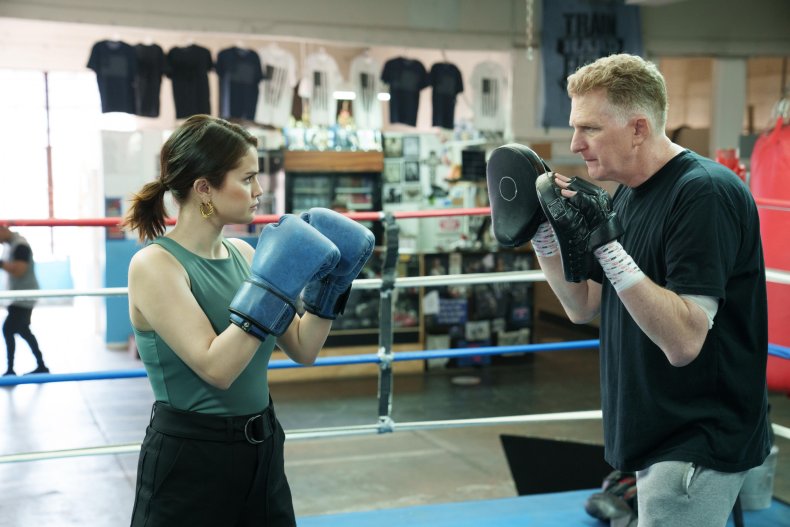 3. Cinda Canning is Mabel, Charles, and Oliver's Rival
Perhaps Cinda simply orchestrated and ordered Bunny's death so she would have content for a future podcast.
After all, she was standing outside the Arconia recording audio for the first episode of her spin-off podcast, 'Only Murderers in the Building,' as the police arrested Mabel, Charles, and Oliver for Bunny's murder.
How could Cinda of been at the crime scene so quickly? Perhaps she knew what was going on inside all along because she was behind it.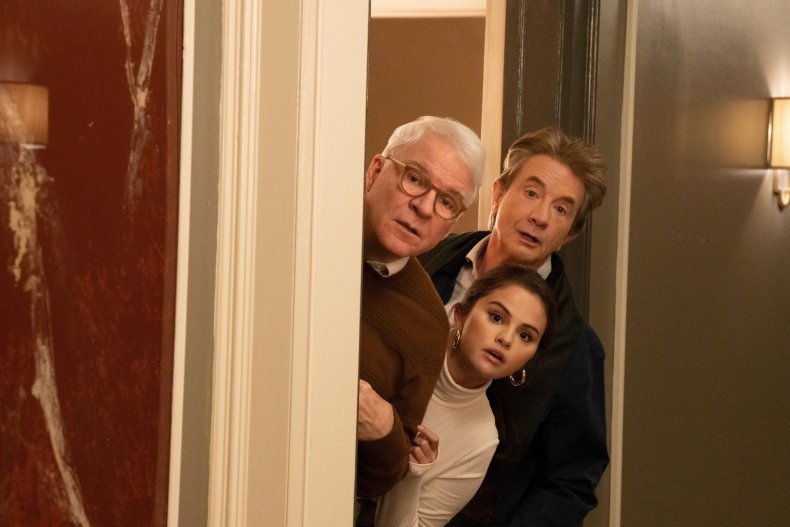 4. Poppy's Loyalties Are Tested
Throughout Season 2 of Only Murders in the Building, it has become increasingly clear Cinda's assistant Poppy's loyalties have been tested.
In Season 2, Episode 6, Poppy warned Mabel about Cinda's antics, calling her a "liar" and stating she would do "anything to tell a good story" all statements which appear to have come true by Episode 9.
However, if audiences cast their minds back to the Season 1 finale, Charles and Oliver received a text reading: "Get out of the building now!!!" just moments before Bunny was found dead in Mabel's apartment.
Did the text message come from Poppy? If so, perhaps she knew Cinda's plans and was trying to warn the trio before it was too late.
There is just one more episode to go before Bunny's true killer is revealed but one thing is for sure, it really does look like Cinda could have something to do with it.
Only Murders in the Building airs Tuesdays on Hulu and Disney+.