Who Is in the Cast of 'Cinderella' on Amazon Prime?
Cinderella is out in theaters now and is also available to stream and download via Amazon Prime.
The modern-day musical remake features a brand new cast and a soundtrack of original songs and covers of artists such as Ed Sheeran, Jennifer Lopez and Madonna. Singer Camila Cabello stars in the titular role alongside some huge Hollywood names.
Newsweek has everything you need to know about the cast of Cinderella 2021 and its characters.
Who Is in the Cast of 'Cinderella' on Amazon Prime?
Cinderella — Camila Cabello
Singer Camila Cabello plays the role of 'Ella,' an ambitious young woman who wants to one day set up her own shop 'Dresses by Ella,' in a society dominated by men.
Ella, a commoner, attracts the attention of the Prince during the guard-changing ceremony, leading to her world turning upside down forever.
Cinderella is Cabello's first acting role to date. Speaking to Variety, she said it was an "honor" to play a Latina Cinderella.
"We've never seen that representation before....It's just an honor," Cabello said.
Outside of Cinderella, Cabello is best known for her hugely successful solo-singing career and being a former member of the girl group Fifth Harmony.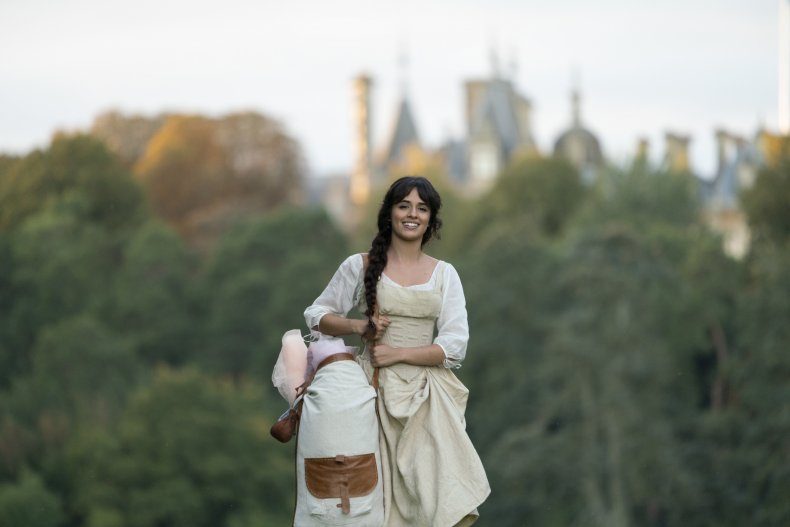 Prince Robert — Nicholas Galitzine
Nicholas Galitzine plays the much-loved handsome prince from the fairytale in Cinderella.
British actor Galitzine is best known for his role as Johnnie Blackwell in the film High Strung and as Elliot Lefevre in the Netflix series Chambers.
Vivian — Idina Menzel
Idina Menzel stars as Vivian, Cinderella's evil stepmother who is determined to sabotage her romance with the prince.
Menzel is no stranger to musicals, having had one of the most successful Broadway careers of all time.
She is well known for originating the role of Elphaba Thropp in the Broadway musical Wicked, receiving the Tony Award for Best Actress in a Musical for her performance.
On-screen, she is best known for voicing Elsa in Frozen, Nancy Tremaine in Enchanted, and starring in Glee as Shelby Corcoran.
Queen Beatrice — Minnie Driver
Minnie Driver stars as Queen Beatrice in the Amazon Prime remake of Cinderella.
Driver is best known for her roles in Good Will Hunting, The Phantom of the Opera, and Circle of Friends.
Most recently, Driver starred in Amazon Prime's Modern Love as Stephanie Curran and Maya DiMeo in Speechless.
King Rowan — Pierce Brosnan
Pierece Brosnan portrays King Rowan. He shot to fame as the fifth actor to play James Bond in the long-running film series, starring in four movies from 1995 to 2002.
He played Bond in GoldenEye, Tomorrow Never Dies, The World Is Not Enough and Die Another Day.
Brosnan is also well known for his roles in Mamma Mia!, Nancy Astor and The Matador.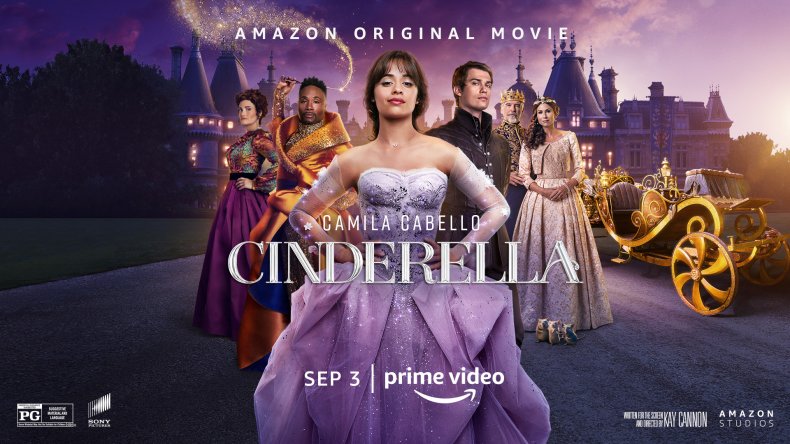 Fab G — Billy Porter
Billy Porter stars as the Fab G. which stands for The Fabulous Godmother.
Just as in the original fairytale, Fab G. helps Ella prepare for the ball, bringing her a dress, glass slippers and the ability to turn the mice into footmen and a crate into a carriage.
Porter is an American singer and Tony-award-winning actor.
He is best known for playing Lola in Kinky Boots the Musical and Pray Tell in Pose.
For his performance in Pose, Porter received a Primetime Emmy Award for Outstanding Lead Actor in a Drama Series, becoming the first confirmed gay black man to be nominated and win in any lead acting category at the Primetime Emmys.
The Stepsisters - Maddie Baillio and Charlotte Spencer
Maddie Baillio and Charlotte Spencer star as Cinderella's evil stepsisters in the Amazon Prime remake.
Baillio is best known for playing Millie Mitchellchuck in Dumplin' on Netflix and Spencer for her role as Charlotte Appleby in The Living and the Dead.
John, James and Romesh - James Acaster, James Corden and Romesh Ranganathan
British comedians James Acaster, James Corden and Romesh Ranganathan star as John, James and Romesh, the mice who are turned into footmen by Fab G. to help escort Cinderella to the ball.
Acaster has his own Netflix special: James Acaster: Repertoire and is well known for hosting the hilarious podcast Off Menu with fellow comedian Ed Gamble.
Cordon is no stranger to screens, having starred in British sitcom Gavin and Stacey and he's the current host of The Late Late Show with James Corden.
Ranganathan previously starred in Holby City, House of Fools, Yonderland and Damned.
Other famous faces you will want to look out for Cinderella on Amazon Prime are:
Ben Bailey Smith as the Town Crier
Tallulah Greive as Princess Gwen
Luke Latchman as Griff
Fra Fee as Hench
Beverley Knight as Queen Tatiana
Mary Higgins as Princess Laura
Nakai Warikandwa as Princess
Rob Beckett as Thomas Cecil
Cinderella is streaming on Amazon Prime now.