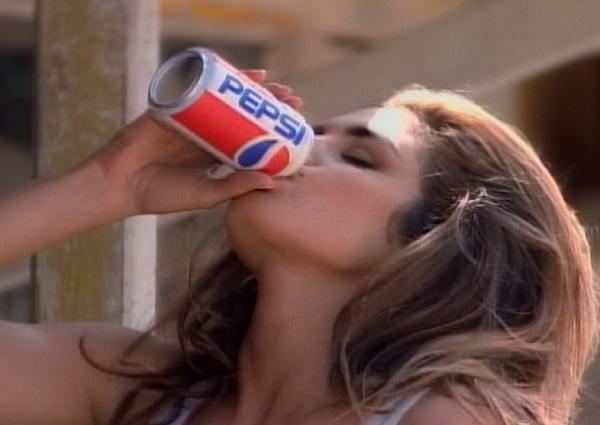 It's perhaps one of the most famous Super Bowl ads of all time: supermodel Cindy Crawford, wearing nothing more than a tank top and cutoffs, guzzling an ice-cold Pepsi. The spot ran in 1992, and 25 years later Crawford and Pepsi got together to do it all over again.
On Thursday, the soda brand announced a new commercial featuring Crawford, 51 and her 18-year-old son, model Presley Gerber, that will air during the February 4 broadcast of Super Bowl LII. The ad is part of the "Pepsi Generations" campaign, which will also mark the return of the brand's vintage logo with limited-edition retro packaging on products launching January 29.
While we have to wait more than three weeks to see the full updated Crawford and Pepsi collaboration, the company did release a teaser clip in Twitter. And it looks like it will make plenty of references to the 1992 original.
In that commercial, which aired during Super Bowl XXVI and introduced a new-look Pepsi, Crawford pulls up to a small town gas station in a red Lamborghini. She gets out wearing her tank-top-cut-offs outfit and purchases a can of the soda out of a vending machine as two young boys watched in awe from a distance.
The new ad's teaser shows Crawford wearing a denim shirt and drinking a can of Pepsi at yet another small town gas station. "It's a look back at getting people excited for Pepsi now and the future," Crawford told People magazine about the ad. "They've spent a long time creating all of these memorable moments and that's exciting for me too because I really do consider myself part of the Pepsi family."
The supermodel also said she was proud to revisit the classic 1992 spot. "This time of year it always gets featured in the roundups of the Best Super Bowl Commercials ever," she said, "and every January I revisit my original Pepsi spot that I just love because the music was perfect, and the little boys were perfect and it was just one of those commercials that everyone loved and it made people happy."
Crawford also noted how excited she was to work with her son on the commercial. "To include now my next generation, Presley, just makes it that much more familial feeling. I hope it gives people that warm, fuzzy feeling."
She admitted that her daughter, 16-year-old Kaia Gerber, was suffering from a bit of FOMO after not being involved. But Crawford said she hoped Pepsi would one day use Kaia Gerber to recreate the original 1992 commercial.
"I was saying to Kaia, 'Presley and I are doing this commercial,' and she was like, 'Wait. Presley and you? What about me,'" Crawford recalled. "I said, 'Your time will come honey don't worry.' I think it would be fun for her to get to really re-create my original spot."