Cindy Hyde-Smith Asked if She Regrets Statements: 'I'm a Cowgirl' Who Referenced Western Movies
Republican Senate candidate Cindy Hyde-Smith has won the Mississippi runoff election following a campaign awash with racial turmoil and controversy.
Hyde-Smith beat her Democrat opponent Mike Espy to become the first woman voted into Congress in Mississippi, 54% to 46%.
During her victory speech, Hyde-Smith promised that she will "represent every Mississippian."
"I will work very hard and do my very best to make Mississippi very proud," she added, reports The Associated Press.
However, it was her remarks earlier in the campaign that became the focus of this final Senate election vote. Hyde-Smith was heavily criticized after video footage emerged of her saying of a supporter in Tupelo, Mississippi, "if he invited me to a public hanging, I would be on the front row."
The remarks were condemned for their insensitivity in a state with a history of lynching and the fact her rival Espy is black.
Speaking to reporters during her victory speech, Hyde-Smith briefly mentioned her comments, which threatened to derail her campaign. "We have apologized for that, we're going to move on and go forward."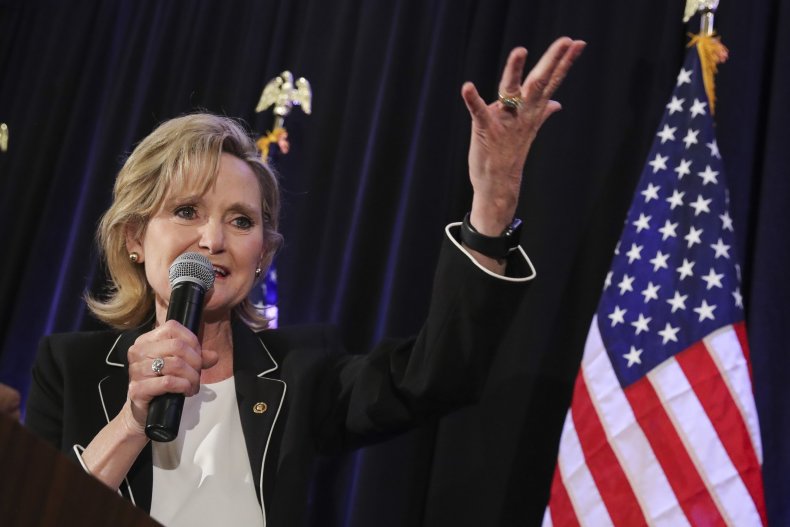 When asked to elaborate on her remarks, she added: "I'm a cowgirl, and when a cowgirl references western movies that I've seen hundreds of, and somebody twists it, that's just it, you've got to roll with the punches," reports ABC News.
Hyde-Smith previously apologized for her hanging comment during a debate with Espy on November 20.
"For anyone that was offended by my comments, I certainly apologize. There was no ill will, intent whatsoever in my comments," she said.
However, she immediately added during the debate: "I also recognize that this comment was twisted, and it was turned into a weapon to be used against me."
In the wake of her remarks, several organizations, including Major League Baseball and Walmart, asked that their donations to Hyde-Smith's campaign be returned.
"Hyde-Smith's recent comments clearly do not reflect the values of our company and associates. As a result, we are withdrawing our support and requesting a refund of all campaign donations," Walmart wrote on Twitter after donating $2,000.
Nooses were also spotted hanging from trees at the Mississippi Capitol the day before the vote took place. Investigators later confirmed handwritten signs placed alongside the nooses referred to the state's history of lynching and the upcoming election.
Following her victory, President Donald Trump paid tribute to the candidate, who received his constant backing.
"Congratulations to Senator Cindy Hyde-Smith on your big WIN in the Great State of Mississippi. We are all very proud of you!" he tweeted.
Cindy Hyde-Smith Asked if She Regrets Statements: 'I'm a Cowgirl' Who Referenced Western Movies | U.S.