Mississippi Senate Race Polls: Will Cindy Hyde-Smith Win Election Over Mike Espy Despite 'Public Hanging' Comments?
The only survey completed before Tuesday's Mississippi Senate runoff election showed Republican incumbent Cindy Hyde-Smith with a strong lead over her Democratic challenger, Mike Espy.
Neither Espy nor Hyde-Smith could secure 50 percent of the total vote in the midterm elections earlier this month, and so the race headed into a runoff, where Espy hoped he could cajole Democratic turnout to gain back the 0.4 points he trailed Hyde-Smith by.
In the three weeks since the election, Hyde-Smith was caught on video talking to a supporter about attending a public hanging. The candidate praised a political supporter by saying that "if he invited me to a public hanging, I'd be in the front row."
It was later learned that Hyde-Smith had attended a segregated school, sent her daughter to one and pushed for a revisionist history of the Civil War while serving as a state senator in 2007.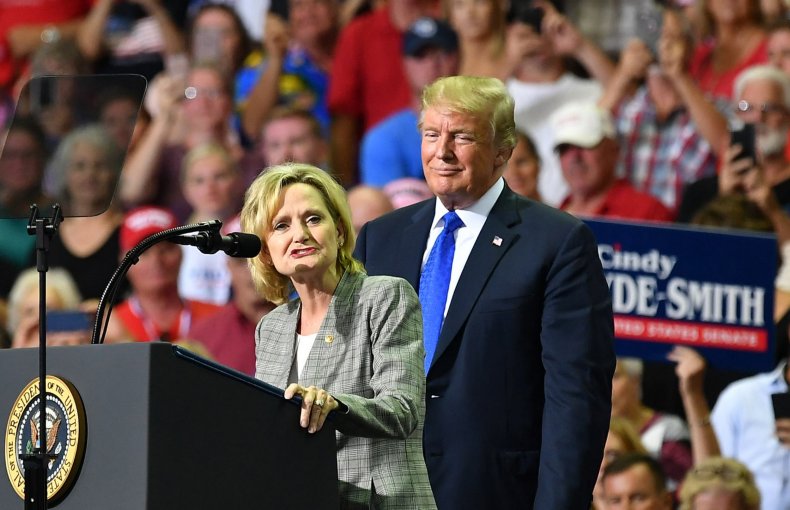 Still, the latest polls showed that cries of racism have done little to sway Mississippi's largely white, Republican voter base. A new survey conducted by RRH Elections put Hyde-Smith 10 points ahead of Espy, with just 1 percent of the electorate undecided. The cross-tabs show Espy with 98 percent of the black vote but only 15 percent of the white vote—not nearly enough to gain a lead on Hyde-Smith.
Mississippi is a ruby-red state, with statewide elections typically ending in a 60-40 win for the Republican candidate. That means that if Espy reaches the 44 percent of votes that the RRH survey predicts, he will have outperformed the Democratic average, a feat in itself.
President Donald Trump, who enjoys a 59 percent approval rating in Mississippi, heads to the state on Monday to rally on behalf of Hyde-Smith. He's expected to make two stops, one in Tupelo and another in Biloxi. The president has praised Hyde-Smith for voting "our Agenda in the Senate 100% of the time." He also defended her "public hanging" comments on Twitter.
"Mississippi, Vote for @cindyhydesmith on Tuesday. Respected by all. We need her in Washington!. Thanks!" the president wrote on Sunday. Last week, while on his way to his Florida resort for Thanksgiving, the president told reporters that Hyde-Smith was "a spectacular woman. She's a great senator." He said her hanging comments were made "in jest."
Walmart and Major League Baseball pulled their donations to Hyde-Smith's campaign after her comments went public.
In a debate last week, Hyde-Smith tried to apologize for her comments. "For anyone that was offended by my comments, I certainly apologize. There was no ill will, no intent whatsoever in my statements," she said, before claiming that her political opponents had twisted her words.
Espy, an African-American who served as former President Bill Clinton's agriculture secretary, said that "No one twisted your comments, because the comments came out of your mouth. I don't know what's in your heart, but we know what came out of your mouth."