Cindy McCain Says She's Not Sure Donald Trump Will Even Run in 2020 and Won't Commit to Voting for Him
Cindy McCain, the widow of late Senator John McCain, would not commit to voting for Donald Trump in 2020, saying that she would like to see a "softening" of the president's rhetoric.
"You know, I don't even know if [Trump] is going to run and I don't believe he is sure he is going to run," McCain said during a recent interview with the BBC's Yalda Hakim.
When asked if she would support the president if the 2020 election were held today, McCain said that she "can't answer that right now.
"At this point, I'd like to see some softening of the rhetoric, I really would. It's hurtful," McCain continued before discussing Trump's personal attacks on her late husband. John McCain died in August after a year-long battle with brain cancer. Trump did not attend any of the memorial services honoring the Arizona Republican, reportedly at the family's request.
Trump infamously said that John McCain, a captain in the U.S. Navy and a prisoner of war, was no "hero" because he was captured in Vietnam. "He's not a war hero. He was a war hero because he was captured. I like people who weren't captured," Trump said in 2015.
McCain told BBC's Hakim that she was "hurt" by Trump's comments.
"I thought it was inappropriate and wrong, I really did. It hurt the family too," McCain said. "And he hurt the other men that served with John and were in prison as well. It wasn't just about John, it was all the other people. I think that was a wrong thing to say and I don't think I'll ever get over it."
Earlier in the interview, which aired on Wednesday morning, McCain said that her late husband was "truly the conscience of the Senate, and I think in many ways the conscience of the country. People recognized him for his ability to work across the aisle…and his willingness to debate but not demean as a result of differences."
"I believe we have lost those ideals right now forever," she said.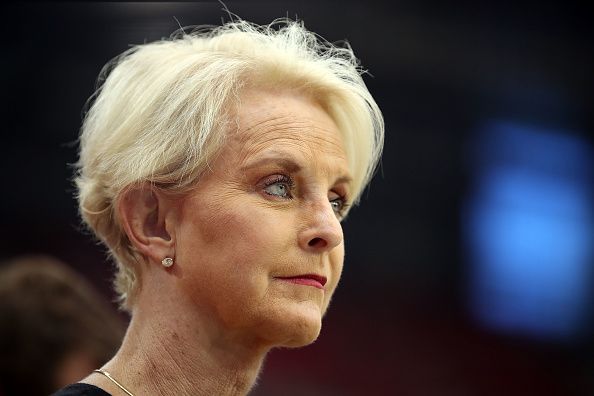 The McCain family has put the president on blast since John McCain's death earlier this year. Last week, Cindy McCain, who has started to speak publicly, told CBS This Morning that the country needed a strong leader, not a "negative Nancy" like Trump.
Meghan McCain, the late senator's daughter, has also taken many jabs at Trump, criticizing his "cheap rhetoric" as she delivered her father's eulogy. "The America of John McCain has no need to be made great again because America was always great," she said at the time.
On a recent episode of The View, Meghan McCain also criticized Trump's handling of the military. Earlier this month, the president canceled a trip to a U.S. military cemetery outside Paris, citing bad weather. The president also criticized retired Navy Admiral William McRaven, who led the 2011 mission to take out Osama bin Laden, for not capturing the al-Qaeda leader sooner.
"We should be intellectually honest here at this table that if President Obama had missed Veterans Day or missed the Armistice ceremony in France for the 100th anniversary of World War I, my head would have exploded right here on this table in front of all of you," she said on Monday.
Cindy McCain Says She's Not Sure Donald Trump Will Even Run in 2020 and Won't Commit to Voting for Him | U.S.