Speaking publicly for the first time since her husband, Senator John McCain of Arizona, died in August from brain cancer, Cindy McCain told CBS This Morning on Friday how her husband would likely feel about the current state of American politics and, of course, President Donald Trump.
He would likely be "terribly frustrated and terribly distraught" at the country's current political affairs "in every way, shape or form," she said. She said she hoped the Republicans' defeats in the midterm elections would humble Trump, take him "back to the basics" and learn from the losses.
But her strongest words came in speaking about the president, someone who she said failed to reach out after the senator's death.
"I hope he learns from [losing the midterms]," McCain said. "And realizes that our country needs a strong leader, not a 'negative Nancy,' if I can put it in such a basic term."
She added that the country needed a White House whose members were not "sparring" with one another, likely referring to reports that Trump often butts heads with members of his administration. In growing frustration over the results of the midterm elections and rumors swirling around the possible replacements of senior administration officials, a White House official told CNN earlier this week that the president was "pissed–at damn near everyone."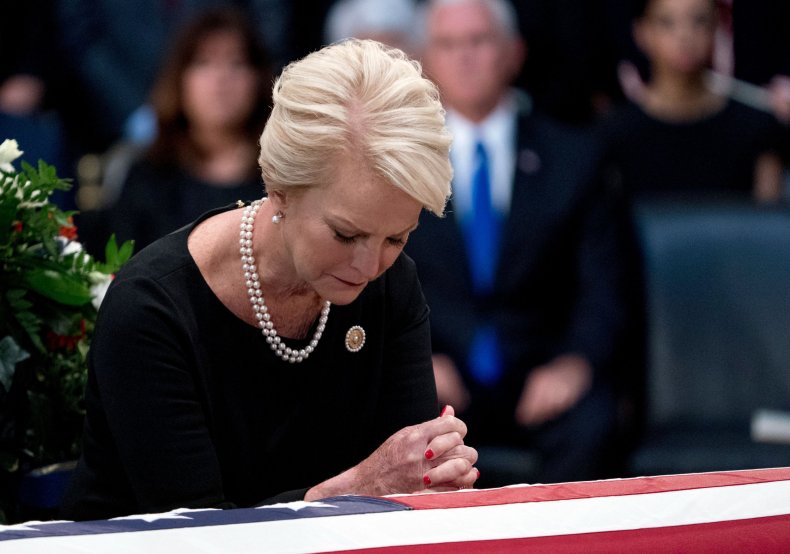 It's no secret that the late senator often disagreed with presidents, even those such as George W. Bush who were members of his own party. But his relationship with Trump was different. As president, Trump continued his personal attacks against John McCain, even after the senator had been diagnosed with a rare form of brain cancer. He never seemed to forgive the Republican senator for breaking with party ranks and casting the definitive "no" vote in a repeal of the Affordable Care Act in July 2017. As the senator's Washington, D.C., memorial service was underway on September 1, Trump, who was not invited to the service, headed to his northern Virginia golf club.
The president canceled a prepared statement by White House staff that heralded the late senator as a "hero" and paid tribute to his long record of public service, according to The Washington Post. Instead, Trump issued a brief two-sentence tweet. During his presidential campaign in July 2015, Trump said McCain was "not a war hero" after he was taken prisoner during the Vietnam War because "he was captured."
"I like people who weren't captured," Trump said.
Despite receiving no phone call from the first lady or Trump following her husband's death, his widow said that was OK because what she really needed at the time was family.
"He is now the president of the United States. I respect the office and what it means to the country," McCain said. "Our family has had their differences. At times, its been hard to listen to him about my husband. I'll be honest."