Arizona Senate Race: John McCain's Widow, Cindy, Slams GOP for Trying to Stop Counting Mail-in Ballots
Cindy McCain, the widow of late Senator John McCain, slammed the Arizona Republican Party for their efforts to stop counting mail-in ballots even as the congressional race between Martha McSally and Kyrsten Sinema remained too close to call.
"I am one of those mail in ballots," McCain wrote on Twitter on Thursday, two days after the midterm elections. "I was under the impression my vote was always counted." She tagged the state's GOP account in the social media post.
Her comments came as several Republican groups filed a lawsuit to stop the counting of mail-in ballots from two of the largest counties in the state. Arizona county recorders have been calling voters whose mail-in ballot signatures do not match the ones on file to verify that they signed the form. The groups alleged that calls to voters could only take place before Election Day and that the practice is breaking state law. Mail-in ballots account for about three-fourths of Arizona's votes.
The chairman of the Arizona GOP defended the lawsuit in a statement to The ArizonaRepublic, writing, "A foundational principle of American democracy and our justice system is that all votes are treated equally. It is not fair nor just that voters in one county are treated differently under the law from other voters in Arizona."
The Arizona Senate race to replace retiring lawmaker Jeff Flake remains razor-thin. The most recent vote totals showed Democrat Kyrsten Sinema to be leading Republican Martha McSally by 9,000 votes, or half a percentage point.
McCain has not publicly endorsed McSally, who is a staunch supporter of President Donald Trump. At a Republican campaign event in Arizona just days before the midterm elections, McCain supported other conservative candidates Doug Ducey and Jon Kyl, but didn't directly address McSally.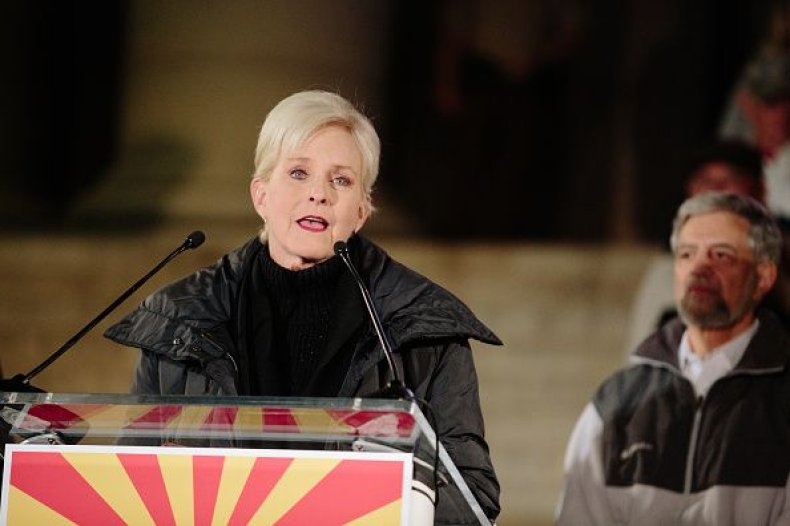 Meghan McCain, the daughter of Cindy and John McCain, slammed McSally earlier this year when the congresswoman failed to mention her father while discussing a military bill named in his honor.
"[Representative McSally's] inability to even mention my father's name when discussing the bill named in his honor is disgraceful (just as it was with Trump) - I had such higher hopes for the next generation of leadership in my home state," she wrote on Twitter.
Based on the uncalled races in Arizona and Florida, the Republican Party could hold 52 to 54 seats in the Senate. Conservatives gained seats in the chamber this midterm election cycle, while Democrats took back control of the House of Representatives.