Cindy McCain is warning the Republican Party that its leaders need to begin changing their strategy and stop "appealing to the dark side of humanity" if the GOP wants to continue to exist.
"Right now, there's too much anger and hate, and that's been generated from the top. I just don't believe that our party can survive by appealing to the dark side of humanity," the widow of Arizona Senator John McCain told MSNBC in an interview.
On Monday, she described the GOP as being on the "brink," adding that the party needs to either "find its way or dissolve."
"I began this quest in my life with Ronald Reagan. I don't understand how we got to where we're at, but now that we're here, we can no longer have our leaders work with fear and anger and hate," she said.
McCain has been a vocal opponent of the GOP under Donald Trump's leadership. Despite being a lifelong Republican, she endorsed Joe Biden for president in the 2020 election, which played a key factor in the Arizona Republican Party's decision to censure her.
McCain, who like her husband is known for her commitment to bipartisanship, said she was disappointed that not a single Senate Republican voted in favor of Biden's $1.9 trillion relief package, despite majority support for the bill from Republican voters.
"It saddens me for this reason: As you saw, the polling numbers represent that 59 percent of Republicans want this. They want our two parties to work together to solve the problems of our country, and unfortunately that didn't happen with this latest vote," she said.
"It is time that we begin to work together for the good of the country. I know that there's differences," McCain continued. "My husband disagreed with Joe Biden on many, many issues, as you know, but they always found a way to work together. The parties working together for the good of the country, and that's just not happening right now. Right now, we need it desperately more than ever."
She said conservative news outlets should have been focusing on covering the relief package instead of the recent Dr. Seuss controversy, which McCain called "ridiculous."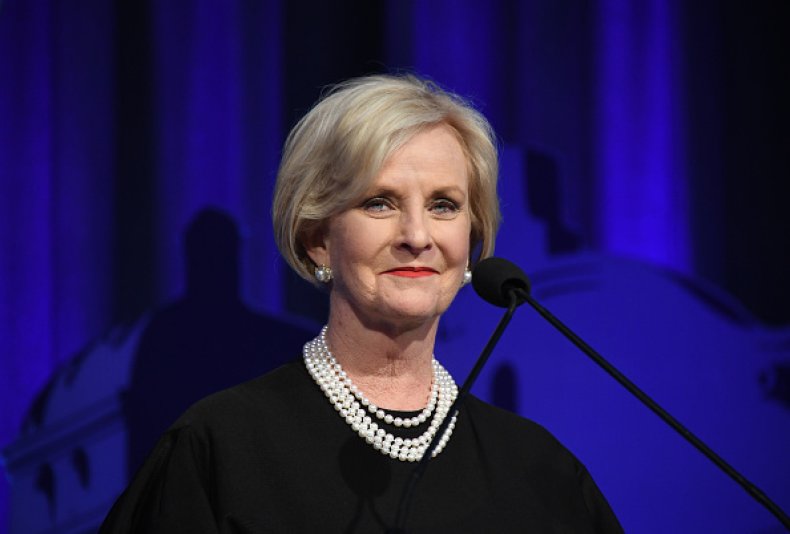 Asked about Senator Lindsey Graham's recent comments about Trump, McCain said Graham is as much a part of her family as her children are but added, "I don't know what's going on the inside of his head."
In a new interview with Axios on HBO, Graham said that "there's a dark side and there's some magic" about Trump, noting that his goal is to "just harness the magic."
While McCain stopped short of criticizing Graham, who was one of her husband's close confidants, she was a loud Republican voice against the former president. She said voters need to continue voting out officials like Trump if they don't feel they represent the needs of Americans.
"We need to hold them accountable, most importantly. The strongest thing we can do is vote, and just as you saw what happened in this election, and change the leadership if we believe they're not doing what's good for the country," she said.
Newsweek reached out to the Republican National Committee for comment but did not hear back before publication.