Cinema Deserts: Pandemic Accelerated or Solved? | Opinion
I recently went to my first indoor movie showing in over a year and sat among 6,000 (mostly) strangers.
It was the Tribeca Film Festival premiere of the new Dave Chappelle documentary, This Time This Place. Thousands of New Yorkers and tourists flooded Radio City Music Hall to experience the story of Chappelle's pop up comedy show and its impact on the small town of Yellow Springs, Ohio, during the COVID-19 pandemic.
The pandemic changed every facet of our lives. One of its biggest impacts was, naturally, our inability to gather. For those of us who love film, this meant no more movie theaters. Not being able to watch a film in an actual movie theater was the least of our concerns during the pandemic, but not having that option represented something much larger: a loss of "the normal."
For those of us who had been fortunate enough to experience arthouse and independent films in local cinemas, the pandemic put the importance of these cinematic experiences into perspective. The absence of this experience, however, also illuminated another loss that has long been an unmet gap in the film industry: theater deserts.
What's Happening to Cinemas?
The use of streaming services has risen as have movie ticket prices, and the number of cinema sites across the U.S. in the past few decades has dramatically dropped from around 8,000 in the 1990s to just shy of 5,800 in 2020. The Arclight closed in Los Angeles and the Alamo Drafthouse filed for bankruptcy after attempting to expand beyond Austin, Texas. This trend was already well underway, COVID only accelerated it.
The location of a movie theater is determined by the perceived economic value of that region's population. Suburban and wealthy neighborhoods have easier access to both independent theaters and megaplexes. Yet, movie going remains one of the most affordable forms of entertainment for everyone.
At a time when content consumption is at an all-time high, the art of storytelling has arguably never been better or more important. Concurrently, after a year of isolation, there's impalpable excitement and desire to gather again. Amid this all begs the question: How will theatrical distribution meet these changes and demands?
So What are Cinema Deserts?
A cinema desert is a populated area underserved by movies and cinema. It's a town that is without a movie theater within a reasonable distance, if at all; or, perhaps it has a cineplex but only plays studio franchises and major releases. Even in higher density cities—like Detroit or Los Angeles—theater complexes are not situated in lower income neighborhoods, where public transportation is most accessible and used. Few people will take a two-hour round trip bus for a two-hour movie.
In order for a movie theater to thrive, it needs to be located in an area with a large enough population, with a high enough per capita income and play movies that appeal to the widest possible audience in order to generate enough ticket and concession sales to stay in business. These Econ 101 motivators have driven theaters to become large communal multiplexes of concessions and play studio films with pre-awareness, primarily in suburban and higher income cities.
The result is lower income and lower density, urban and rural areas become cinema deserts.
Movie going is not only entertainment; it facilitates community and social interaction as well, factors that contribute to what sociologist Pierre Bourdieu calls "cultural capital," a crucial element for upward mobility.
Theater deserts don't just affect the populations located in these areas. Filmmakers and content creators are unable to reach this untapped and often desired portion of their intended audience demographic.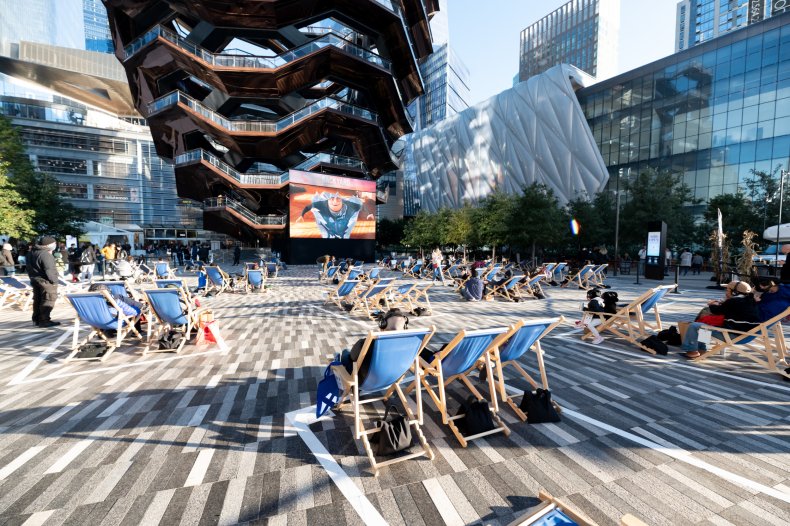 I know what you're thinking: streaming and mobile have already fixed these issues. No, they haven't. Watching streamed television and film is a siloed act as well as algorithmically programmed to deliver content within your own tastes and biases.
The pandemic, however, has made way for an opportunity to put an end to cinema deserts through replicating the active, engaging, social and communal movie watching experience of content that goes beyond popular stories for mass consumption. We like to call this "social cinema."
What Does Social Cinema Look Like?
Social cinema is human-centered. It starts with a host, and is audience-driven, like Pastor Greg Glover, head of the First Presbyterian church in Clarksville, Tennessee. Pastor Greg hosts a curated monthly film screening series in his church and a local education space. The closest independent theater to Pastor Greg and his community is 90 minutes away.
"We looked around Clarksville and realized that our few theaters only show the blockbusters, which are wonderful, of course, but we were lacking the opportunity to see the independent film, the foreign film, the art film up on a big screen with an audience of other community members. That's in a city with a population of more than 200,000," said Pastor Greg.
People want to leave their home, be entertained, feel a part of a community—a human instinct that is particularly evident as we emerge from the pandemic. Recently, ticket sales for hosted cinematic screenings (a combination of both in-person and virtual experiences) were up 20 percent, according to the latest Kinema data.
Participating in the movie-going experience—whether at a theater or outside the confines of a traditional movie theater—has lasting power. Social cinema is the new frontier.
Why Now is the Time for Social Cinema
While social cinema fills the regional gaps existing in the current theatrical model, it also thrives in entertainment capitals. Take Sean Glass, a musician and filmmaker who installed a small movie theater in his living room in downtown Manhattan.
"I started curating a weekly series of short films to showcase arthouse cinema by my friends and artists I respect. There isn't an exhibition model for short films, so I'm creating one," Glass said. "I wanted a space conducive to that, which could also bring representation to so many quality films that have otherwise remained underground."
The pandemic altered the traditional release models for film. Whether it's a lack of programmed independent films that drive people like Pastor Greg to create their own pop up, or the desire to curate for very specialized tastes as Glass does, social cinema is part of the future of theatrical distribution.
Why Social Cinema Has the Power to Change Everything
Watching Dave Chappelle on the big screen, laughing with a thousand strangers was magic. Or maybe it's just science. "When people watch a movie together their brain activity is, to a remarkable degree, synchronized," science journalist Greg Miller wrote.
It was also a reminder of what makes the movie going experience exceptional. The anticipation, the excitement of being surrounded by other people who share your similar passion. That sense of camaraderie and belonging is hard to replicate.
The pandemic has forever altered the way films reach audiences. Our demand for on demand viewing gives streamers more power than ever to negotiate deals directly with studios, distributors and filmmakers. The future of film distribution will be a mix of IRL and URL.
So how do we embrace this new model at scale? Through cinematic platforms that not only offer content creators the chance to share their stories with an audience makeup that knows no bounds, but also encourages an immersive and interactive viewing experience, online and in-person. This includes platforms that enable anyone, anywhere to host their own cinematic events, and take the nascent idea of "watch party" to the next level. Platforms that encourage communities large and small to come together and collectively watch and share their thoughts on film projects in real time. Platforms that breathe life and belonging back into the cinematic viewing experience.
The closing of some theaters due to the pandemic did not create cinema deserts, but in some areas it accelerated it. We have reached a critical juncture where we can revert this acceleration through reinventing what a movie theater is and who has access by changing who can own it.
Let's not let the flame fade out; let's re-ignite it.
Christie Marchese is founder and CEO of Kinema.
The views expressed in this article are the writer's own.