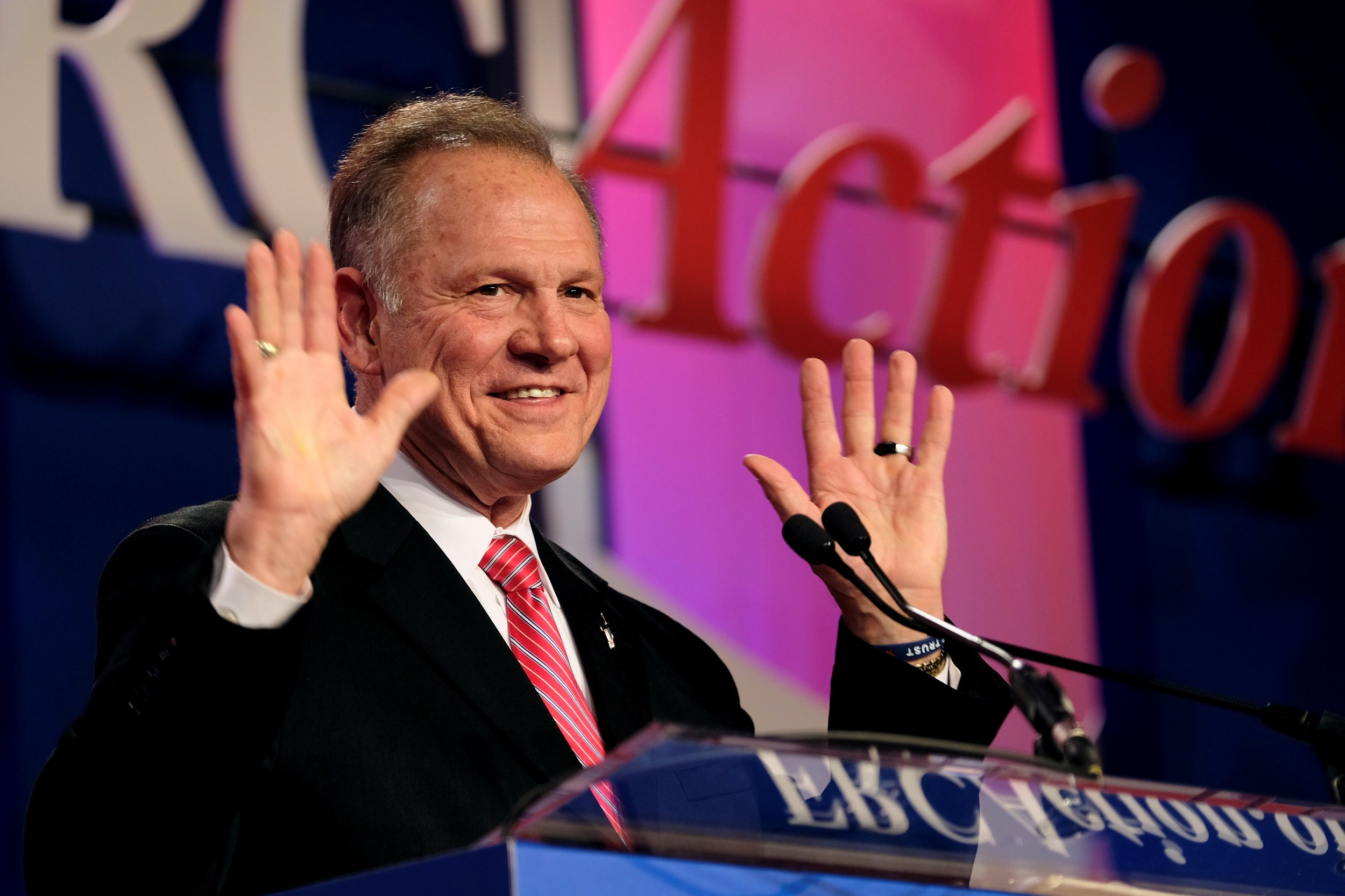 The same day Alabama Senate candidate Roy Moore whipped out a gun at a campaign rally, he received a hefty contribution from one of his biggest donors: the founder of Cinemark Theatres, which demanded nearly $700,000 from the victims of a mass shooting at one of its locations.
Lee Roy Mitchell, who is also the chairman of Cinemark, and his wife, Tandy Mitchell, an executive at the company, have donated at least $13,500 to Moore's campaign, according to FEC filings. Most of that money—$10,800—came on September 25, the same day Moore pulled out a gun at a rally to show his love for the Second Amendment.
The next day, Moore beat Senator Luther Strange in a runoff race for the Senate seat. The former judge, who was already controversial for his history of inflammatory and bigoted stances, is now embroiled in scandal as five women have accused him of making sexual advances when they were teenagers and he was in his 30s.
The Texas-based Cinemark is one of the largest theater chains in the country, and also Moore's fifth-biggest campaign contributor, according to OpenSecrets.
Cinemark owns the Aurora, Colorado, movie theater where 12 people were murdered and 70 people were wounded in a mass shooting at a midnight premiere of The Dark Knight Rises in July 2012. After the shooting, more than 20 victims filed a state court suit against Cinemark, alleging that the theater's security flaws helped enable the attack. Cinemark won the suits, arguing it could not be expected to prepare for a mass shooting, and then asked the victims to pay back almost $700,000 in legal fees. The company chased down the money for four years before dropping its request in 2016.
The Aurora shooter, James Holmes, used an AR-15 rifle in his massacre. In September, Moore's campaign offered a free AR-15 to supporters in a Facebook contest.
This isn't Cinemark's first controversial political donation. In 2008, then-CEO Alan Stock contributed $9,999 to California's "Yes to Prop 8" campaign, which led to the state banning of gay marriage. The donation pushed protesters to call for a nationwide boycott of the movie chain.
Mitchell, however, has ramped up the company's political spending. Records show that in addition to Moore, Mitchell has contributed thousands of dollars to the campaigns for President Donald Trump, Texas Senator Ted Cruz, Energy Secretary Rick Perry, Utah Representative Jason Chaffetz and Texas Representative Joe Barton—all Republicans. In 2016, he donated more than $1 million to GOP candidates and groups. He is also an outspoken supporter of the billionaire Koch brothers, Charles and David, and co-signed a Dallas Morning News op-ed cheering their donations to right-wing causes.
Mitchell received $2.3 million in compensation from Cinemark in 2016, according to SEC filings.
Cinemark Holdings owns and operates 533 theaters and 5,957 movie screens in the U.S. and Latin America, and it owns the Cinemark, Century, Tinseltown USA, CinéArts and Rave theaters. The company is publicly traded and holds more than $4 billion in net assets. In Moore's state, Alabama, it operates only one cinema, which is in Huntsville.
Senate Majority Leader Mitch McConnell (R-Ky.) has called on Moore to end his campaign after the child sex allegations, but Moore has so far denied the stories and refused to drop out.
Before the scandal erupted, Moore was notorious for referring to Native Americans and Asian Americans by the ethnic slurs "reds and yellows," saying gay people should not be allowed to have children, suggesting President Barack Obama is not a U.S. citizen and arguing Muslims should not be in Congress.
Cinemark spokesman James Meredith told Newsweek that Lee Roy and Tandy Mitchell are not responsible for the day-to-day operations of the company and that there has been no communication from the couple to employees about contributions to Moore's campaign.