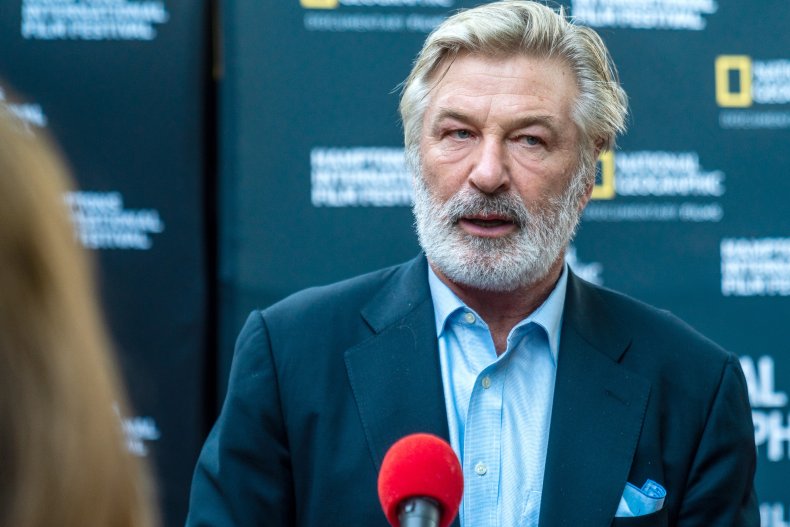 The husband of cinematographer Halyna Hutchins, who was fatally shot on the set of the movie Rust last year, is blaming her death on actor Alec Baldwin, while the district attorney in Santa Fe, New Mexico, is backing Baldwin's claim that he was not responsible.
In an interview set to air on NBC's Today show on Thursday, Matt Hutchins described Baldwin's insistence that he "never pulled the trigger" on the gun that he was holding when his wife Halyna Hutchins was shot as "absurd." Baldwin told ABC's George Stephanopoulos last December that the revolver had misfired without the trigger being pulled.
Hutchins, who filed a wrongful death lawsuit against Baldwin and other Rust producers and crew members earlier this month, said in an interview clip released on Wednesday that he became incensed while watching Baldwin's explanation of the shooting during the Stephanopoulos interview.
"Watching him I just felt so angry," Hutchins said. "I was just so angry to see him talk about her death so publicly in such a detailed way and then to not accept any responsibility after having just described killing her."
"The idea that the person holding the gun and causing it to discharge is not responsible is absurd to me," he added.
No criminal charges have been filed over the shooting, although an investigation is ongoing. During a Vanity Fair interview published last week, Santa Fe County District Attorney Mary Carmack-Altwies suggested that Baldwin's misfire claim was not as "crazy" as she initially thought.
"I didn't know too much about guns, certainly not about 1850s-era revolvers. So when I first heard that, I was like, 'Oh, that's crazy,'" Carmack-Altwies said. "One of the investigators in my office happens to have a very old type revolver, and so he brought it, at my request, so that we could look at it and see if that was at all possible."
"Then they visually showed me," she continued. "You can pull the hammer back without actually pulling the trigger and without actually locking it. So you pull it back partway, it doesn't lock, and then if you let it go, the firing pin can hit the primer of the bullet."
Baldwin described a very similar scenario in his interview with Stephanopoulos. The actor recalled that he was holding the gun at the direction of Halyna Hutchins when he started to pull back the hammer and released it just before the gun fired.
"I would never point a gun at anyone and pull a trigger at them, never," Baldwin said. "Never. That was the training that I had. You don't point a gun at me and pull the trigger."
"I'm holding it. I'm just showing [Hutchins]," he added. "I go, 'How about that? Does that work? Do you see that? Do you see that?' She goes, 'Yeah, that's good.' I let go of the hammer. Bang, the gun goes off. Everyone is horrified. They're shocked."
The wrongful death suit alleges negligence by Baldwin and others, as well as cost-cutting measures during the Rust production, were to blame for Hutchins' death. Baldwin is specifically alleged to have violated multiple firearm handling safety procedures, as well as committing the criminal offense of recklessly discharging a deadly weapon.
A video released alongside the suit re-creates the shooting as described by attorneys for Hutchins' family. The computer-generated animation clip shows Baldwin sitting on a church pew on the New Mexico film set before pulling the trigger of the gun while aiming it toward Hutchins. A bullet leaves the gun and strikes Hutchins before she collapses to the ground.
"Everyone's hearts and thoughts remain with Halyna's family as they continue to process this unspeakable tragedy," Baldwin's attorney Aaron Dyer said in a statement after the suit was filed. "Any claim that Alec was reckless is entirely false... Actors should be able to rely on armorers and prop department professionals, as well as assistant directors, rather than deciding on their own when a gun is safe to use."
Newsweek reached out to Dyer for comment.
Correction (2/24, 4:04 p.m.): This article has been updated to correct a reference to NBC's Today show. A previous version of the article incorrectly referred to the program as "ABC's Today show."