Animal rights activists have rescued a female bear that was forced to perform in circuses for more than a decade and has been kept locked up in a tiny cage for most of its life.
International animal welfare organization Four Paws took the European brown bear, known as "Jambolina," from her owner's garage in Kremenchuk, Ukraine, where the cage was located, before transporting her nearly 1,500 miles to her now home—a bear sanctuary in Switzerland.
Jambolina was born in in January, 2009 at Yalta Zoo, Crimea. But at just a few weeks old, she was sold to her owner who trained her as a circus bear. Jambolina had to perform tricks and was used as an "attraction" in Ukrainian circuses until March this year, Katharina Braun, a spokesperson for Four Paws International, told Newsweek.
"She was kept alone in a tiny cage and had been since she was a cub. She was not with other bears," Braun told the MailOnline.
Due to the pandemic, performances at the circus have been cancelled since March. As a result, the bear remained locked up for several months while her owner, who could no longer afford to keep her, looked for a solution.
Four Paws liaised with the owner and the organization eventually secured the release of the bear.
"Because her owner and trainer can't earn any more money with her, and because he feels that her current situation is not animal-friendly, the owner has decided to give up the profession of animal trainer and to give away Jambolina," Braun told Newsweek. "Since then he has been looking for a solution to ensure she can have 'a good retirement.' The owner was very cooperative."
On December 8, a team from the non-profit arrived in Ukraine to collect Jambolina, freeing her from her cage, in which she had spent most of her time when not performing.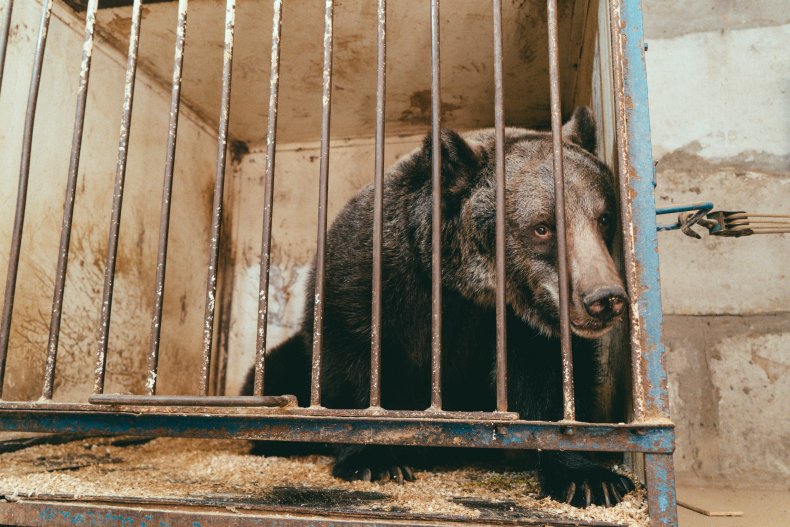 The cage was so small that Jambolina could not even "stand upright or move around," according to Braun.
"Jambolina's keeping conditions were far from species-appropriate, which had a negative impact on her health. Her teeth are in bad condition and her claws need further examination," Barbara van Genne from Four Paws said in a statement.
After collecting the bear, an experienced Four Paws team, accompanied by a veterinarian, placed her in a specially designed crate before transporting the animal to her new home in the Swiss Alps—the Arosa Bear Sanctuary—travelling through Poland, Germany and Austria over the course of the four-day journey.
With the sanctuary located more than 6,500 feet above sea level on a mountain, the team had to put Jambolina in a cable car and then drive her in a snow groomer to complete the last leg of the journey.
"For the time being, she will remain in an adaption enclosure so that the team of animal caretakers can observe her. Through targeted food distribution, she will be accustomed to the rhythm of hibernation and hopefully regain her natural instincts," Van Genne said.
President of the Arosa Bears Foundation, Pascal Jenny, said the rescue of Jambolina was "incredibly beautiful."
"We can offer a wild animal that has been caged for a long time the space she needs and thus give her new start in life," Jenny said. "The fact that we are also bringing so much joy to countless families, school classes, grandparents, guests, locals and all bear fans at the same time is of course all the more wonderful."