Cirque du Soleil announced it will lay off nearly all of its employees, following the closure of all 44 of its shows worldwide due to the coronavirus.
The Montreal-based entertainment company said that 95 percent of its staff, or 4,679 employees, would be temporarily laid off immediately, although a small team would remain to work on tours and tickets for when productions resume.
Those who have been let go will get paid holiday, temporary insurance coverage, and access to its employee support program. There had been Cirque Du Soleil shows being performed throughout the U.S. but now movie theaters, malls, and stores have now closed as part of restrictions to stop the spread of the virus.
The group also had ongoing shows in countries including Israel, France, Australia, Denmark, Germany, Sweden, and Italy, whose governments have implemented either tough restrictions or complete lockdowns.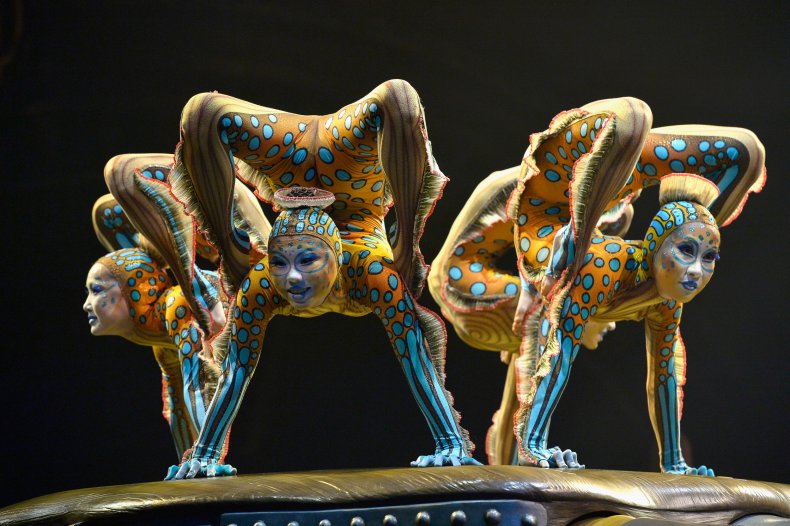 On Tuesday, it had announced that 2,600 staff members would be let go, including 1,200 artists and 1,400 technicians, leaving nearly 1,600 employees at their headquarters in Montreal, CBC reported.
But the group said more people had to go after countries and cities legislated the closure of public gatherings of more than 250 people, meaning it was "left with no option" but to close its shows worldwide.
Chief executive officer Daniel said in a statement, "It is the most difficult day in Cirque du Soleil Entertainment Group history.
"We're deeply saddened by the dramatic measures taken today, as the temporary layoff includes many hardworking, dedicated people. Unfortunately, this decision is our only option as we are forced to position ourselves to weather this storm and prepare for eventual re-openings."
"Consequently, the company was left with no other option but to call for an unprecedented halt in activity until the pandemic is controlled and its performers, employees and audience members are no longer at risk."
The cancellation of shows started last week, and last Friday it announced the 13 shows around the world would be suspended.
Two days later it announced the closure of all its shows in Las Vegas. Then on Tuesday, it said that previews of "Drawn to Life" in Orlando, Florida would also not go ahead.
After each of those cancellations Cirque du Soleil said in a statement that it took "rigorous measures to protect its work teams and the public.
"Our priority has always been, and remains, the health and safety of our artists, our partners, our employees and our audiences," it said.
Cirque de Soleil, which Newsweek has contacted for further comment, said that it would look to rehire staff when productions could start again.
The graph below provided by Statista shows the number of confirmed COVID-19 cases around the world as of March 19.