Ex-Citadel Student Alleges Employee Claimed Graduation Was at Risk If He Didn't Accept Sexual Advances
A former student at The Citadel, The Military College of South Carolina, filed a lawsuit against the school claiming Lieutenant Colonel Kenneth Boes threatened his ability to graduate if he did not acquiesce to his sexual advances.
Boes, a tactical officer at the school, resigned from his position in August 2018 after he was arrested on charges related to sexual misconduct and supplying alcohol to a minor. Prosecutors later dropped the sexual assault charge, but on Tuesday, a former student, identified as John Doe, filed a civil lawsuit against the Boes and the school.
On the same day the former student filed the lawsuit, Yale University released a report detailing how a former professor allegedly sexually assaulted five students while at a research facility in St. Kitts. The victims were, according to the report, "carefully selected" and students said he preyed on their vulnerabilities.
When the two met, the lawsuit alleged Doe was experiencing personal and educational difficulties and had a weakened mental a psychological state because of previous disciplinary issues. It claimed Boes was aware of these issues and Doe's desire to graduate and used his authority position to prey on Doe.
In 2017 and 2018, Boes allegedly sexually violated Does on The Citadel's premises, including when he allegedly forcibly kissed Doe on the lips without consent in his office. Other interactions, of which the lawsuit claimed there were 40 to 50, allegedly included buttocks groping, Boes watching Doe shower and verbal sexual comments.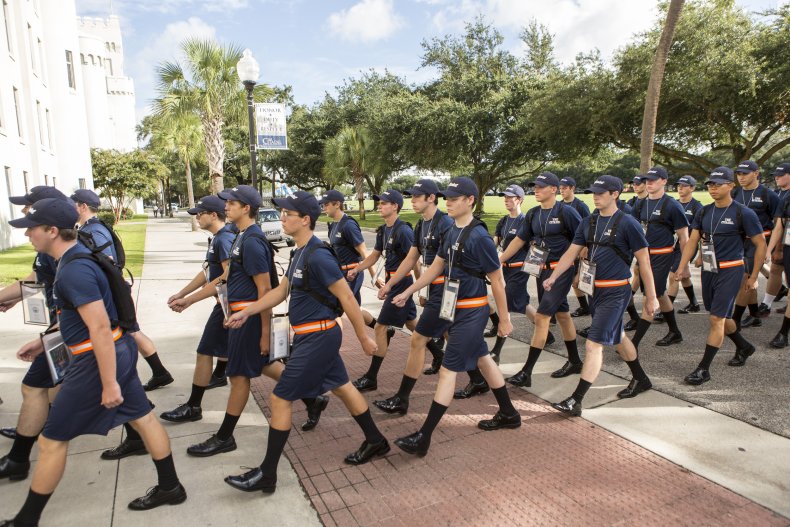 One night, while at Boes' on-campus residence, Does reportedly drank alcohol and took unidentified pills that made him feel dizzy. In the morning, he was allegedly naked in the bed with Boes.
"LTC Boes threatened that, if John Doe did not go along with his advances, John Doe would not graduate," the lawsuit alleged. "LTC Boes would resolve disciplinary issues, procure leave and help ensure John Doe would graduate so long as John Doe cooperated in his desires to commit sexual acts on John Doe as part a Quid Pro Quo system."
Since Boes was changing the Cadet Accountability System to manipulate Doe's discipline despite not being his tactical officer, the lawsuit claimed the Office of the Commandant should have known improper conduct was occurring.
The Citadel's vice president of communications and marketing Colonel John Dorrian told Newsweek the school learned of the allegations in May 2018. Officials contacted state law enforcement to investigate and said they've cooperated with authorities throughout the process.
Ultimately, Doe decided to leave school with transcripts that reflected failing grades, thereby affecting his ability to further his education, according to the complaint.
As a result of his alleged experience, the lawsuit claimed he suffered both mentally and physically and requested compensatory and punitive damages. Newsweek reached out to Does' attorney but did not receive a response in time for publication.
Boes' attorney, Andy Savage, told Newsweek the student appeared to be a "'victim' of his own design." He claimed the student made the false allegations at a time when he was about to be "drummed out of the corps" in an attempt to shift blame for his shortcomings. However, Savage said he "chose the wrong guy."
"Since he has filed a civil case, we will finally have an opportunity to question him under oath," Savage said. "I look forward to it."
Although Dorrian couldn't comment on the lawsuit, he said the school's top priority was the safety of students, cadets, faculty and staff.