Cities Discuss Bringing Back Hazard Pay for Workers
Several cities in the U.S. are debating whether to offer or re-establish hazard pay for workers on the frontlines of the COVID-19 pandemic.
The discussions come as highly the contagious Omicron variant has spread throughout the U.S., causing cases to spike in recent months.
In Portland, Maine, city officials are considering whether to bring back hazard pay for workers, the Portland Press Herald reported this week.
The Portland City Council is expected to vote on an amendment to the city's mask mandate ordinance this month that would re-establish hazard pay as long as the masking requirement is in place.
"I'm not sure how it will be voted on," Portland City Councilor Victoria Pelletier, who is sponsoring the amendment, told the newspaper.
"But if we have a mask mandate we need to be talking about hazard pay and if we're asking individuals to show up and overexpose themselves to the pandemic, we need to make sure we're providing them that level of pay and investing in them," Pelletier added.
In Evanston, Illinois, city officials are mulling a proposal that would require hazard pay for grocery store workers during declared states of emergency, such as a storm, or a surge in COVID cases. The proposal currently being considered by Evanston's city council would apply to grocery stores with 500 or more employees, according to the Chicago Tribune.
In Macon, Georgia, the Macon-Bibb County Commission debated this week whether to provide hazard pay to county employees. According to Georgia news station WMAZ, Superior Court Clerk Erica Woodford asked for $50,000 for hazard pay for her employees, noting that they haven't stopped working during the pandemic. A vote on the matter has been postponed to a future meeting.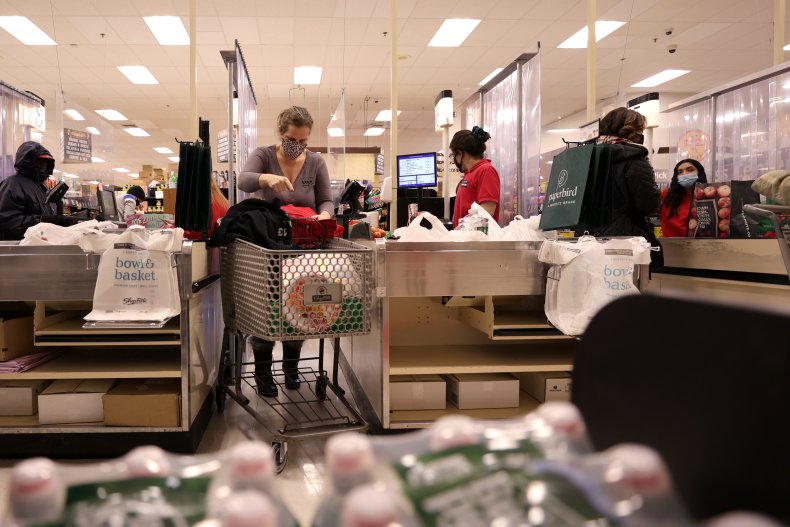 In late January, officials in Seattle moved to allow hazard pay for grocery workers in the city to continue. In December, former Seattle Mayor Jenny Durkan vetoed a bill that would have ended the benefit for grocery workers, noting the rise in COVID cases caused by the Omicron variant.
"When organized labor and the grocery stores worked with city council to eliminate hazard pay, they could not foresee the coming and rapid rise of Omicron that has taken hold today," Durkan wrote to the city council at the time, according to Washington news station KING.
According to the station, city councilors declined to override the former mayor's veto of the legislation, extending the policy which requires grocery stores with 500 or more employees to pay frontline workers an extra $4 per hour.