Citing Conservation, Biden Restores National Monuments That Trump Scaled Back
U.S. President Joe Biden has restored thousands of acres of federally-protected lands—reversing action by his predecessor Donald Trump.
"By restoring these national monuments, which were significantly cut back during the previous administration, President Biden is fulfilling a key promise and upholding the longstanding principle that America's national parks, monuments, and other protected areas are to be protected for all time and for all people," the White House said in a fact sheet on Friday.
Biden's administration said the new protections for Bears Ears and Grand Staircase-Escalante in Utah, as well as the Northeast Canyons and Seamounts National Monuments off the East Coast "will conserve a multitude of sites that are culturally and spiritually important to Tribal Nations."
Trump's rollback in 2017, which shrunk the Bears Ears monument by 85 percent and the Grand Staircase by about 45 percent, spawned multiple federal lawsuits. After Biden took office, Indigenous groups campaigned directly to him through demonstrations near the White House.
The White House document described the move as a way to "better protect, conserve and restore the lands and waters that sustain the health of communities and power our economy."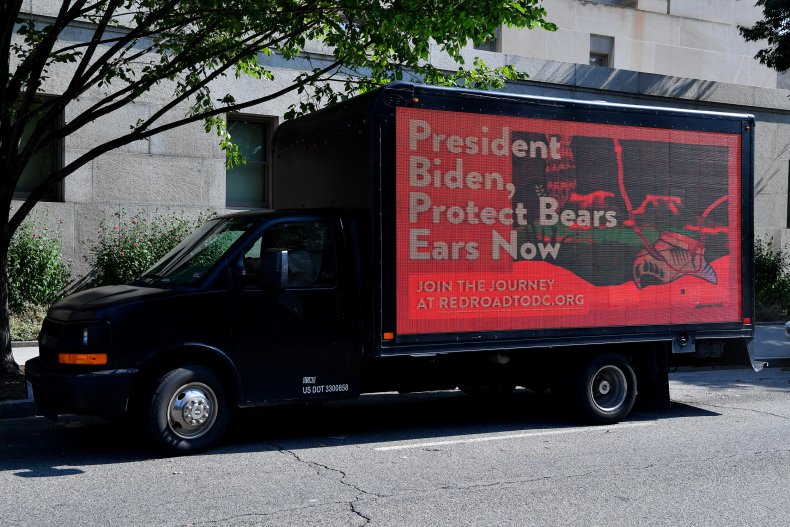 But the move is opposed by the entire Utah Congressional delegation, who have argued for a more permanent solution to the boundaries issue and prevent further shifts based on administration. Shortly before Trump took office, then-President Barack Obama had also modified the boundaries.
Utah's members of the U.S. House and Senate said in a joint statement this week that Biden's actions represent a "devastating blow" to their efforts to create permanency.
"Rather than take the opportunity to build unity in a divided region and bring resources and lasting protections to sacred antiquities by seeking a mutually beneficial and permanent legislative solution, President Biden fanned the flames of controversy and ignored input from the communities closest to these monuments," read the statement, signed by U.S. Senators Mitt Romney and Mike Lee and Representatives Chris Stewart, John Curtis, Burgess Owens and Blake Moore.
"We will continue to support efforts to ensure that our monuments' boundaries and management reflect the unique stakeholder interest and uses in the area, but today's "winner take all" mentality moved us further away from that goal."
A Romney spokesperson told Newsweek the senator was traveling Friday and unable to elaborate. Lee's office pointed Newsweek to a Thursday night tweet in which he indicated he had spoken directly with the White House about the issue.
"I told [Biden] the monument announcement runs against Utahns' wishes," Lee tweeted. "I offered to work with him on a permanent legislative fix that would protect Utahns' interest."
Stewart, whose district includes the Grand Staircase land, told Newsweek that the issue is "a huge deal for the whole state."
"This isn't just a fight over the boundaries," he said. "The thing we are most worried about is this bounces back and forth."
Where, exactly, should the boundaries lie, depends on whom you ask, Stewart said. "In many cases, a better way to determine that is to allow for the management plans," he said.
Interior Secretary Deb Haaland told reporters at the White House in April that she had traveled to Utah to hear directly from stakeholders on Bears Ear.
"What I did when I went to Utah was make sure that, again, every voice was at the table—we talked to ranchers and farmers, we talked to children who use those lands and outdoor economy folks," she said at the time. "We want to make sure that we include every voice, and that's the report that will go to the president, and he'll decide."
Stewart said Haaland was "very gracious" in her meetings in Utah.
"She took a lot of time to hear different perspectives," he said. "The politics of this are pretty clear."
Stewart said the issue is complicated and would require more deliberation and that's why lawmakers are calling for a more permanent solution.
"The Indigenous tribes here were not united on this—they are split as well," Stewart said.
He said the campaign efforts aimed at Biden reversing Trump's action were "very effective."
"We certainly support their ability to do that, but they don't represent the only interest in the state," he said.