Citing Flawed Executions, Oklahoma Parole Board Pleads for Killer's Clemency, But Is Denied
Republican Oklahoma Governor Kevin Stitt has rejected the state parole board's plea for clemency in the coming execution of convicted murderer Bigler Jobe Stouffer II.
The board believed in Stouffer's guilt, but they suggested that he be granted clemency because of the state's recent history of botched executions.
In a statement issued Friday, Stitt's office said the governor had reviewed "materials presented by all sides of the case" and decided to deny the pardon and parole board's clemency plea.
In early November, the board voted 3-2 against executing Stouffer. The board based its decision on recent state executions in which the flawed administration of lethal injection drugs resulted in the prolonged suffering of death row inmates.
In late October, the state conducted its first lethal injection execution in six years. The inmate, 60-year-old John Marion Grant, reportedly convulsed two dozen times and vomited several times during his execution.
The Department of Corrections spokesman Justin Wolf said in a statement that Grant's execution "was carried out in accordance with Oklahoma Department of Corrections' protocols and without complication."
However, Michael Graczyk, a retired Associated Press reporter who has witnessed 450 executions, said he had only ever seen one executed person vomit before.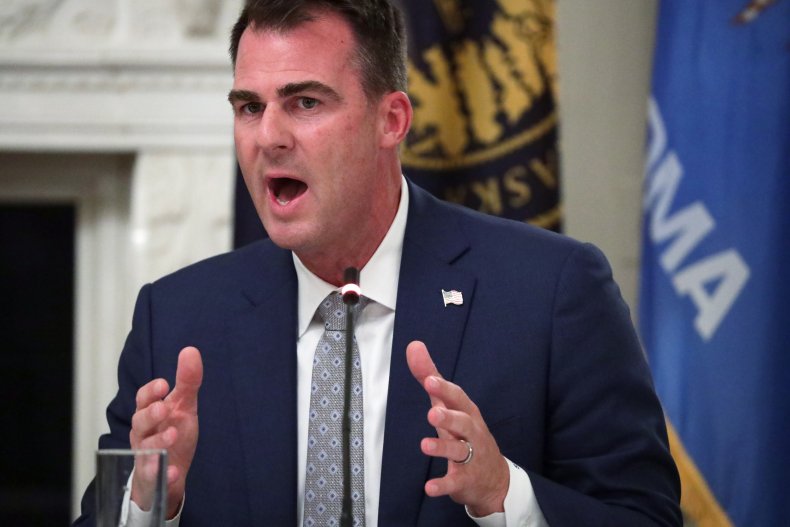 Oklahoma put a hiatus on its lethal injections after botched executions in 2014 and 2015.
In January 2015, the state used the wrong chemical in the execution of child rapist and murderer Charles Warner. Officials used potassium acetate to stop Warner's heart rather than potassium chloride, the usual chemical.
During his execution, Warner exclaimed, "My body is on fire," and "It feels like acid," as he felt the drug's effects.
On April 29, 2014, the state also botched the execution of Clayton Lockett. The execution team unsuccessfully tried 16 times to set an intravenous injection line to administer the drugs, causing one of his veins to explode, the Death Penalty Information Center reported. It took him 45 minutes to die. Normally, it takes 10 minutes, AP reported.
The state is also facing a federal lawsuit on behalf of 26 inmates who allege that Oklahoma's three-drug lethal injection process violates the Constitution's Eighth Amendment ban on cruel and unusual punishment. The trial is set to occur in January or February.
Stouffer, who is now 79 years old, was convicted for the January 24, 1985, murder of Putnam City school teacher Linda Reaves and the attempted murder of her boyfriend Doug Ivens.
A jury convicted Stouffer of first-degree murder and sentenced him to death in 1985. His execution is scheduled for 10 a.m. December 9 at the Oklahoma State Penitentiary in McAlester.