Citing Pause in Abortions, Texas GOP Candidate Says Coronavirus 'Will Save More Lives Than It Takes'
Texas Republican congressional candidate Kathaleen Wall thanked Governor Greg Abbott for signing an executive order last week that deemed abortions "medically unnecessary," with Wall claiming the coronavirus may now save more lives than it will take.
Wall, who advanced from the 22nd Congressional District Republican primary earlier this month, has posted several articles discussing pregnancy and coronavirus and touting President Donald Trump's ability to "put partisan politics aside" as he fights the COVID-19 pandemic. But Wall's March 24 Facebook post claiming coronavirus will "save more lives this week than it takes" created exactly that type of partisan fighting between pro-choice and anti-abortion residents.
She thanked Abbott and Texas Attorney General Ken Paxton for issuing an executive order directing all licensed health care facilities, "including abortion providers," to immediately cease what the two conservative lawmakers described as "all medically unnecessary surgeries and procedures." The conservative lawmakers said the directive is aimed at freeing up hospital beds for COVID-19 patients, but prompted a lawsuit from Planned Parenthood and drew the criticism of many who noted Paxton is allowing gun stores to stay open amid shelter-in-place orders.
"Thanks to the leadership of Office of the Governor Greg Abbott and Texas Attorney General Ken Paxton, #COVID19 will save more lives this week than it takes! #ProLife," Wall wrote on Tuesday, linking to a Texas Scorecard article which touted that "many unborn lives will be saved as a result" of the closing of all facilities which provide abortions.
"Whoa!! Too many angry people! They must like killing people," read one of the top replies from her campaign supporters. "Leadership will be when they end the holocaust of the preborn when the pandemic of the born is over."
Speaking to Newsweek Saturday, Wall reiterated her belief that the abortion directive is saving lives. "While the coronavirus spread and resulting deaths are a grave concern for the people of this Country and Texas, the fact is that last week in Texas 700 lives were saved because the Governor stopped abortions. I think that is good news during these difficult times," she said.
Wall advanced from the Republican primary on March 3, and is on the ballot in the upcoming July 14 GOP primary runoff against Troy Nehls. The 22nd Congressional District office is currently held by Republican Pete Olson, who announced last year he will not be seeking re-election. The district covers several affluent south-central Houston suburbs, including Sugar Land, The Woodlands and Richmond.
Sri Preston Kulkarni, a Democratic candidate who narrowly lost to Olson in 2018 and will face either Wall or Nehls in November, told Newsweek Saturday that his GOP counterpart's abortion remarks are a perfect example of the "political games" and trivialization which have hurt the federal government's COVID-19 response. Kulkarni said Texas already leads the country with the highest maternal mortality rate and number of illegal abortions.
"If you take away reproductive health access, you actually cause women to die," Kulkarni said in response to Wall's "saving lives" remark. "Taking away that access is actually going to kill women and if COVID-19 lasts much longer, women are going to have to make that very personal decision outside both the legal and health-safety windows of time."
The GOP congressional candidate later posted an announcement directed at pregnant women "worried about the effects of coronavirus." Her Thursday Facebook post read: "You and your baby BOTH deserve to LIVE! #ChooseHope." Wall also posted about watching a "Women for Trump" live event and remarks from physicians and gynecologists who support the Texas government's halting of abortion procedures.
Attorney General Paxton's recent warning to state health care providers read: "We must work together as Texans to stop the spread of COVID-19 and ensure that our health care professionals and facilities have all the resources they need to fight the virus at this time. No one is exempt from the governor's executive order on medically unnecessary surgeries and procedures, including abortion providers. Those who violate the governor's order will be met with the full force of the law."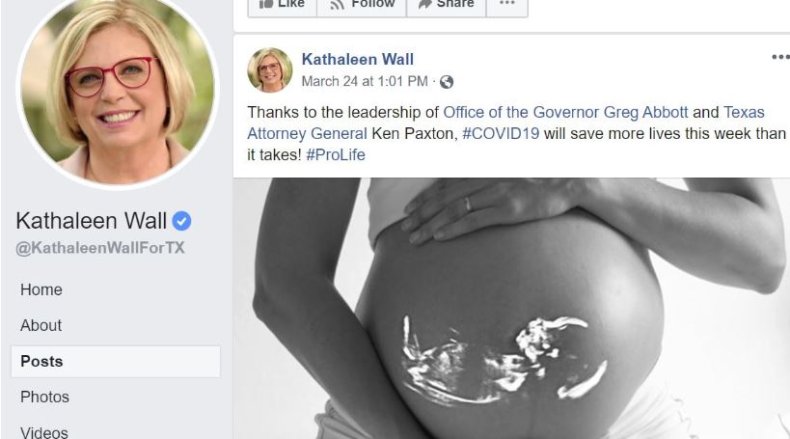 Wall's website details her career prior to the 2020 congressional run and her conservative values: "She learned the value of faith in God, hard work and perseverance growing up one of seven kids on a ranch in East Texas."
Wall also shared a Thursday statement from the Susan B. Anthony List (SBA List) group, which responded to the Planned Parenthood lawsuit against the state government: "Running to the courts to plead for privileged treatment is the modus operandi of the big abortion industry led by Planned Parenthood. Suing to carry out abortions during a time of national emergency, when so many Americans are making heroic sacrifices, is the latest example of their extreme disregard for women's health and safety and for the common good," said SBA List President Marjorie Dannenfelser. "Abortion is not health care."
Last week, Texas Lieutenant Governor Dan Patrick told Fox News that elderly residents of the state would potentially sacrifice themselves to bolster the U.S. economy, prompting scathing backlash from both sides of the political aisle. The United States recently surpassed China to become the country with the most confirmed cases of coronavirus.