City of Austin Says It Will Continue to Defund the Police Despite Texas Governor's Tax Threat
The city of Austin said it is "committed to continue" defunding the police despite Texas Governor Greg Abbott's threat to freeze property tax in the city.
"Today, a group of all-white members of our state government, including Governor Greg Abbott, attacked the Black Lives Matter movement," Council Member Greg Casar said in a Tuesday statement. "Gov. Abbott could have held a press conference to express his support for the George Floyd Act. Instead, he held a press conference to fear-monger and lie in order to distract from the fact that 10,000 Texans have now died from COVID-19."
On Tuesday, Abbott sent a clear message to Texan cities planning to defund police departments in response to the civil unrest that has exploded across the nation in the wake of George Floyd's death.
Abbott announced a proposal that would freeze the property taxes of any city that is considering diverting funds from local law enforcement.
"Cities that endanger residents by reducing law enforcement should not then be able to turn around and go back and get more property tax dollars from those same residents whose lives the city just endangered," the governor said at a news conference.
The proposal is almost a direct attack on the city of Austin. Last week, the Austin City Council unanimously voted to cut the city police budget by $150 million and redirect the money to social services.
"The message from the tens of thousands of Austinites who made their voices heard in this year's budget process was clear: We must decrease our over-reliance on police to handle all of our complex public safety challenges and instead reinvest in domestic violence shelters, mental health first responders, and more," Casar said. "That's what our City Council did—and it's exactly the work we're committed to continue."
Cutting the police department's budget by a third, the city council announced a plan to redistribute $21 million to fund community resources, another $80 million to city services and $49 million to the Austin Reimagine Safety Fund, which aims to provide non-policing forms of public safety.
Braden Lathan-Jones, a spokesperson for Casar's office, told Newsweek that, because the governor's action wasn't an executive order but a proposal for the next upcoming legislative session, "it has no immediate impact" on Austin's process to reallocate funds.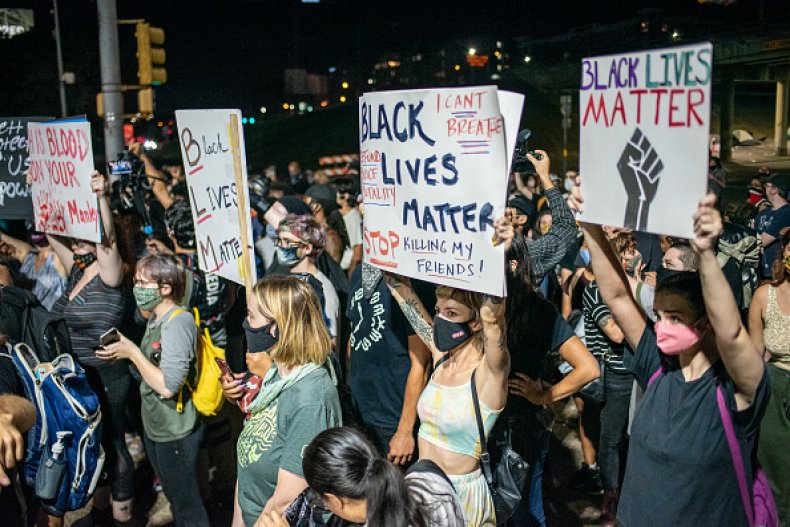 Casar noted the governor requested slashing the budget for the state's Department of Public Safety (DPS)—a cut even greater than the one Austin made.
"In his press conference today, Abbott said 'defunding law enforcement is never the answer,' yet the Governor himself requested a 4% cut to DPS recently, which amounts to $50 million—more than double that of Austin's own immediate reallocation last week," Casar added.
Abbott was joined by Lieutenant Governor Dan Patrick at Tuesday's press conference. Patrick also publicly criticized the city's decision to defund the police, saying Austin would have faced a similar state of emergency that Portland and Seattle saw earlier last month.
As protests escalated in the two cities, federal agents from the Department of Homeland Security were deployed, drawing criticism from many local and state leaders after agents were seen operating aggressively against protesters.
"When I think about what Austin has done.… Had any other mayor of any other city in Texas been as irresponsible as they have been, they would have chaos and their citizens would be in danger," Patrick said. "It is only because of our DPS force of state troopers, hundreds that came to the aid and rescue of [the Austin Police Department], that Austin didn't turn into a potential Seattle or Portland."
However, both Casar and the Texas Democrats have argued that Abbott's tax threat is merely a distraction from the state's response to the coronavirus pandemic. Texas emerged as a national hot spot in mid-June as businesses began to reopen, which forced Abbott to make sweeping reversals.
According to the Centers for Disease Control and Prevention (CDC), Texas has the third-largest number of coronavirus cases in the country.
"Abbott has failed to expand Medicaid and provide health care to those who need it most. He is putting teachers and families at great risk by forcing schools to re-open without adequate protections and support," Casar said on Tuesday. "Abbott can't even be bothered to call a special session to provide much-needed economic relief to millions of Texans who are being neglected by his administration during COVID-19."
Texas Democrats echoed a similar sentiment, condemning Abbott's inaction to stop the spread of the virus in the Lone Star State.
"Greg Abbott's distraction doesn't take away from his mismanagement of the coronavirus crisis," a Tuesday statement read.
"Because of Trump and Abbott's failures, 500,000 Texans have contracted the virus and more than 10,000 Texans are dead. It never had to be this way. If Donald Trump and Greg Abbott were really focused on safety for our families, they would have listened to doctors and scientists instead of lobbyists and donors."
As of Tuesday, August 18, Texas has reported 542,950 confirmed cases of COVID-19 and 10,034 deaths, according to the CDC.