City Battles to Save Fish as Heatwave Starves Lakes of Oxygen
Authorities in the German city of Münster have been pumping millions of gallons of water into a lake in an effort to save local fish, as a searing heatwave kills algae vital to their survival.
Twenty tons of fish were found dead in Aasee lake earlier this week, victims of the unseasonably warm summer gripping much of Europe and North America. The extreme temperatures has killed the lake's green algae, which produces oxygen required for the fish to survive.
According to Deutsche Welle, almost 925,000 gallons of oxygenated water were being pumped into Aasee each hour this weekend to push oxygen levels up and save the aquatic animals. The additional water supply will end today.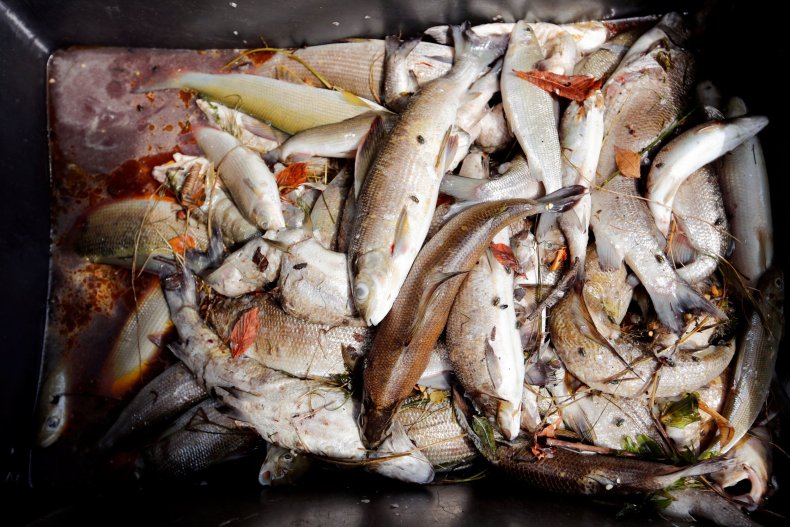 When water tops 80.6 degrees Fahrenheit, oxygen levels begin to plummet. Though temperatures have begun to fall and higher winds have been helpful in creating fresh currents, it is too late to save many of the lake's inhabitants. Local newspaper Westfaelische Nachrichten said that 80 percent of all fish in the lake had already died.
The problem is being made worse by the huge number of dead fish. As the carcasses decay, even more oxygen is taken up. Münster city spokesman Joachim Schiek said it was as if the lake "as an ecosystem has suffered a heart attack. We're now doing everything we can to help it recover."
Mass fish deaths have also been seen in other parts of Europe. Tons of carcasses have been found in the Rhine River, which runs from the Swiss Alps, through Germany and into the North Sea via the Netherlands.
Conditions have been especially tough in the Swiss portion of the river. Officials in three Swiss riverside cantons said more than a ton of dead fish had been collected. This represents between a quarter and a third of the annual catch volume in these regions.
In 2003, 90 percent—around 50,000—of the population of grayling fish in the area died. Swiss authorities said they were hoping to avoid a repeat of that situation. Grayling are especially sensitive to high temperatures and struggle when the water warms past 73 degrees Fahrenheit. The Rhine has regularly been topping this figure in recent weeks.
The heatwave has brought a range of extreme weather events to Europe this summer. Countries across the continent have been battling water shortages, flooding and forest fires as far north as the Arctic Circle. Average temperatures have been significantly higher than in previous years, and the weather in the Portuguese capital of Lisbon set a new daytime temperature record of 111.2 degrees.