City Councilman Sues California Governor Gavin Newsom, State Attorney General Over Beach Closures
Newport Beach Councilman Kevin Muldoon filed a lawsuit in his individual capacity against California Governor Gavin Newsom and several other state officials over the forced closure of beaches during the coronavirus pandemic.
On April 30, Newsom issued a letter directing officials to close beaches in Orange County beginning on May 1 after people were photographed on them. By depriving Muldoon of his "ability to access and enjoy the beach," California's officials violated his fundamental rights as protected by the Constitution, according to the lawsuit.
California had the first suspected case of community transmission in the country and reported 53,616 cases as of Sunday, according to the state health department. To curb the virus's spread, Newsom implemented in early March one of the first stay-at-home orders and has restricted access to dine-in restaurants, schools and beaches.
With 2,859 cases, Orange County has the fourth largest outbreak in the state, and Newsom called recent beach gatherings "disturbing." The lawsuit claimed aerial photos of the beaches on the last weekend in May showed "far more space" between people than photos published in several articles revealed.
The Huntington Beach and Dana Point city councils voted to pursue a legal challenge against the closure. Huntington Beach Mayor Lyn Semeta called Newsom's decision "jarring" in a statement and said it prioritized "politics over data" because Orange has had fewer cases than other counties. The next day, people gathered in Huntington Beach to protest the governor's decision to close beaches.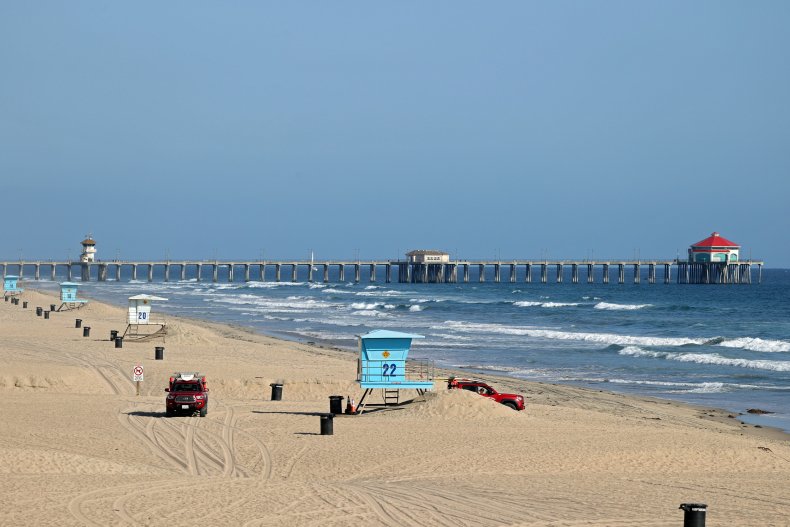 A judge in Orange County Superior Court denied the request to nullify the order and set a hearing for May 11, at which point officials can make the case for an injunction. In court documents, Huntington Beach officials called for a return to the "status quo" in which local officials could control their own beaches.
Days before Newsom closed the Orange County beaches, Newport Beach's City Council voted to keep beaches open in a safe manner. Following the governor's order to close, the council voted to affirm its support for litigation requesting that beaches be allowed to reopen.
Newsweek reached out to Governor Gavin Newsom for comment but did not receive a response before publication.
In defense of reopening beaches, Muldoon's lawsuit points to the reduction in the anticipated number of national deaths and the claim that sunlight and open air reduce the likelihood of transmission. It also says that U.S. Centers for Disease Control and Prevention guidelines make no mention of closing public parks or beaches. If a park, beach or recreational facility is open, the CDC says on its website, "visiting is okay as long as you practice social distancing" by staying at least 6 feet from others and avoid gathering with people outside your household.
Muldoon's lawsuit claims Newsom's actions violated his right to travel; the Fourteenth Amendment, by singling out Orange County; and the First Amendment right to peacefully assemble. Along with Newsom, the lawsuit named Attorney General Xavier Becerra; Mark Ghilarducci, director of the Governor's Office of Emergency Services; and Secretary of the California Natural Resources Agency Wade Crowfoot as defendants and requested that a judge issue an order prohibiting them from enforcing the state order.
It's possible Newsom could modify his order before the two parties wind up in a courtroom. During Monday's press conference, Newsom said there were plans to "make adjustments later this week" because the "data" indicated it was possible to do so safely. He didn't mention Huntington Beach or Dana Point specifically but said more information and modifications would come to light regarding "those two specific beaches in Orange County."