City Defies California Governor Newsom's Stay-Home Order By Proclaiming All Businesses 'Essential'
The city council in Coalinga, California on Thursday voted to declare all businesses "essential" so they could reopen immediately, despite statewide restrictions still in place due to the novel coronavirus pandemic.
"All businesses within the City of Coalinga limits are declared and categorized as 'essential businesses' and are permitted to remain open for the duration of the local and state emergency," the city's resolution read. Four voting members approved the resolution, with Mayor Ron Lander casting the sole vote against it.
The small city, which Coalinga officials estimated to have a population of about 18,000, has only confirmed five COVID-19 cases so far, according to data compiled by Fresno County health officials. Countywide, just over 800 people had been diagnosed with the virus as of Friday.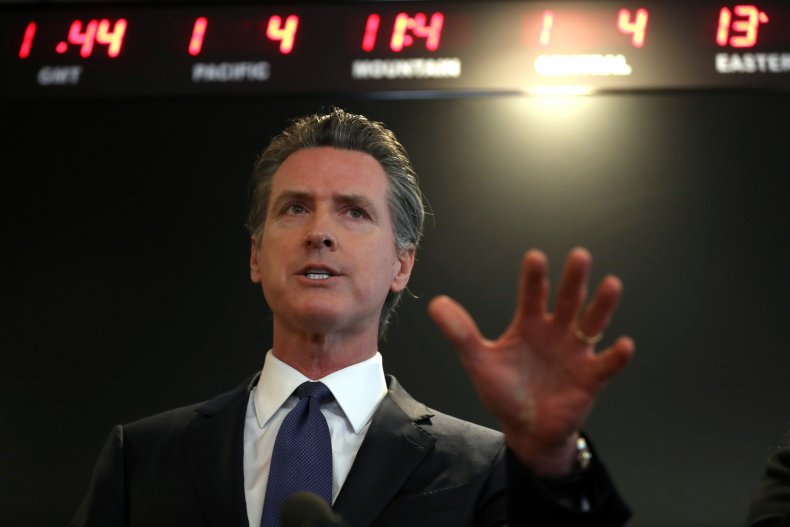 According to the resolution, the city council's decision was made due to any city's legal authority to determine which businesses are and are not classified as "essential" during amid California's stay-at-home order. All businesses that choose to open must do so while practicing social distancing, advising employees to wash hands regularly and use hand sanitizer, the resolution said. Businesses were also instructed to create strategies to disinfect commonly used surfaces.
Though employees were encouraged to wear masks or other facial coverings while in the workplace, the resolution did not specifically require it.
The resolution was passed one day before California Governor Gavin Newsom announced the state was entering its next phase of reopening, with some retail stores allowed to reopen for curbside pickup as manufacturing and warehouse jobs also resumed with safety and sanitation modifications in place.
Though Newsom commended Californians' efforts to mitigate the spread of the virus thus far, he warned it was possible a resurgence could occur. "COVID-19 will be present in our communities until there is a vaccine or therapeutic, and it will be up to all of us to change our behavior and eliminate opportunities for the disease to spread," Newsom said in a news release Thursday. By Friday, health officials had confirmed 62,512 COVID-19 cases and 2,585 deaths statewide.
In the meeting during which the Coalinga City Council passed its resolution, councilmembers discussed the proposal openly with members of the community who called in, with some expressing eagerness to reopen the economy as quickly as possible and others voicing more hesitancy with doing so.
"Can we really continue to justify the closure of Coalinga based on any threat that comes in at a whopping 0.03 percent?" one resident asked during the virtual meeting. "If I had a 0.03 percent chance of being shot today by leaving my house, you wouldn't find me on my couch."
Meanwhile, another member of the community called in to warn against a quick reopening that defied statewide orders, cautioning that employers operating with state-issued licenses—such as salons and barbers—could be opening their businesses up to fines from the state if they were not careful to abide by California's reopening guidelines.
The Coalinga City Council did not respond to Newsweek's request for comment in time for publication.