City Gave Lockdown-Defying Gym 3 Violations Before It Was Linked to Massive COVID Outbreak
Canadian health authorities have issued three violations to Quebec City's Mega Fitness Gym 24H for the gym's continual defiance of lockdown orders. The gym has since been linked to a massive COVID-19 outbreak, including 580 cases and one death.
The regional health authority gave the gym three citations for violating public health orders, according to the Canadian Broadcasting Corporation (CBC). The violations noted that gym staff neither asked patrons if they had COVID-19 symptoms before entering nor kept patrons six feet apart. Furthermore, gym employees didn't wear personal protective equipment.
After Quebec City issued lockdown orders amid rising case numbers, the gym remained operational. It continued operating until police arrived to enforce the shutdown order.
The gym's owner, Dan Marino, is an anti-lockdown critic who has published social media posts containing controversial and misleading information about COVID-19, according to the CBC. Some of his posts reportedly questioned whether face masks really prevent infections. Others minimized coronavirus' health and mortality risks.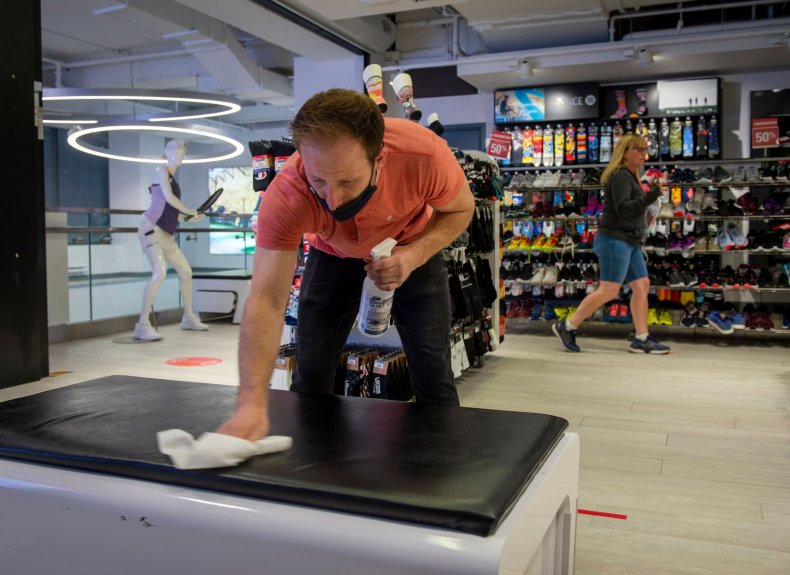 In October 2020, Marino headed a coalition of gym and yoga studio owners who vowed to defy lockdown orders. He told reporters that he opposed the shutdown because "I have heard from too many people who are in distress [with poor] mental and physical health."
Since then, 580 cases of COVID-19 have been linked to Marino's gym. Étienne Desrochers-Jean, a member of the gym, tested positive for the virus and died in the hospital in early April.
Experts aren't entirely sure about the exact transmission method that caused Desrochers-Jean and others to contract the virus through the gym. The indoor space, lack of face masks and heavy breathing due to exercise could have helped, viral researcher Linsey Marr of Virginia Tech told the CBC. Aerosol transmission and microscopic airborne particles may have also aided its transmission as well.
Health officials identified the gym as a major source of contagion for the B117 variant of COVID-19. The variant now accounts for 70 percent of Quebec City's overall COVID-19 cases. Officials have continued an investigation into the outbreak.
In late March, Quebec City Mayor Régis Labeaume criticized Marino by saying, "Way to go champ. Everyone has nice biceps but now people are sick."
On April 15, Canada reported 9,561 new COVID-19 cases, its highest-ever daily toll of new cases since the start of the pandemic. The country's cases have dramatically increased since the end of February.
Newsweek contacted the Mega Fitness Gym 24H for comment, but did not hear back by publication time.