City Hall Protesters Clash With Officers Despite NYPD Budget Cuts
Hundreds of protesters in lower Manhattan clashed with police officers during their occupation of City Hall Park, even after their demands for at least $1 billion in New York City Police Department budget cuts were technically met.
The group, which comprises nonprofit, political and individual organizers loosely called the Black Collective, has dubbed the area the "City Hall Autonomous Zone" (CHAZ) and, since June 23, has been sleeping in the park that surrounds New York City Hall.
Protesters have set up an area with tents, food and sanitation, reminiscent of Seattle's Capitol Hill Occupied Protest zone, which Seattle Mayor Jenny Durkan ordered to be dismantled Wednesday due to violence in the area and harassment of residents.
Townhall.com reporter Julio Rosas visited CHAZ Tuesday, tweeting that protesters had set up a "No Pig Zone" as part of their calls for the city to defund or abolish the NYPD. They had used construction materials to block off multiple roads surrounding City Hall, according to Rosas' tweets.
NYC Mayor Bill de Blasio had announced Monday that he would cut the city's approximate $6 billion police budget by $1 billion by reducing the number of new hires and moving the NYPD's School Safety Agents program to be covered by the education department.
Leaders of the occupation told Rolling Stone they rejected de Blasio's budget, saying it wasn't enough.
"It's trickery. It's pretending to answer our demands," said protester Tatiana Hill, according to Rolling Stone. "It sounds like they're defunding the NYPD, but they're literally just moving things around."
Hill is an organizer with VOCAL-NY, a statewide grassroots organization that is part of the Black Collective.
"We are outraged by the Mayor and City Council's passage of a budget that fails to reduce the NYPD's budget by at least one billion dollars. We are appalled by our leaders' deceptive decisions," according to a VOCAL-NY press release.
Many of the protesters believe that de Blasio did not actually cut $1 billion from the police budget like he said he would.
Instead, they believe de Blasio was "merely moving money from one pot to another" in the $88.1 billion citywide budget that officials had passed overnight, The New York Times reported.
Newsweek contacted de Blasio's office but did not hear back in time for publication.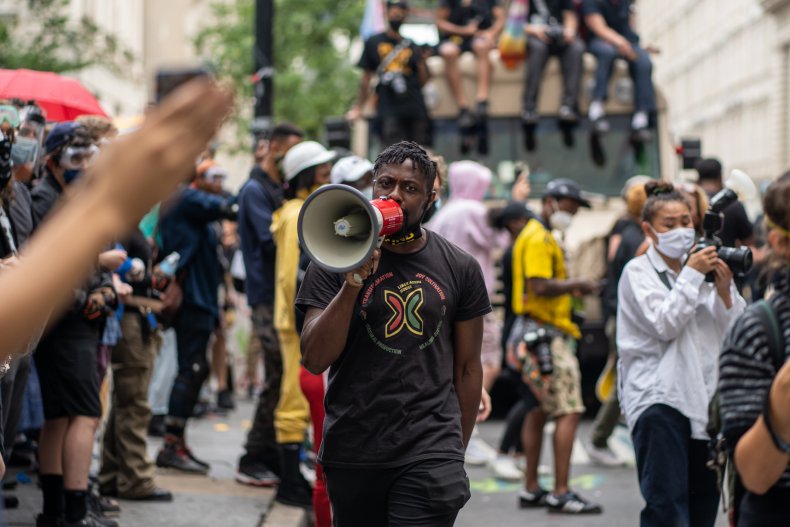 On Tuesday, videos posted to Rosas' Twitter account show hundreds of protesters gathered near CHAZ, chanting "NYPD! Suck my d**k."
In another video, a line of NYPD officers are seen standing outside of One Police Plaza as protesters continue to shout at them. One protester can be heard in the background saying, "I can't believe y'all are getting paid to sit there like f**king idiots."
A different protester can be seen walking in front of the line of officers, telling them they "can't even read a f**king history book."
This protester then pointed at a Black officer, calling him a "traitor to your f**king people."
"You're like the f**king Black Judas," the protester said, referencing one of the 12 disciples of Jesus Christ, who is known in the Bible for betraying Jesus.
The officers remained silent during this particular confrontation, according to the video posted by Rosas.
"The NYPD always focuses on ensuring the safety of the public, protestors and officers when individuals exercise their First Amendment rights at events such as the recent protests," Richard Esposito, NYPD deputy commissioner of public information, wrote to Newsweek in a statement.
NYPD officers are trained and prepared to handle peaceful protests including organized civil disobedience, Esposito wrote.
Hundreds of volunteers have helped keep CHAZ self-reliant throughout the week by distributing food, water and safety and sanitation supplies, Rolling Stone reported.
Images of CHAZ show that protesters have set up a library, community garden, tea hut, laundry area, voter registration booth and art and prison-writing letter stations.
Many of the protesters have said they would continue to occupy the zone even after the city's budget cuts were announced before its Tuesday night deadline.
Officials agreed to shift roughly $1 billion from the NYPD, after City Council had approved the $88.1 billion total budget in a 32-to-17 vote early Wednesday morning.
Update (07/01/20, 8:48 p.m.): This article has been updated to include comments from NYPD Deputy Commissioner of Public Information Richard Esposito.