'City on a Hill' Season 3 Release Date, Cast, Trailer Plus What's New
City on a Hill Season 3 is arriving very soon on Showtime, despite its release date being moved back to the end of July.
The Showtime series has a new cast member joining in Season 3, and a plot that sees Kevin Bacon's character Jackie Rohr leaving the FBI and doing security for wealthy residents of Boston's Beacon Hill.
The Season 3 trailer, however, sees Rohr working at a bar, with he and ADA DeCourcy Ward (played by Aldis Hodge) trading insults about their respective jobs.
Here's what we know so far about the new episodes of City on a Hill.
When Is City on a Hill Season 3 Out?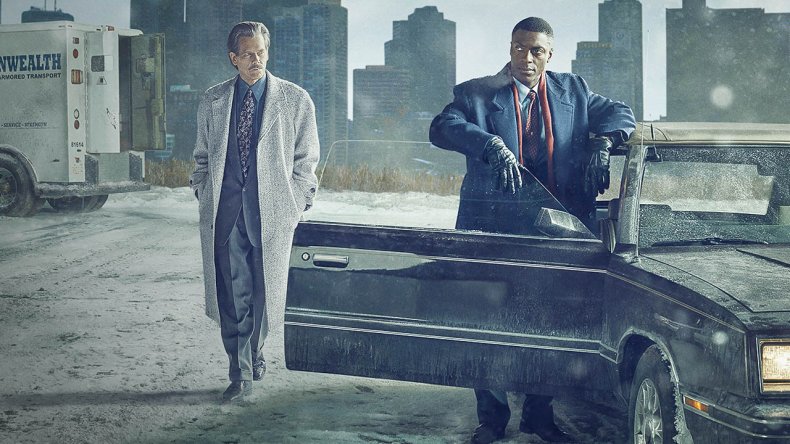 Though its original release date of July 10 was delayed, the show will still be out by the end of the month.
The release date for City on a Hill Season 3, Episode 1 is Sunday, July 31, when the first episode will air on Showtime at 10 p.m. ET.
Season 3 will have eight episodes, set to air weekly until the season finale on September 18.
Who Is in the Cast of City on a Hill Season 3?
As seen in the Season 3 trailer, both Kevin Bacon and Aldis Hodge are back on the show.
Expected to join them are the rest of the regular cast:
Jonathan Tucker as Frankie Ryan
Mark O'Brien as Jimmy Ryan
Lauren E. Banks as Siobhan Quay
Amanda Clayton as Cathy Ryan
Jere Shea as Detective Hank Signa
Kevin Chapman as Detective Dickie Minogue
Jill Hennessy as Jenny Rohr
Mark Ryder as Diarmuid Doyle (who will have an expanded role in Season 3).
The City on a Hill Season 3 cast will also include an original Ghostbuster. Ernie Hudson is playing Franklin Ward, Decourcy's Brooklyn-based Baptist minister father who will be in bad health in the new episodes.
Also joining the cast is LA Law's Corbin Bernsen. He will play Sinclair Dryden, a Beacon Hill resident and retired FBI agent who is a mentor to Jackie. Warehouse 13's Joanne Kelly, meanwhile, will play Sinclair's wife Letitia.
What Will Happen in City on a Hill Season 3?
The official ploy synopsis reads: "Season 3 brings us to Boston's high society Beacon Hill. Having left the FBI and thrown his badge into Boston Harbor, Jackie Rohr lands a lavish new gig running security for a wealthy family. Life is good until secrets begin to unravel.
"When an investigation opens, ADA Decourcy Ward sees an opportunity to finally rip out the machinery perpetuating a broken criminal justice system. Siobhan Quays, representing a construction worker who was severely injured on the Big Dig, encounters the city's corruption firsthand, all while coping with the traumatic events of her past year. As Jenny Rohr can attest, given her history with her father, some experiences will haunt you beyond your breaking point."
City on a Hill Season 3 airs Sundays at 10 p.m. ET on Showtime.