City in Oklahoma Requires Masks During Gatherings in Private Homes Ahead of University Football Game
A mask ordinance in an Oklahoma city was amended on Tuesday to extend the definition of a "public setting" to include private homes and residences where more than 25 people gather.
The Norman City Council previously upheld a mask ordinance that required people to wear a face covering in all public settings "wherein social or physical distancing cannot be maintained," with some exceptions including eating at a bar or restaurant. The amendment will expand these public settings to include social gatherings of 25 people or more people on public or private properties.
Norman Mayor Breea Clark's decision to redefine public spaces in the ordinance comes after videos surfaced on social media of off-campus gatherings at the University of Oklahoma—located in Norman—during the school's first home football game. Clark credited those types of gatherings as the reason for a rise in COVID-19 cases in the city. The spike led Norman Public Schools to suspend in-person classes.
"Our intention here isn't to send officers into private residences and make sure that everyone's wearing masks," the city's Chief Communications Officer Annahlyse Meyer told Newsweek. "What this is really targeted at is, we've had more students return to town and we've seen an uptick in the large, unmasked house parties. It was really targeted at managing those potential super spreader events."
Before the amendment, a fine was given to business owners who didn't have a conspicuous sign posted indicating a face mask requirement for entry or were not enforcing social distancing within their business. Now, mask-less people who are at large gatherings of 25 or more people, whether in a public setting or private residence, can be fined $50 to $500 dollars.
"This really puts the responsibility back on residents and individuals," Meyer noted. "And again, we're not expected to be walking around stopping random people and ticketing them, it's really targeted at these large events."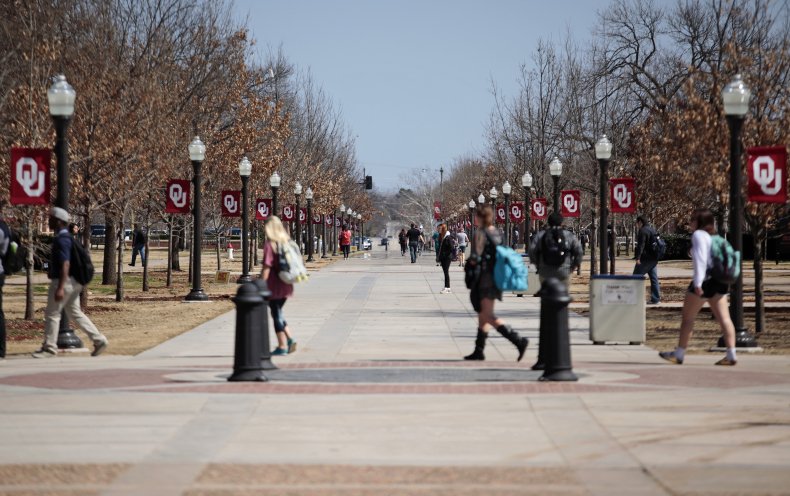 Meyer said that the city originally expected Campus Corner, a commercial district located across the street from the OU and the typical site for large tailgating parties, to be an issue. However, city officials found that businesses in this district were compliant with coronavirus restrictions and that the real problem was the large groups of unmasked people in private properties during game days.
OU is scheduled to play Kansas State on Saturday.
There have been mixed reviews on social media regarding the city's decision to amend the ordinance. Several people have accused Clark of attempting to control what goes on in their homes, while others brought up the issue of whether police officers and other city employees are willing to enforce the mandate.
Norman currently has 3,116 total confirmed cases of COVID-19, with 69 new cases reported on Wednesday. Currently, 467 of these cases are active.
Meanwhile, Oklahoma is seeing a surge in coronavirus cases. According to Tuesday's report from the state's department of health, the 7-day average of new cases is at its highest point since late July and early August. The state announced 1,164 new cases Tuesday, surpassing 80,000 total cases since March.