City Parks Foundation SummerStage Brings Juneteenth Celebration Online
As many Juneteenth celebrations take place across the country on Friday, SummerStage will hold an online celebration as part of its "SummerStage Anywhere" series.
Capital One City Parks Foundation's SummerStage has been holding a series of performances online due to the COVID-19 pandemic, dubbed "SummerStage Anywhere." The Juneteenth celebration will kick off at noon ET on the SummerStage's Instagram account with tribute performances, including an excerpt of RudduR Dance's ballet "Witness."
At 7 p.m. ET, performances, panels, and celebration will begin on the SummerStage YouTube channel. A panel discussion called "Reflecting the Times" led by the Alvin Ailey Dance Theater's Hope Boykin will begin the livestream, followed by a tribute performance of "Hanging Tree" with poet Carl Hancock Rux, vocalist Marcelle Davies-Lashley, and Jamel Gaines' Creative Outlet Dance Theater.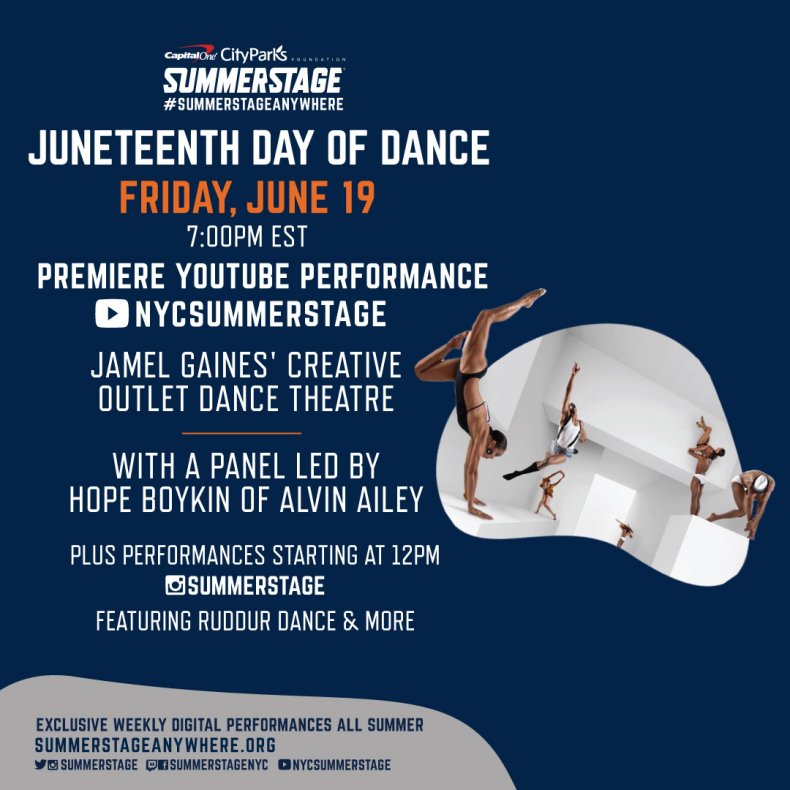 City Parks Foundation/SummerStage dance curator and music programming associate Danni Gee told Newsweek that she had already been planning a Juneteenth celebration months prior to being forced to go digital due to the COVID-19 pandemic, seeing that the historic day fell on a Friday. "I immediately thought, 'Oh my god, this is an opportunity to focus on Juneteenth for the first time in the festival,' I said to my director, and she was down with it. The companies that are being highlighted—James Gaines' Dance Theater of Brooklyn and RudduR dance—were both already contracted to perform for the season outdoors until, of course, corona," Gee told Newsweek. "Once we realized we were going to pivot into the digital landscape, I went back to my directors and said, 'Can we still highlight this day? It's the 155th anniversary, and I really want to put this forth,' and that was two months ago probably now. All this other stuff and current events happened, and it became this bigger thing, and we really want to get this right."
Christopher Rudd of RudduR Dance said that he was humbled to be a part of the celebration, and felt like it played an important part in the ongoing movement for justice for the black community. "I'm humbled by the historic significant significance of it, and especially what it means right now in context to the revolution that we're all witnessing," Rudd told Newsweek. "Right now, I feel like the planet is mourning, and I feel like this is the type of witnessing black excellence, witnessing black voices is really what's important right now, and the need for us to vote with our dollars and the companies that we choose to patron, how you donate your money to organizations as well as at the ballot box are key to changing the world."
RudduR Dance's performance is an excerpt from the first part of "Witness," which portrays slavery in America. "For me, the most profound part of the creation was recognizing that we are portraying the lives of enslaved people and not slaves. During the process of creating it, I really had to understand that our language has kept us desensitized by the treatments and the genocide and the atrocity of what happened, and even just recognizing and changing the language to say that they were enslaved people, with an emphasis on the people and not the heading or the title of 'slave' was the most profound part of the creation for us," Rudd said. "I want people to take away that it's important for works like this to exist and for companies like mine to exist, but also, the realization that not recognizing the humanity of others is a part of the problem."
For people looking to tune in, Gee said the performances through out the day will focus on "amplifying black voices through music and dance." She also said that while performances will focus on current events, the celebration will also show the many different layers and experiences of black people. "This is an ongoing issue: police brutality and Black Lives Matter and all of the above, but what they're also showing is the breadth of our humanity these pieces," she said. "We're not just one thing. We're so layered. We're so nuanced, and I just want to show the beauty of the experience black people, and everything that we are and who we are, we're kings and queens."
With nationwide protests following the deaths of George Floyd, Breonna Taylor, Ahmaud Arbery, and more this year, Gee said that the panel discussion and some of the performances will speak to the black experience, especially in wake of their deaths.
"I think the conversation, especially at 7 p.m. with Hope Boykin and Carl Hancock, that'll speak to it more-the frustrations that here we are in 2020, and we're still here having these conversations, having these talks, still downtrodden in certain ways. Are we really free?" she said "The 'Hanging Tree' solo definitely speaks to it, and we're still being victimized and tormented in the streets with gun violence, police brutality, all of the above, and we're just tired of it. We're tired of the conversation. It's exhausting. As a black woman in this country, it's exhausting to wake up and see this news every day and still go to work and still be a functioning human being in this country...I hope that we pay tribute to them in a sense that-look at our humanity. If you really see our humanity, would you put your knee in our neck like that? If you really believed and respected our humanity just like you would your family member, would you really go and put your knee in my neck?"
Rudd also explained that even though the event was planned long before Floyd's death sparked nationwide protests, it still goes to show how important the Juneteenth celebration is. "It's not a reaction to George Floyd and the current revolution, but it just shows how important that this issue has always been, and it is monumentally important to elevate black voices and to actually take a moment to hear and to feel and to see what we're saying," Rudd said.
Correction: 6/18/20 3:45 p.m. EST: This story has been updated to simply refer to SummerStage. An earlier version had mentioned Central Park SummerStage.