City Thwarts Protesters' Plan to Toss Columbus Statue in San Francisco Bay
San Francisco city officials on Thursday removed a statue of Christopher Columbus from its spot near Coit Tower amid rumors that protesters planned to take it down themselves on Friday and throw it into the San Francisco Bay.
"Help us pull down the Christopher Columbus statue and throw it over Pier #31," read one flyer advertising the Juneteenth protest that was seen circulating on social media. The pier mentioned on the flyer is closest to the statue and sits just southeast of the Golden Gate Bridge.
The statue was removed by the San Francisco Arts Commission with approval from Mayor London Breed, the city's Board of Supervisors and other local leaders.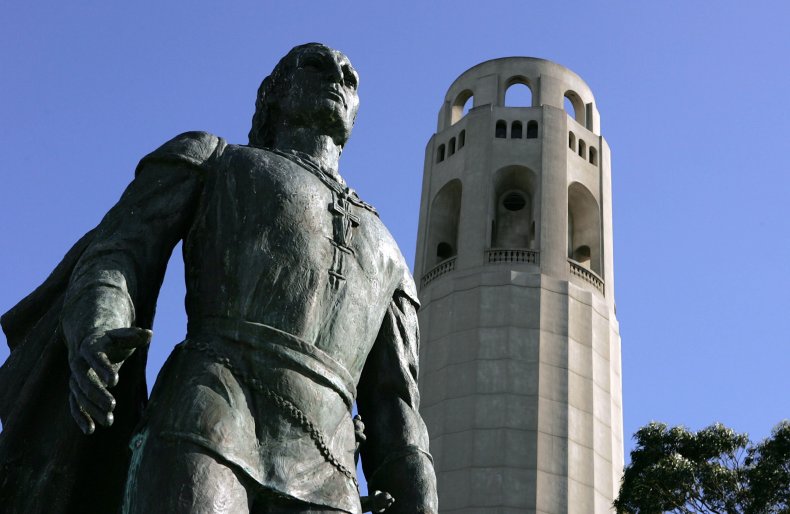 Supervisor Catherine Stefani said in a statement the decision to remove the statue was a "necessary step" taken as Americans across the country continue to demand justice for black Americans and others whose lives are impacted by systemic racism in policing policies and other arms of government at the local, state and federal levels.
Though the last few weeks of protests began in response to the death of George Floyd, a black man who died while in police custody on May 25, the protest movement quickly expanded to encompass racial inequalities present in the criminal justice system. As a result, statues depicting controversial figures—including Columbus—have been targeted and forcibly removed in several cities.
"As a proud Italian American, this was not a conclusion I came to lightly, but this is a time for healing," Stefani said in her statement. "We must recognize the pain of our history and acknowledge the truths that are hard to look at.
"Removing the statue is not about erasing history," her statement continued. "It is about showing love to our friends and neighbors who are hurting in this moment, to communities that have been hurting for centuries. It is about giving all of us the opportunity to heal."
Rachelle Axel, the Arts Commission's director of public and private partnerships, told the San Francisco Chronicle the statue was removed both as a public safety decision as threats to remove it by force spread and because the message its existence sent did not accurately represent the city.
"It doesn't align with San Francisco's values or our commitment to racial justice," Axel told the paper.
The Arts Commission did not respond to Newsweek's request for further comment in time for publication.
The Columbus statue has been overlooking San Francisco Bay for nearly 63 years, according to SFGATE. Its removal Thursday joins several others that have been taken down in California and across the U.S. since early June. In Sacramento earlier this week, politicians similarly decided they will soon remove a statue of Columbus from the California State Capitol, where it has stood since 1883.