Civil rights protesters are launching into the first day of a week-long march from New York City to Washington, D.C., on Friday afternoon to mark one year since the deadly Charlottesville, Virginia, rallies erupted.
New York civil rights leader Hawk Newsome, who is leading the Agape march, told Newsweek the march will hit 10 cities and six states over a 10-day period.
"Nothing has changed in the last year," said Newsome, who is also the president of Black Lives Matter of Greater New York, an unofficial chapter of the movement. "Things have actually gotten worse. That's why we believe that a change in strategy is necessary," Newsome said.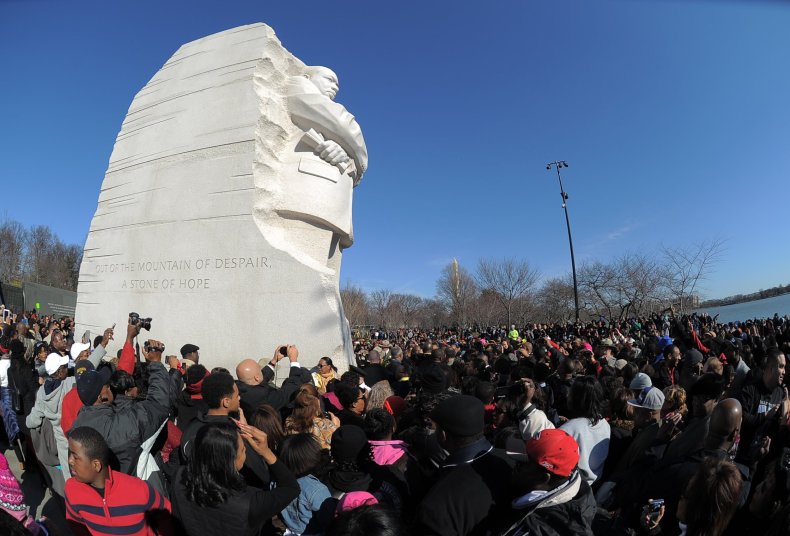 The civil rights leader said he wanted to spread a message of "love" with the Agape march to counter the hate espoused by white supremacists during the "Unite the Right" rally that occurred last August 11 and 12 and resulted in the death of counter-protester Heather Heyer.
Agape love
"Agape," a Greek word for love, was "central" to Martin Luther King Jr.'s "philosophy of nonviolent social change," according to The King Center.
"He spoke of three kinds of love: philia, affection between friends; eros, a romantic love; and agape, a universal, all-embracing love for others for their sake," the center states.
"I was in Charlottesville last year on the frontlines with the tear gas, the rocks and the guns and I saw the power of hate," Newsome said of the rallies that launched over plans to remove a statue of Confederate Army General Robert E. Lee.
"What I want to see now is the power of love," he said, later adding: "This march is an exercise of that love and it's a revolutionary love, with which we seek to truly change America.
"All Americans, regardless of their political affiliation are invited to march with us down to D.C. because we are going there to talk about the issue at hand, which is the anniversary of Charlottesville and the fact that people like Jason Kessler and white supremacists are a serious threat to America."
Agape marchers are set to arrive in Washington, D.C., on August 12, completing their journey at the city's MLK monument to mark the Charlottesville rally, which will have happened exactly one year ago.
The Agape march route
After kicking off in NYC at noon in George Washington Bridge Park, Newsome told Newsweek that marchers will make their way to Newark, New Jersey.
From there, they plan to march through Princeton, New Jersey; Camden, New Jersey; Philadelphia, Pennsylvania; Wilmington, Delaware; Towson, Maryland; Baltimore, Maryland; and Howard County, Maryland before completing the 10-day journey in Washington, D.C., outside the MLK monument.
Newsome said organizers were expecting "big turnouts" in Philadelphia and Baltimore, but, he added: "A lot of the magic happens in the smaller towns."
Rejuve-a-Nation
Newsome said that as the march kicks off, he and fellow activists will also be launching a new initiative, called "Rejuve-a-Nation," which will aim to create and support programs dedicated to promoting the physical, mental and emotional health of black communities in the U.S., as well as programs aimed at promoting financial literacy, entrepreneurship and justice reform.
"The solutions that we introduce in this march are part of the cure to a much larger picture, which is systematic racism. The basic principle is to love yourself as you love your neighbor," Newsome said.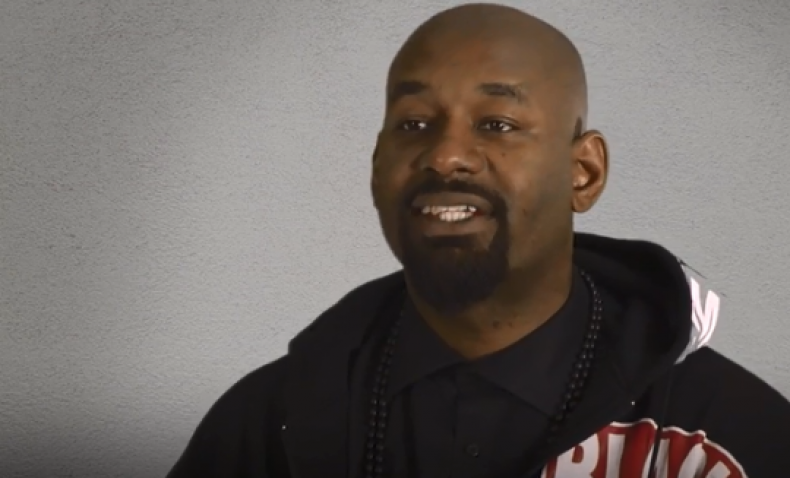 Newsome said that while he has worked as a civil rights leader under the BLM banner for years, he believes starting Rejuve-a-Nation is the next step for him to support black communities in the U.S.
"The goal is to breathe life into a deflated population in America and to make our comunities independent and productive," he said.
"We have to do more than just say that we are challenging white supremacy and white supremacists and instead show them how we are standing up to them. We have to build around them if we want to eliminate racism."