Civil Rights Group Sue Swedish State Over Illegal Roma Register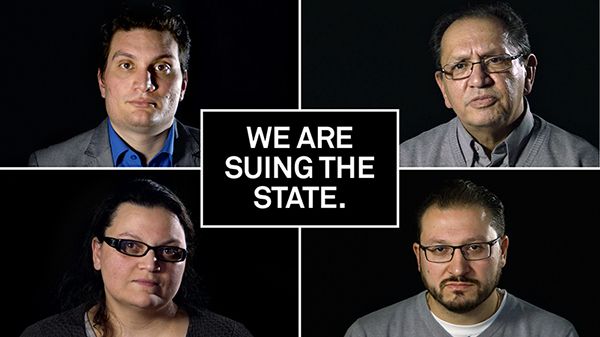 A civil rights group in Sweden is suing the state on behalf of 11 people whose details were put on an illegal police register, claiming the only reason they were added was because of their ethnicity.
A lawsuit was filed this morning by Civil Rights Defenders at the district court in Stockholm, accusing the police administration in Skane in southern Sweden of compiling a register of 4,700 Roma people on the basis of their ethnicity, which they say is against Swedish data privacy laws and the European Convention on Human Rights (ECHR).
Swedish newspaper Dagens Nyheter revealed in 2013 details of a police register, titled Kringresande - which translates as 'Travellers' - that held the details of 4,700 people, all of whom were reportedly from the Roma community or connected with the community.
Rosario Ali - who lives in Stockholm and was on the register along with a number of his family members and is one of the people being represented by Civil Rights Defenders - says he was on the register for "no other reason than my ethnic origin".
Newsweek subscription offers >
He says the register was compiled during an inquiry into a family conflict in the south of Sweden in which criminal activities were thought to be taking place, but says that he doesn't know the families and has nothing to do with them or any criminal activities. According to Ali the register contains the details of children, and around 200 people who are deceased, as well as people who were not even living in Sweden at the time.
"We always know there is a risk of being open about your ethnic origin in society," he says, "however you think there is some protection from the authorities, but that is gone because it was the police making this register. It was not about what you have done in your life, it is just based on who you are, your ethnic origin. That's quite scary I think."
The register was investigated in 2013, and found to be illegal by the Swedish Commission on Security and Integrity Protection, which offered damages of SEK 5,000 (€543.50) to each individual on the list. The register was found to be too vague in its aims and too broad in its scope, but it wasn't ruled to be based on ethnicity.
Robert Hårdh, the executive director of Civil Rights Defenders says these investigations have "left us with more questions than answers".
Newsweek subscription offers >
"Above all they have really failed to look into the ethnic dimension of this register. All of the 4,700 people are of Roma origin or are by some way connected to or relative to Roma. There's no doubt this register is based on an ethnic background. The Swedish authorities have turned a blind eye to this in their investigations."
Hårdh says the case is an attempt to finally get an answer as to why those on the register were on it, and to highlight daily discrimination against Roma people in Sweden.
Sweden's Roma population have long been vilified by politicians and the media. Niklas Orrenius, the journalist who first broke the story revealing the existence of the register describes discrimination against the Roma as "the last acceptable racism in Sweden".
Civil Rights Group Sue Swedish State Over Illegal Roma Register | World