Civil Rights Groups Sue Texas Governor Citing Voting Rights Act Violations
A new lawsuit has been filed against Texas Governor Greg Abbott and Texas Secretary of State John Scott over a Congressional redistricting map that was allegedly drawn based on racially discriminatory gerrymandering.
Multiple civil rights groups including the American Civil Liberties Union (ACLU) of Texas, Our Vote Texas and the Southern Coalition for Social Justice (SCSJ) filed the suit against Abbott and Scott, both Republicans, on Tuesday. The new map, which was drawn up by the Republican-dominated state legislature, contains no new districts with majority Black or Latino populations, despite the 2020 Census revealing that 90 percent of new Texas residents over the past decade were people of color.
The lawsuit asserts that Texas "refused to create minority opportunity districts required by the Voting Rights Act" and instead "racially gerrymandered electoral districts" to maintain political advantages for Republicans. The plaintiffs are asking that Texas be forced to "develop redistricting plans that do not dilute minority voting strength for the Texas House and Senate and the United States Congress" on the basis that the redrawn map violates the Voting Rights Act and the Fourteenth and Fifteenth Amendments of the Constitution.
Republican state Senator Joan Huffman, who headed the redistricting effort, insisted that the map was "drawn blind to race" and had been legally vetted to comply with the Voting Rights Act last month. On Tuesday, Allison Riggs, co-executive director and chief counsel for voting rights at SCSJ, described the map as "intentional discrimination of voters of color in clear violation of" the Voting Rights Act and the Constitution.
"Texas' latest gerrymanders seek to blunt the political power of fast-growing populations of Latino, Black and Asian American and Pacific Islander voters by carving up their chance to elect their preferred candidates to the United States Congress, the Texas House of Representatives, and the Texas Senate," Riggs said in a statement after the lawsuit was filed.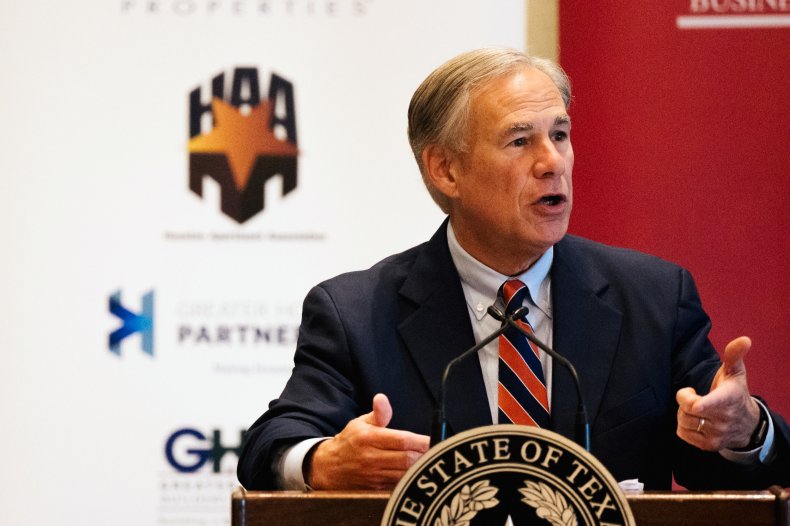 Our Vote Texas President Valerie Street said that Texas voters had demanded "a fair and open district drawing process that would put the needs of our communities ahead of politics" in a different statement, while lamenting that the "pleas were ignored in favor of hastily drawn district maps that fracture us and silence the voices of countless Texans, none more so than Black, AAPI and Latino communities."
"In a year that has seen damaging voter suppression legislation be signed into Texas law and ongoing attacks on civics and history education, we know that these district maps continue a vicious pattern of disempowering Texas voters and entire communities of color," said Street. "Texans have once again been cheated by our state's redistricting process."
A different lawsuit, spearheaded by the voting rights group Voto Latino, was filed against Abbott and Scott last month with the support of the National Democratic Redistricting Committee, a group chaired by former Attorney General Eric Holder. The earlier lawsuit also alleged that the Texas redistricting plan was a violation of the Voting Rights Act.
The Texas legislature passed a controversial and restrictive voting rights bill in August after a tense standoff that saw Democratic lawmakers temporarily block the vote by traveling out of state over the summer. Abbott signed the bill into law in September.
Newsweek reached out to Abbott's office for comment.