Civil Rights Office Investigating NYU Over Claim It Allowed Hostile Atmosphere for Jewish Students
After considering the merits of a former student's claim, the federal Office for Civil Rights (OCR) launched an investigation to determine if New York University allowed the campus to become a hostile environment for Jewish students.
"Universities now know that there's somebody in the official government world looking over their shoulders carefully," Neal Scher, a lawyer representing the student, told Newsweek. "They'll know when students make complaints, which they do all the time, on campuses all over, that the OCR will take them seriously."
Adela Cojab was a senior at NYU when she filed a complaint with the OCR in April, after the university honored Students for Justice in Palestine with the President's Service Award that month. On Wednesday, the OCR informed Sher that it would conduct an investigation to determine if SJP's actions created a hostile environment and whether the school responded appropriately.
Amid a rise in anti-Semitic hate crimes across the nation, some say there is also an increasing anti-Israel sentiment on college campuses.
If, after the investigation concludes, the OCR determines NYU violated civil rights laws, it will have the opportunity to make changes in compliance with a resolution agreement. If the university is unable to come to an agreement on how to resolve the problem or doesn't comply, the OCR can withhold federal financial aid.
"I hope this causes not only positive change for NYU but is an example to other universities. Students deserve to be safe on their campus, and they shouldn't be walking around in fear that their identity and expression of identity will be grounds for physical violence or harassment and discrimination," Cojab told Newsweek.
The breaking point for Cojab was when the university honored SJP with the President's Service Award, which is given to students or student organizations that have an "extraordinary and positive impact" on NYU's community.
"It was entirely unfair, and it's something they should answer for," Cojab said. "It reinforces negative behavior. This award goes to groups that every group should strive to be."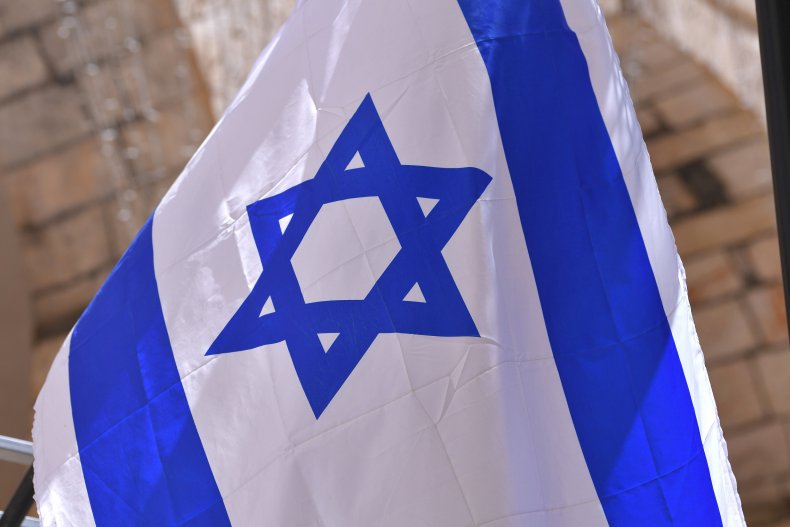 Although it's called the President's Service Award, after people expressed outrage over the decision, NYU President Andrew Hamilton claimed a committee chose the recipients, not him. NYU spokesman John Beckman told Newsweek that had it been up to Hamilton, he would not have selected SJP. He also said the president didn't attend the ceremony.
The appropriate response, Cojab said, would have been to rescind the award and make a public statement saying it was awarded in error. Then the president should have attended the ceremony to celebrate the accomplishments of the other students who won.
Newsweek reached out to NYU and SJP but did not receive a response in time for publication.
Cojab said pro-Palestine and pro-Israel students co-existed on campus during her freshman and sophomore years, but she saw a shift in how the groups interacted with each other during her last two years.
In 2018, SJP protested an annual rave in Washington Square Park to celebrate Israeli Independence Day, during which a student allegedly burned an Israeli flag and another took a microphone away from a student who was singing the Israeli national anthem. Both students were arrested.
"We're not going to let them stand by and support Zionism," SJP President Khalid Abu Dawas told Washington Square News, NYU's independent student newspaper, at the time. "Our point is to make being Zionists uncomfortable on the NYU campus. They shouldn't be comfortable, because the ideology of Zionism is antithetical to Palestinian liberation and Palestinian sovereignty at its core."
Whereas SJP members considered their demonstration a political protest, Cojab said she sees it as discrimination against a group of people who share the cultural identity of being Jewish.
In December 2018, NYU's student government passed a resolution to have the university divest from companies, including Boeing, GE and Lockheed Martin, that do business with Israel. Students in favor of the resolution claimed it was about standing up for Palestinians' human rights, but those opposed claimed a resolution conforming to the Boycott, Divestment and Sanctions movement made them feel unsafe on campus.
Before launching its investigation, Cojab said, the OCR interviewed her about her claim. Their discussion predominantly focused on the timeline of events and her correspondence with the university to determine the level of knowledge administrators had about the situation.
She told Newsweek she raised her concerns with multiple university officials on different occasions and decided to file the claim only after she realized diplomacy wasn't effective.
"I'm not doing this because I hate NYU. My brother went to NYU, and it was my early-decision choice. I love NYU, and they should be doing better for students' safety," Cojab said.
Cojab and Sher don't have an exact timeline for the upcoming process. The OCR noted that an investigation doesn't imply the agency has determined that NYU did anything wrong.
In resolving the complaint, Cojab hopes the university will amend its policies regarding community procedures and conduct. The standard wording about student behavior, she said, was vague and therefore difficult to enforce.
"I do think they have good intentions and they want change to better the experience of students," Cojab said. "I think NYU has always been and will always be my number one, but I do hope they take our concerns seriously."
Regardless of how the investigation plays out—and what, if any, consequences NYU faces—Sher called the situation "very serious." If he was a university administrator, he said, he would be proactive in identifying and addressing problems on campus so his school wouldn't be the next to come under investigation.