Capital & Main is an award-winning publication that reports from California on economic, political and social issues.
Last month, when President-elect Donald Trump named fast-food CEO Andrew Puzder to head the U.S. Department of Labor, many observers were left scratching their heads. Some questioned whether a man who'd argued strongly against government regulation could become the chief enforcer of some of the same overtime and paid sick day laws he'd publicly opposed. Less than a year ago, Puzder said he favored replacing some employees with robots, in part because robots don't file age, sex or race discrimination lawsuits.
Puzder, who heads CKE Restaurants, the parent company of Carl's Jr. and Hardee's burger joints, along with Red Burrito and Green Burrito shops, has also loudly proclaimed his opposition to Obamacare, as well as his enthusiasm for using sex to sell fast food. Carl's Jr. ads routinely feature bikini-clad models lustfully gobbling thousand-calorie burgers. "We believe in putting hot models in our commercials, because ugly ones don't sell burgers," reads a 2011 company press release.
What is less well known is the company's contentious record on civil rights. As Puzder, who is an attorney, may have inadvertently suggested in touting robots to replace workers, the company has a problem with racial discrimination and sexual harassment.
Dozens of Discrimination Cases
A Capital & Main investigation has found that since Puzder became CEO of CKE in 2000, Carl's Jr. and Hardee's have been hit with more federal employment discrimination lawsuits than any other major U.S. hamburger chain. As a defendant in such cases, it is number one among burger chains with $1 billion or more in annual sales, with a higher percentage of racial discrimination and sexual harassment lawsuits filed by employees than McDonald's, Burger King, Wendy's and five other competitors. Only Sonic Drive In had a higher percentage of U.S. Equal Employment Opportunity Commission (EEOC) cases among burger restaurants with more than $1 billion in annual sales.
Racial discrimination and sexual harassment claims filed in federal court against the company and its franchisees read like stories from the 1940s or '50s, before civil rights laws were ever enacted.
In 2000, Michal Harris-Galloway, who was a teenager at the time, began flipping burgers at a Carl's Jr. in Elk Grove, near Sacramento, California. Two years later, work had become a nightmare for Harris-Galloway, who is African-American, when a company supervisor regularly used the N-word and spewed hate speech at work, according to an EEOC summary of her federal complaint. The EEOC summary of the charges against CKE claimed the boss shared his view that white people were superior to those of other races. He boasted about the Confederate flag that he said flew over his home, and displayed a swastika and other white-power tattoos, and said he planned to ink another on his forehead depicting a black lynching victim.
When Harris-Galloway and a group of co-workers protested to a manager, the manager said that he himself was something of a racist, and did nothing, Harris-Galloway's attorney, Michael Nkosi, told Capital & Main. After she complained, he said, Harris-Galloway received threatening phone messages and was finally fired. "When you complain to management, you get terminated," Nkosi said. "What kind of a world are we living in where there's no recourse, no punishment?"
Tens of thousands of workers file complaints with the EEOC each year, but it files lawsuits on behalf of less than 1 percent of them. Commission attorney Marcia Mitchell, who represented Harris-Galloway, said the agency took her case both because the allegations were serious and the victims were so young.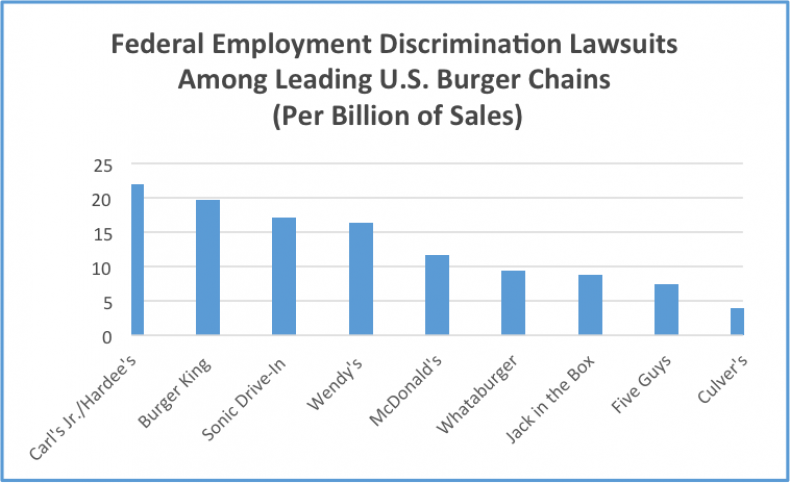 As in many of the dozens of CKE discrimination cases that Capital & Main reviewed, the company didn't go to trial and instead settled the case in 2005. CKE signed a federal consent decree that provided for a $255,000 payment to Harris-Galloway and her co-workers. Under the terms of the agreement, the company agreed to a zero-tolerance policy for discrimination and retaliation, a complaint procedure and anti-harassment training for all workers within the company district that included the Elk Grove restaurant.
"Their job was to pay as little as possible and get out of the game without being in the press too much," Nkosi said.
In an email, CKE spokesman George Thompson did not comment on sexual harassment or race discrimination lawsuits against the company, although he argued that Puzder didn't actually say, in an oft-quoted interview, that he wanted robots to take over from humans, and claimed the quote was part of a longer exchange, part of which went unreported.
Settling Racial Discrimination Suits
Official company policy at CKE prohibits discrimination based on race, color, religion, gender, age, sexual orientation, national origin or disability, but in discrimination lawsuits against the company, workers have contended that CKE bosses, from line supervisors to general managers to district managers, have failed to honor it.
For instance, in 2010 at a Hardee's in Knoxville, Tennessee, Johnny Page, Sr., an African-American man in his 20s at the time, claimed he was subjected to a torrent of racial slurs and discrimination from his supervisor. Page alleged in court documents that his immediate boss called him "nigger," "blackie" and "coon," and once said, "Get your black ass back to work." On another occasion, as the restaurant's general manager looked on, the supervisor allegedly said, "Nigger you need to get back to work." After that, the general manager herself sent Page a picture of what appeared to be a Ku Klux Klan lynching via text message. In it, a black man was running from people dressed in white robes and hoods as a cross burned in the background.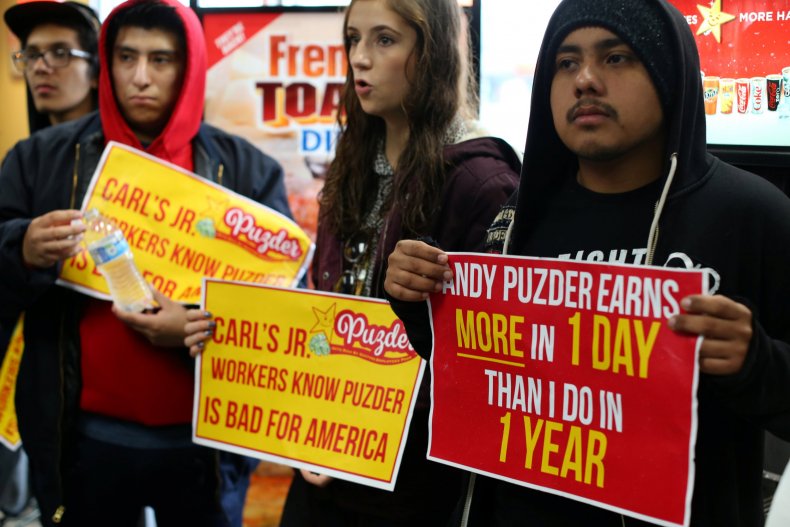 Page didn't return phone calls, but his stepfather, Paul Johnson, said Page stayed on the job because he was in a bind.
"He had to have a job to pay child support," Johnson said. "Which would you rather do—get abused or go to jail?"
In court papers, Hardee's denied charges of racial discrimination against Page. Attorneys for the company further argued that Page himself asked his manager to send the offensive text message. Still, the two parties reached a settlement, the terms of which are not public.
While Page said the managers failed to stop racial harassment against him, another Hardee's manager named Alice Leeth, who'd worked for the company 21 years, said her district manager ordered her to practice discrimination. Leeth, who is African-American, filed a federal lawsuit against a company franchisee who directed her to hire 90 percent white employees at a Jasper, Alabama, restaurant because most of the eatery's clientele were white. She refused, saying that it would be illegal to do so, and alleged in court papers that as payback, she was removed from her position and sent to manage another Hardee's some 50 miles from her home.
"I was shocked," Leeth told Capital & Main, "because the guy that told me that was a black guy. I don't think it was coming from him. I think it was coming from upper management." Leeth said she was later fired. She settled her case, court filings show, but the settlement hasn't been publicly disclosed.
And in Tuscaloosa, Alabama, Charlotte King, a black woman, said she managed a Hardee's franchise for eight years until a new owner informed her that a white man with far less experience would begin making decisions at her store.
The new owner told her that because most of the store's clients were white, he needed a white manager. King alleged that she was fired after she objected to that and the store's new practice of hiring white applicants while filing away the applications of African-Americans. King's attorney said neither he nor his client could discuss the case because they'd reached a confidential settlement with the company.
While franchisees are nominally independent, a 2015 National Labor Relations Board ruling held corporate parent companies responsible for their labor practices, because they generally have at least indirect control over their labor policies. The Obama administration has also supported the so-called joint-employer rule, said George Washington University Law School Professor Michael Selmi, who teaches employment law and employment discrimination. Still, the issue is far from settled in the courts, Selmi said.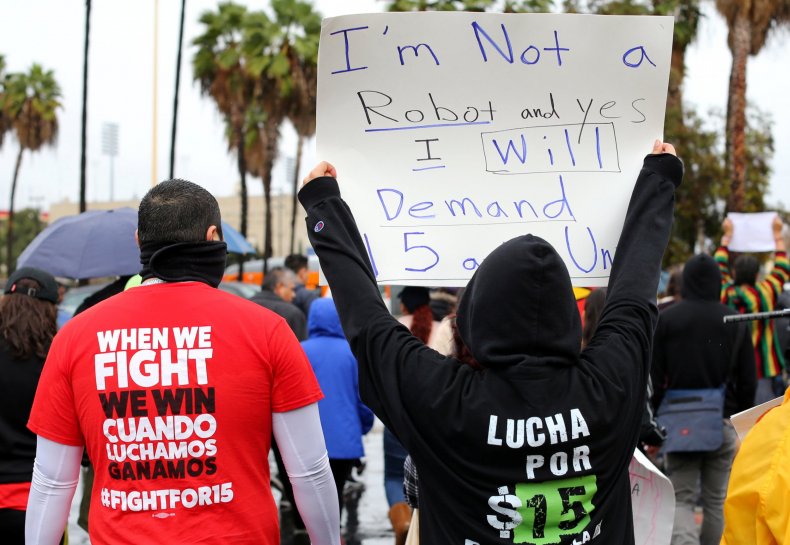 Settling Sex Discrimination Suits
If racial discrimination is alleged to be blatant at CKE restaurants, gender bias is equally flagrant, say some of the women who have filed sexual harassment claims against the company.
Maya Raghu, director of workplace equality at the National Women's Law Center, which opposes Puzder's confirmation, argued that there is a pattern of women alleging egregious facts in such cases during his tenure. "When they complain, complaints are ignored and managers don't respond."
Written policies alone don't combat sexual harassment, Raghu said. Instead, she contended that a company must create a culture where it is unacceptable and workers feel comfortable either intervening to stop it or reporting it. "That communication starts from the top," Raghu said.
In 2009, EEOC attorneys won a $75,000 settlement for Alexious Cooper and other women at a Hardee's store in Livingston, Tennessee, calling the harassment they suffered "severe and pervasive." In court papers, attorneys alleged that male crew members rubbed or touched the women's buttocks or breasts at work. One co-worker threw hot food on a female employee, and physically assaulted female workers with food and kitchen equipment. Lawyers for the EEOC also alleged that when Cooper complained to her supervisors, they did nothing to stop the abuse, and instead cut Cooper's work hours in retaliation, which Hardee's also denied. Cooper said in an email that she couldn't talk about the case, as it had already been settled.
Hardee's also settled a 2010 sexual harassment and disability discrimination lawsuit with Cynthia Schweik, a Tennessee woman who had claimed that a general manager repeatedly taunted her with unwanted sexually explicit comments. Schweik, who suffers from an anxiety disorder, said that the manager would deliberately harass her to bring on a panic attack so he could mock her in front of the other workers. The manager allegedly called her dumb and stupid, ridiculing her for her appearance and encouraging other workers to join in the abuse. Schweik alleged that the manager denied her work breaks so that she could take her medicine with food, and even denied her a break to get control of her breathing while she suffered a panic attack on the job.
In court papers, Schweik said she attempted to report the abuse to a district manager and said she even brought her concerns to the human resources director at a corporate seminar on sexual harassment. The district manager responded to those concerns by saying Schweik was oversensitive and said the general manager had been "having a bad day."
Hardee's denied all the allegations and settled the case, although the settlement is not public. Schweik didn't return email messages, and her attorney declined to talk about the case, citing privacy concerns.
Sexual harassment is pervasive in the restaurant industry, not just at Carl's Jr and Hardee's, but it's also preventable, Raghu noted. It's a question of providing training that's relevant and repeating it so that workers and line managers understand that top bosses take it seriously.
It's unclear what Andrew Puzder's personal response to the charges of sexual harassment or racial discrimination at his company, if any, has been. But as he faces questioning from the Senate Committee on Health Education Labor and Pension, he may be asked to provide answers.
After all, at the Department of Labor, he would oversee agencies like the women's bureau, which ensures fair treatment of women at work, and the office of contract compliance, which is specifically charged with rooting out the type of discrimination that has been alleged repeatedly at Carl's Jr. and Hardee's.
Robin Urevich is a journalist and radio reporter whose work has appeared on NPR and Marketplace as well as in the San Francisco Chronicle and the Las Vegas Sun.