'We Intend to Fight': Civil Rights Leaders Respond to Trump Election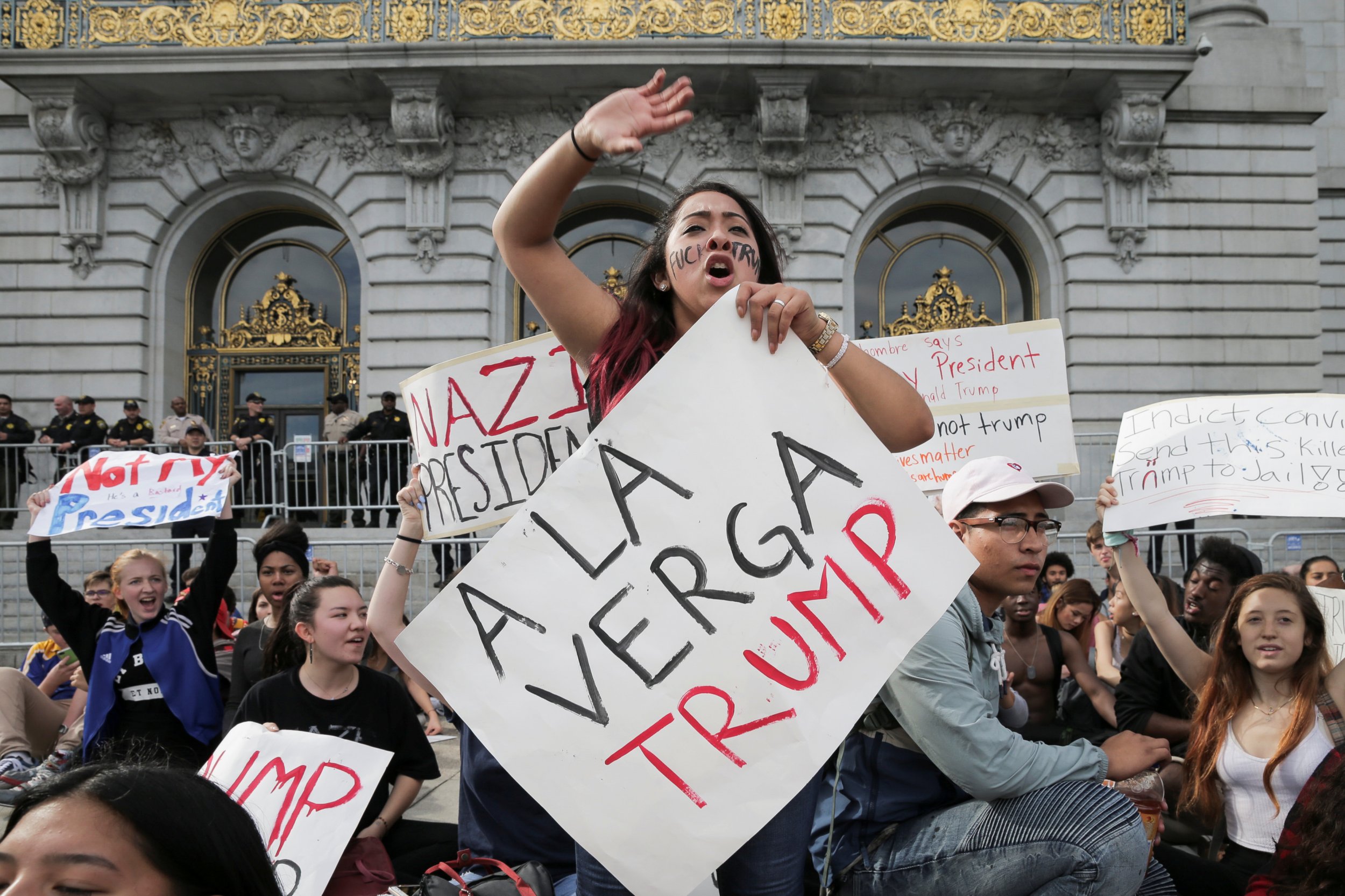 Donald Trump's startling election victory Tuesday night has the organizations representing America's minorities talking of unity, but bracing for war.
In a series of post-election press conferences in the nation's capital Thursday, official after official from groups representing African-Americans, Latinos, Arabs, Jews and Muslim-Americans stepped to the microphone and used words like "anxiety," "dangerous" and "resolute" to describe the mindset of their communities as they absorb the fact that a man who made ethnic and religious recriminations a cornerstone of his dark horse presidential campaign is now prepared to enter the White House.
Sherrilyn Ifill, president of the NAACP Legal Defense and Educational Fund, likened the challenges African-Americans will face under a President Trump to some of the darkest moments of racial injustice in American history. "We remain steadfast in our commitment to continuing to move the needle of equality forward," Ifill said Thursday morning at one such post-election briefing. "We did it during the days of Jim Crow, we did it during massive resistance of the Brown v. Board of Education decision, we did it during the period of lynching."
Cristina Jimenez Moreta, executive director of United We Dream, an immigrant advocacy organization led by young, undocumented immigrants known as DREAMers, said Trump's election had her fearing that her parents, brother and staff could all be deported. President Obama passed two executive orders providing relief from deportation for DREAMers and their families, but Trump has promised to reverse the measures.
"Our community is under siege, and we may be entering an era where our very own existence is an act of civil disobedience," Moreta observed defiantly.
Moreta and others recounted calls coming into their organizations from various minority groups in the days since the election—Latinos who were fearful about their immigration status, or Muslims who reported their children were facing Trump-inspired bullying at school. And the civil rights officials, religious leaders and other advocates called on Trump, as president-elect, to disavow his past remarks denigrating Latinos, Muslims, immigrants and women. "It is our hope that President-elect Trump will repent and repudiate the demeaning and divisive and often hateful rhetoric he has used in his campaign," said the Rev. Aundreia Alexander, associate general secretary of the National Council of Churches, a diverse coalition of Christian faith leaders. Muslim Advocates Executive Director Farhana Khera said Trump must "explicitly and unequivocally" withdraw his previous calls to ban Muslim immigrants to the U.S. and create a registry of American Muslims, which she called "unconstitutional and undemocratic."
Some who spoke out on Thursday offered an olive branch to the next president. "If the President-elect changes his tone and uses his presidency to bring people together, we will be ready to work with him for the common good," Rabbi Jonah Pesner, director of the Religious Action Center of Reform Judaism, said.
Others have already reached out to Trump to set up meetings. National Association of Latino Elected Officials Executive Director Arturo Vargas said Wednesday that in the day since the election, his organization had requested a sit-down with Trump and his transition team. Vargas lamented that "throughout this campaign, every single overture that we made to the campaign of Donald Trump was ignored," something he called "unprecedented" in NALEO's history of electoral engagement. "He cannot continue to ignore our overtures," Vargas said firmly. "It is his responsibility as the president-elect of the United States to engage every single American."
And over and over, the rainbow of leaders repeated an admonition to Trump: if he does not chart a new course, if he moves forward with divisive policies that target ethnic and religious minorities, he will be opposed by the collective force of their movements. "We intend to fight," warned Ifill. "We intend to ensure that we do not go backward."