Researchers have uncovered evidence indicating that Civil War soldiers dyed their hair to look better in photos.
Excavations at Camp Nelson in central Kentucky have revealed the remnants of a 150-year-old photography studio—which was once part of a Union camp—the first ever found at Civil War site.
Among the many items discovered by researcher Stephen McBride and his team were several broken glass bottles that once contained hair dye, the Lexington Herald-Leader reported.
The researchers from Transylvania University in Lexington initially thought that the bottles were used to hold medicine. However, when the team started putting the pieces of glass back together they noticed some featured embossed lettering, with names such as "Bear's Oil," "Christadoro" and "Dr. Jaynes."
The Bear's Oil product was probably used like modern-day hair gel or wax to shape hair. However, the Christadoro and Dr. Jaynes products turned out to be hair dye brands.
"We found a lot of them. It's something you just don't find on other sites," McBride told the Herald-Leader. "The dye is interesting. It suggested that people were fixing up their hair before they had their photograph taken. So people may have actually been darkening their hair to look better in the photo."
He suggests the reason behind this decision was that soldiers may have wanted to correct one peculiarity of early photography.
"One of the things the photographic books mention is if you had light-colored or blonde hair, the black and white photography process could make you look like you had white hair or gray hair," McBride said.
Camp Nelson was founded in June 1863 as a U.S. Army Supply Depot in Jessamine County. At the peak of its use around two years later, the camp extended across 4,000 acres and housed up to 8,000 soldiers.
Designated as a National Monument in October 2018, Camp Nelson housed more than 300 buildings and tents, which included a recruitment center, prison, hospital, barracks, sawmill, slaughterhouse, woodworking shops and other services, according to the National Park Service (NPS).
The army also allowed private merchants to set up shop at the camp. These businesses included taverns, a post office, a boot shop, fruit and vegetable stands and the photography studio—the existence of which is indicated by the discovery of several photographic artifacts.
"I think it's a really exciting find," Bob Zeller, Director of the Center for Civil War Photography, told the Herald-Leader.
"Civil War photographic discovery is still very active today," Zeller said. "And now we have an archaeological discovery of a Civil War photo studio. As far as I know, it has not happened before."
The Civil War was the first conflict on U.S. territory to be photographed. Over the course of the war—which lasted between 1861 and 1865—demand for photos rose, causing the price of portraits to fall, thus making them more affordable to everyday people.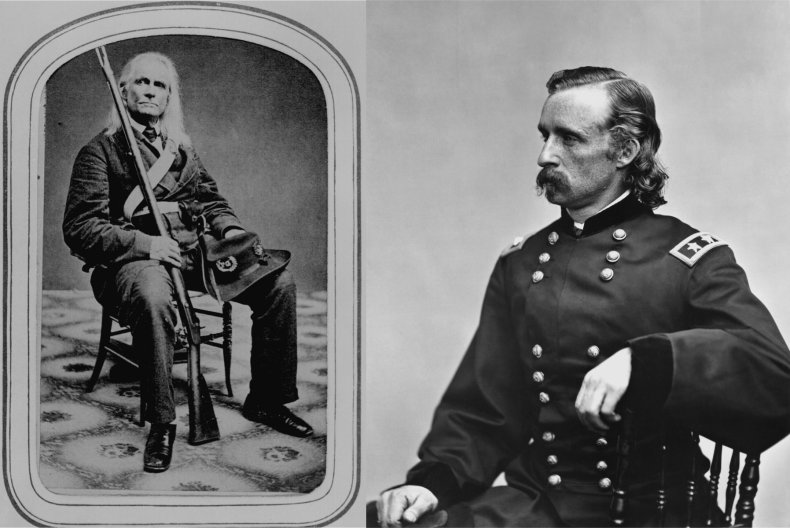 According to McBride, it was common for new enlistees to have their portrait taken before they were sent off to fight.
"Being a soldier was and is a special status associated with manhood, bravery and honor," McBride said. "The portraits and the identifying stencils were important to the men to illustrate their status as both men and soldiers at that moment, but also for posterity, as they could soon be wounded or killed."
But taking portraits back then was no easy task and required someone with relatively high technical expertise.
"Photography back in the Civil War era was an incredibly technical and dangerous practice," McBride said. "It involved many toxic chemicals. You had to know what you were doing as far as the treatment of the plates and the albumen paper."
Camp Nelson is notable for having been one of the largest recruitment and training centers of African-American soldiers during the war.
According to the NPS, thousands of slaves risked their lives by fleeing to the camp, in the hope of securing their freedom. After restrictions on army enlistment were removed in June 1864, the camp saw a huge spike in the number of African-American recruits—who were emancipated by the act of joining the Union forces.
In total, it is thought that around 10,000 African-American men enlisted in the army and won their freedom via this process at Camp Nelson. Many of these men arrived with family members, who were also granted their freedom.