Civilian Deaths Surge Amid Wars In Syria and Yemen
The number of civilian deaths by explosive weapons surged in 2017, according to a report by the campaign group Action On Armed Violence (AOAV), as conflict continues to grip the Middle East.
Syria's brutal civil war drags on, the militant group ISIS blights Iraq, the Saudi bombing campaign on Yemen has not ended and the Taliban is still battling for control of areas in Afghanistan and Pakistan. And it is civilians who are paying the biggest price for that violence.
AOAV said there were 16,289 civilian deaths globally in the year due to explosive weapons, a 38 percent annual increase. A further 15,615 civilians were injured, the report said.
This means two-thirds of all people killed and 86 percent of all those injured were civilians. It is also the highest number since AOAV began tracking civilian deaths in 2011. The latest figure is also a 165 percent increase since then. Of all civilian deaths, 93 percent are in populated areas, such as urban centers.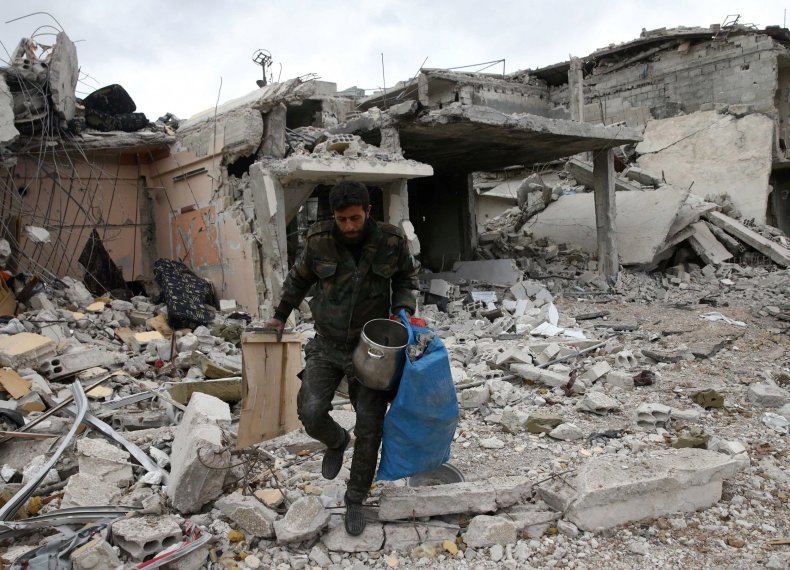 "The most striking finding by AOAV in our analysis of explosive violence in 2017 was that of the sharp rise in air dropped bombs," said Iain Overton, the group's executive director.
"For the first time since our data began seven years ago, such air strikes caused the greatest levels of civilian harm compared to other explosive weapon types.
"This increase reflects an increased appetite for states to use such injurious weapons in towns and cities around the world—despite the evidence showing overwhelmingly that over nine out of ten people harmed in such attacks will, on average, be civilians.
"Our report should serve as a stark message for states to cease any use of explosive weapons in towns and cities immediately," he said.
Air-launched explosive weapons were responsible for 45 percent of all civilian deaths and injuries, said the AOAV report, which includes air strikes, air-dropped bombs, missiles and rockets.
The top five worst countries for civilian casualties—including both deaths and injuries—were, in order, Syria, Iraq, Afghanistan, Pakistan and Yemen.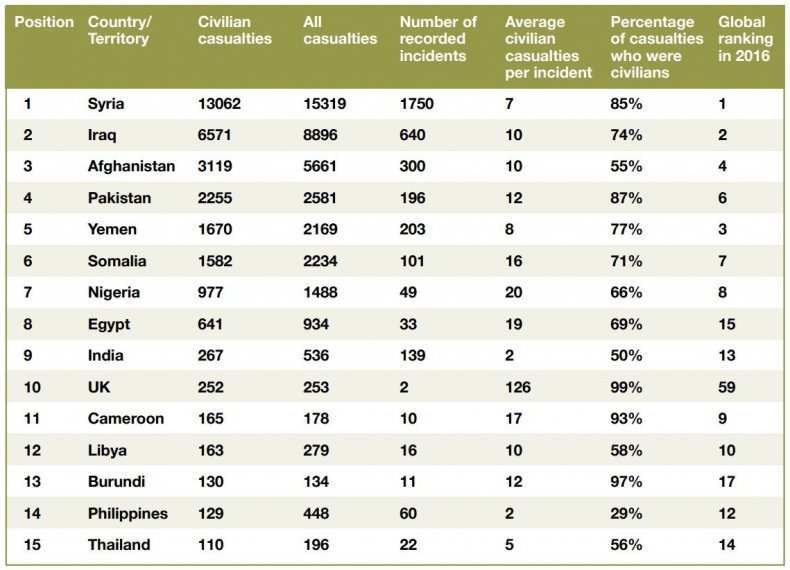 AOAV also collects data on those responsible for explosive deaths, though it could not do so in all cases. Around nine percent of the deaths could not be attributed to a particular state or non-state actor.
The biggest state user of explosive weapons was the U.S.-led coalition fighting against ISIS in Iraq and Syria, which accounted for 14 percent of incidents in 2017. Next was Syria at 13 percent, the Saudi-led coalition bombing Yemen at six percent, the U.S. alone at three percent and Turkey at three percent.
State actors killed or injured 16,264 civilians, who made up 69 percent of all their casualties.
"However, the list may be somewhat misleading," the report said. "It is likely that far more incidents should be attributed to Syria and Russia but in many of the state perpetrated incidents in Syria the perpetrator name was unknown (in many it was unclear whether they were perpetrated by Syria or Russia)."
Non-state actors, such as militant groups, accounted for 14,265 civilian casualties in 2017. Civilians accounted for 79 percent of all casualties at the hands of non-state actors.
ISIS was responsible for 19 percent of incidents, followed by the Taliban (four percent) and Ukrainian separatists, Al Shabaab and Houthi rebels with three percent each.
"Due to AOAV's methodology, groups which do not routinely claim responsibility for their attacks or which operate in areas where attribution to a specific actor is difficult, may be responsible for more attacks than are recorded," the report said. "765 incidents committed by non-state actors were not claimed by any group, out of a total of 1,377 incidents."
The AOAV report was published as President Donald Trump considers how to respond to a chemical attack in the city of Douma, Syria, alleged to have been carried out by the Assad regime's forces.
After a previous attack on Khan Sheikhoun in April 2017, attributed by the U.N. to Assad's forces, Trump ordered a missile strike on the air base from which it was launched.
Trump signaled on his Twitter account that he is preparing another missile strike in response to the latest chemical atrocity, which left dozens dead and hundreds more injured.