Civilians Killed as Shell Hits Bus in Donetsk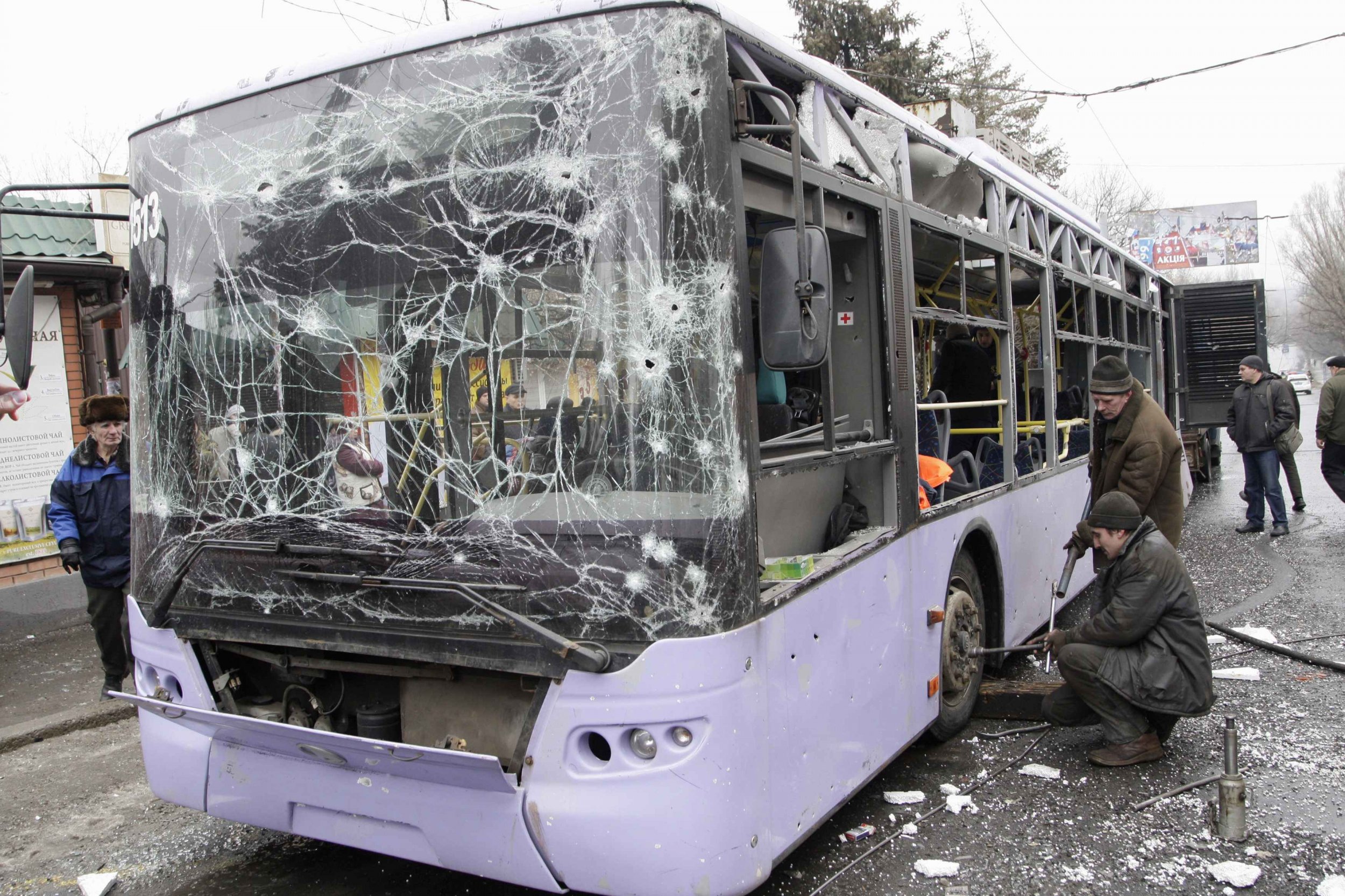 The war in Ukraine continued in bloody fashion today as government forces retreated from key parts of Donetsk airport and a mortar shell hit a public bus, leaving several civilians dead. There were conflicting reports on the number of those killed on the bus, but estimates range between eight and 13.
It is currently unclear who fired the shell, separatist forces supported by Russia or Ukrainian government troops. Separatist gunmen found on the scene blamed Ukrainian forces, while the Ukrainian prime minister, Arseniy Yatsenyuk, blamed "Russian terrorists" in a statement on the government's website. The Ukrainian defence ministry released a statement saying that its forces were 15 kilometres away. Amnesty International released a statement saying the likely target for the shell was a former-soviet military base, 500 metres away, that the pro-Russian forces have been using.
Amnesty condemned both sides, saying in their statement: "By basing troops, weaponry and other military targets in residential areas, using them as firing positions and firing artillery, rockets and mortars into these locations, pro-Russian separatists and Ukrainian government forces are endangering civilians in violation of the laws of war."
This attack comes just a week after another bus was shelled, killing 13 and injuring 18 in Buhas, a village south-west of Donetsk. Similarly, both sides blamed each other.
Get your unlimited Newsweek trial >
Meanwhile, the Ukrainian defence ministry told reporters that its troops had withdrawn from the main terminal of Donetsk airport.
During an eight-month battle, the airport has become a focal point for fighting between the two forces, gaining a certain "symbolic value" says Orysia Lutsevych, a Ukraine expert at Chatham House.
Vladislav Seleznyov, spokesman for Ukrainian government forces told Reuters that six soldiers had been killed in fighting around the airport over the last 24 hours. "As the fighting intensified we took a decision to leave the terminal and pull back to new lines," he said, but told reporters that "fighting around the airport is continuing and our troops have taken up defence in a number of areas".
Get your unlimited Newsweek trial >
"We continue to control the southern part of the airport," Seleznyov said. "We left the new terminal because it looks like a sieve and there's simply nowhere to hide there."
The airport has changed hands between the two sides a number of times since Russian-backed rebels initially took hold of it in May, with the main terminal and control tower being mostly destroyed.
Despite it's state of repair, Lutsevych says it could still have some use to the forces fighting over it. "You should remember the airport was built a few years ago; it has a super-efficient runway. It could be used for a military purpose."
The foreign ministers of several European countries including Germany's Frank-Walter Steinmeier, France's Laurent Fabius, Ukraine's Pavlo Klimkin and Russia's Sergei Lavrov concluded their latest crisis meeting in Berlin on Wednesday, calling for "all sides involved to cease hostilities and withdraw heavy weapons".
Negotiating peace in Ukraine is becoming increasingly difficult as combat forces continue to clash and Ukrainian president Petro Poroshenko accuses Russia of fuelling the war by supplying rebels with fresh troops and tanks. No peace agreements have yet been reached in Berlin but European foreign ministers have hope for another peace summit in Kazakhstan, which they say, will only happen once an effective ceasefire has been put in place.
According to Amnesty International's estimates, around 5,000 people have died since fighting broke out in Ukraine last year.
Thinking With the Blood, an in-depth ebook on Ukraine's civil war by Owen Matthews, is available now from Newsweek Insights.
Civilians Killed as Shell Hits Bus in Donetsk | World