'Civilization VI: Gathering Storm' Release Time: When Can You Download the New 'Civ 6' Expansion Pack?
In Gathering Storm, the second expansion pack for Civilization VI, the map comes alive with environmental hazards like floods, storms, droughts, volcanoes and even climate change, reshaping board game-like play into something more dynamic and dangerous.
The Civilization VI: Gathering Storm release date is February 14, with the expansion available to download from Steam beginning at 12 p.m. EST.
Gathering Storm adds a number of new features to Civilization VI, including a World Congress; new Technology and Civics trees; nine new buildings; 18 new units; 14 new wonders (including Machu Picchu and the Panama Canal); nine new leaders and eight new civilizations, including a new leader for thee English and French, Eleanor of Aquitaine. Gathering Storm adds the following new Civs:
Hungarian, led by Matthias Corvinus
Maori, led by Kupe
Canadian, led by Wilfrid Laurier
Incan, lead by Pachacuti
Malian, led by Mansa Musa
Swedish, led by Kristina,
Ottoman, led by Suileman
Phoenician, led by Dido
But, even with all these new additions, the main draw of the Gathering Storm expansion pack is dynamic environmental effects and the consequences of your civilization's impact on the land. Floodplains and volcanic areas add new strategic considerations, with disasters decimating your population, but also leaving behind fertile, resource-rich areas in their wake. Gathering Storm also adds to Civilization VI new consequences for employing strategic resources like Coal and Oil, which can alter the world's climate, raise sea levels and increase the rate of natural disasters if used too much. In response, players can build new engineering projects, like Flood Barriers.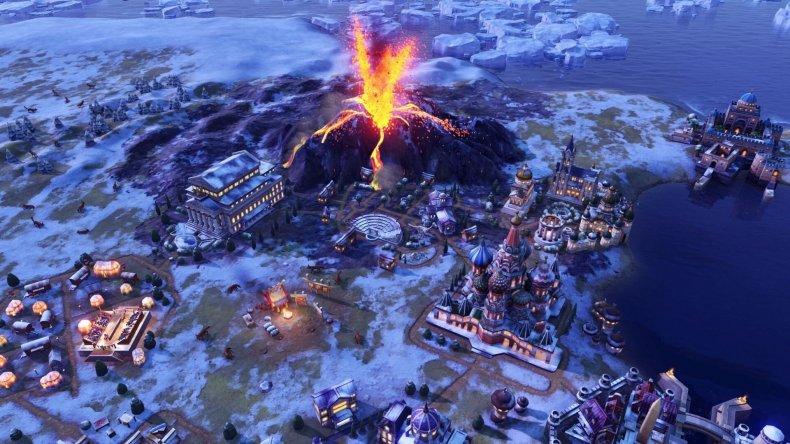 "We just like to have our gameplay reflect current science," lead producer Dennis Shirk told Eurogamer.
Diplomacy has also been beefed up in Gathering Storm, adding metrics like Diplomatic currency, earned through alliances, which can be spent on votes before the World Congress. Diplomatic alternatives should come in handy during new in-game scenarios, which include "The Black Death" and a WWI-set scenario called "War Machine."
Gathering Storm is the second expansion pack for Civilization VI, first released in 2016. The first expansion, Civilization VI: Rise and Fall, added global eras, Emergencies like nuclear war and Civs like the First Nation of Cree, led by Chief Poundmaker.
Here are the minimum system requirements for Civilization VI: Gathering Storm:
64-bit processor and operating system
Intel Core i3 2.5 Ghz or AMD Phenom II 2.6 Ghz
4 GB RAM
1 GB & AMD 5570 or nVidia 450 or Intel Integrated Graphics 530
12 GB available hard drive space
Recommended system requirements for Civilization VI: Gathering Storm include:
8 GB RAM
16 GB available hard drive space
Fourth Generation Intel Core i5 2.5 Ghz or AMD FX8350 4.0 Ghz (or greater)
AMD 7970 or nVidia 770 graphics card (or greater)
Civilization VI: Gathering Storm costs $39.99 and will be available for Steam download beginning 12 p.m. EST on February 14 for Windows PC, Mac and Linux.