Rock legends Eric Clapton and Van Morrison announced this morning an anti-lockdown single they made together. The song, "Stand and Deliver," was written by Morrison and recorded by Clapton, and it will be released on December 4th.
Their announcement doesn't state the song is outright against government lockdowns to prevent the spread of COVID-19, but proceeds from it will go toward Morrison's Save Live Music campaign, which he started after virulent anti-lockdown comments.
The news reminded many people of other past controversies involving Clapton, particularly a famous incident when he made racist comments while addressing an audience during a concert in Birmingham, England, on August 5, 1976.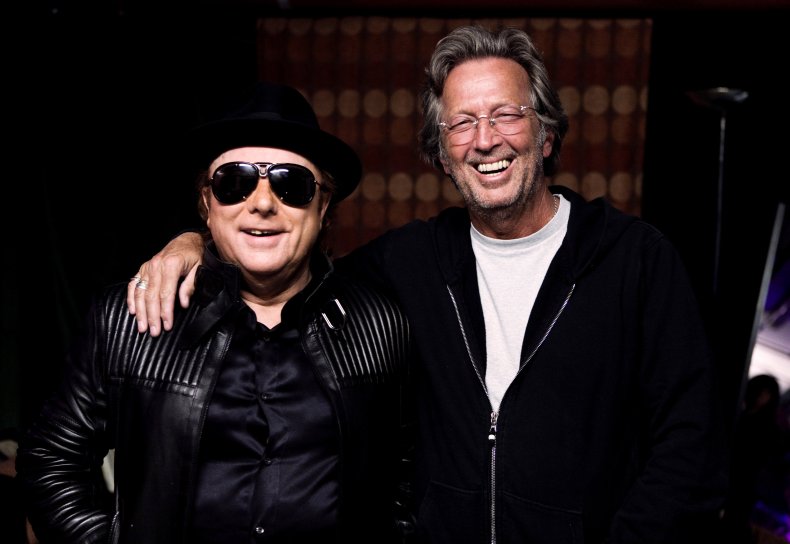 While the old diatribe from the guitarist was never forgotten by many people, it was still news to some fans, particularly younger ones who may be more familiar with him from his 1990s career renaissance, when he recorded hits like "Tears In Heaven" and "Save the World."
Many people took to social media to share those past comments, which--be warned--contain graphic and disturbing language:
Some Twitter reactions didn't mince words at all about Clapton's onstage tirade in 1976. Those comments, incidentally, helped give rise to the 1970s-80s U.K. movement Rock Against Racism.
In addition to those old, controversial comments, Clapton's behavior in his personal life didn't escape without criticism either. This commenter also pointed out how one of Clapton's most famous songs ("Layla") was about his love for his friend George Harrison's then-wife.
Some felt age and white privilege played roles in the thinking about "Stand and Deliver."
Clapton--the only three-time member of the Rock 'N' Roll Hall of Fame--once recorded a hit version of Jamaican hero Bob Marley's "I Shot the Sheriff," other were quick to point out.
The rocker did have some defenders on Twitter. As they pointed out, not only were these comments made more than 40 years ago, but it occurred while the guitarist was suffered from deep addiction issues.
However, seemingly just as many critics noted how he once recorded a sensitive ballad about the death of his son, which they feel is hypocritical given how quarantine lockdowns help prevent deaths.
Conservative commentator, podcast, and author Michael Knowles applauded the duo coming together for the cause. He was also happy to learn Morrison has released other songs this year that protest the worldwide lockdown to prevent the spread of COVID-19. Knowles later posted two of them, "Born to Be Free" and "No More Lockdown." Morrison also put out a third single on the theme, "As I Walked Out," and accused the U.K. government of "taking our freedom." The new track recorded by Clapton will also benefit Morrison's Lockdown Financial Hardship Fund, which supports musicians who have suffered financially from the pandemic.
Author and professor Ebony Elizabeth Thomas tried to seek middle ground, noting that it's possible to separate an artist's personal decisions from their art.
For his part, Clapton hasn't explicitly discussed government lockdowns. His comments in relation to the announcement of the single refers more to the loss of live music and how it affects many musicians.
"There are many of us who support Van and his endeavors to save live music; he is an inspiration," Clapton said in a statement published in Variety. "We must stand up and be counted because we need to find a way out of this mess. The alternative is not worth thinking about. Live music might never recover."