Clarence Thomas Leaves Hospital as Calls Grow for Supreme Court Impeachment
Supreme Court Justice Clarence Thomas has been discharged from the hospital Friday after being treated for an infection.
The Supreme Court released a press release confirming the news. The justice had been hospitalized at the Sibley Memorial Hospital in Washington, DC, for an unknown infection, with the courts previously confirming that he did not have COVID-19.
However, his discharge comes as he's facing calls for resignation. Minnesota Democratic Representative Ilhan Omar is among those asking for him to resign after text messages sent by his wife Virginia, who is also known by her nickname Ginni, revealed that she had wanted the White House to overturn the 2020 presidential election.
The Washington Post recently published documents showing some of the text messages she had sent to former White House chief of staff Mark Meadows, some of which peddled election fraud and Q-Anon conspiracies.
"Help This Great President stand firm, Mark!!!" she wrote in one text message. "You are the leader, with him, who is standing for America's constitutional governance at the precipice. The majority knows Biden and the Left is attempting the greatest Heist of our History."
Another text message supposedly sent by her referred to then-President-elect Joe Biden was about to be arrested, a theory that was frequently peddled by Q-Anon supporters.
"Biden crime family & ballot fraud co-conspirators (elected officials, bureaucrats, social media censorship mongers, fake stream media reporters, etc) are being arrested & detained for ballot fraud right now & over coming days, & will be living in barges off GITMO to face military tribunals for sedition," she wrote to Meadows, according to the obtained documents.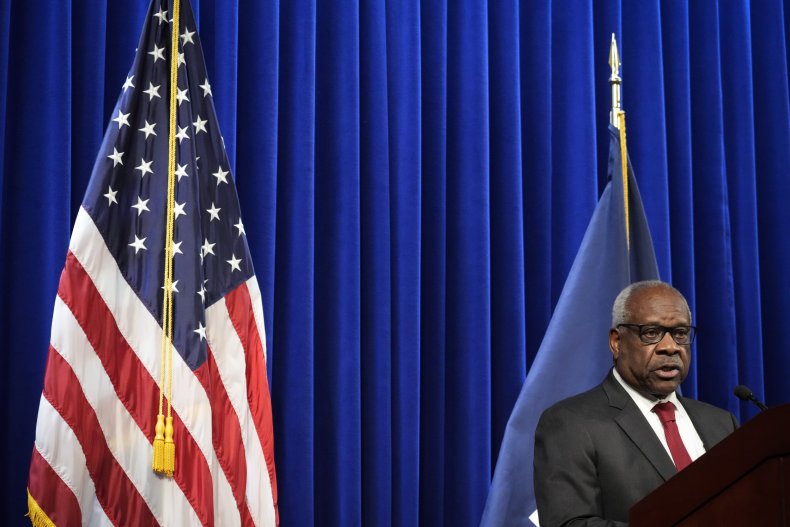 Among the messages declassified by the Post and CBS News were some of Meadows' responses to Thomas' wife, with one saying that "evil always looks like the victor until the King of Kings triumphs. Do not grow weary in well doing. The fight continues. I have staked my career on it. Well at least my time in DC on it."
Due to messages such as these, calls for Thomas' resignation have heated up. Critics have taken notice of Thomas' inability to recuse himself from investigations surrounding the January 6 riot, which were primarily spurred by presidential election conspiracies such as the ones his wife supposedly endorsed.
"Clarence Thomas needs to be impeached," wrote Omar on Twitter in a quote-retweet of a post saying that Thomas was the only Supreme Court Justice to not vote for the release of documents saying that former President Donald Trump wanted the military to seize voting machines.
"Ginni Thomas is a legit extremist," wrote comedian Kathy Griffin, saying in a follow-up tweet that she thinks Thomas "should be impeached because he never recused himself in any and all cases regarding the legitimacy of the election."
Newsweek attempted to reach out to Virginia Thomas, but could not as messaging capabilities were limited. It also reached out to Meadows' attorney for comment and will update this story once a response is received.
Update at 3/25/22, 11:51 a.m. ET: This story has been updated with additional information.