Jeremy Clarkson's Car Show is 'Worth the Money,' Says Amazon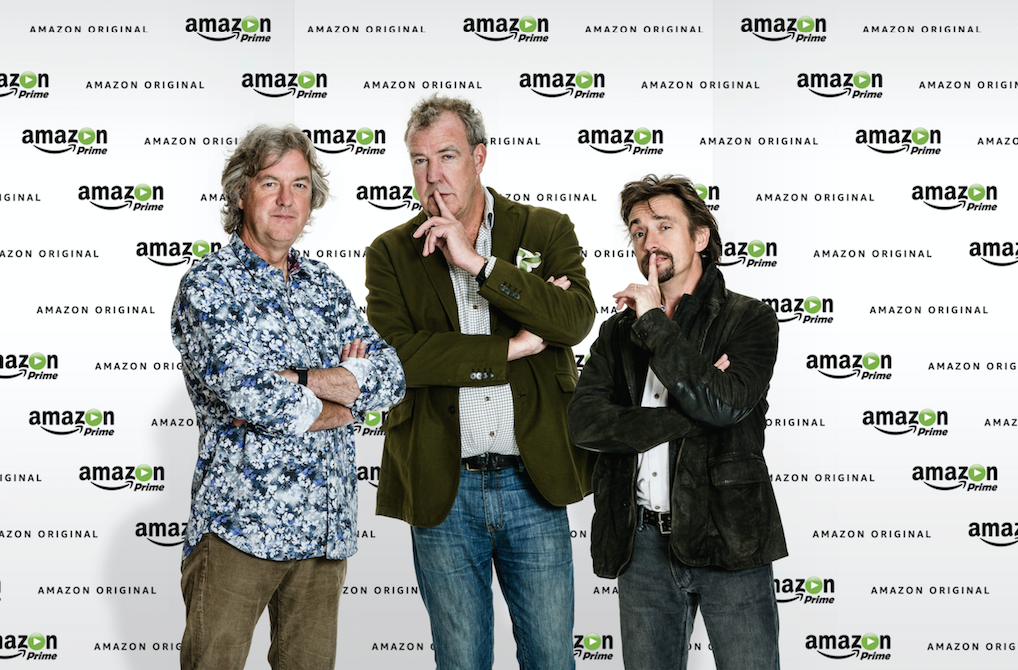 Amazon's new car show starring Jeremy Clarkson, Richard Hammond and James May doesn't yet have a title, or an air date, but some details are beginning to trickle through.
Jay Marine, European head of Amazon Prime Video, believes the former Top Gear trio are worth every penny of the reported £160 million Amazon will be plowing into the project. The online store outbid rival broadcasters such as ITV and Netflix to purchase the rights. However, Netflix's chief product officer Neil Hunt recently suggested that the new incarnation "wasn't worth the money" that Amazon was prepared to spend.
Marine sees its appeal very differently. "Have we paid a lot of money? For sure," he told the the Guardian. "But these guys are worth a lot of money. It's very rare that you find something like this, where a team come along who already have a built-in worldwide audience that I would argue is unique. This was one of the most sought-after and highly competitive situations we've seen in terms of signing them. We looked at the data every which way and we love this deal."
British PR guru Mark Borkowski tells Newsweek that Amazon's investment could prove wise and boost the streaming service, which is said to have 46 million Amazon Prime subscribers worldwide. In comparison, Netflix has 75 million.
He said: "Sky proved that paying over the odds for the Premier League and sporting events turned Sky into something very significant. There aren't many products that have the global ubiquity of [Top Gear]. For Amazon to draw in all those people all over the globe, it's a massive game."
It's certainly a vote of confidence for the British trio, whose show will be streamed exclusively to Amazon Prime subscribers around the globe in the fall. Marine also confirmed the website has no plans to offer secondary broadcast rights to more traditional outlets—meaning viewers will only be able to watch the show via Amazon.
But Borkowski says he'd be surprised if Amazon didn't offshore secondary rights to a traditional broadcaster in order to monetize its new program.
"Of course they're going to say that for the moment. This is a game being played out. If they were to say a secondary broadcaster at this stage it would spoil the fun. They want to get as many eyeballs as possible," he said.
The other point of discussion is whether the first season of the untitled car show will be released in its entirety, or follow a weekly release format. No decision has been made yet, says Marine.
"We usually binge-release. But we are open to experimenting on that. There is no doubt people have responded well to bingeing," he explained.
"But there is also something nice about a weekly cadence where people are all on the same episode and there is social discussion about what happened last night. Stay tuned, we haven't made that decision."
Not much is known yet about the new show and, rather alarmingly it appears, Clarkson, Hammond and May are still soliciting name ideas for their second act with just months to go until the Amazon launch.
Top Gear, meanwhile, is speeding ahead to a launch date in May on BBC Two—but the show has been plagued by rumors of in-fighting between new hosts Chris Evans and Matt LeBlanc.
With two rival shows, the question is whether there's an audience out there for both. But Borkowski says it all depends on the quality.
He explained: "Cars and entertainment are a sexy mix. Is there room for two brilliant programs? The answer is there always is room for two brilliant programs. The problem is if there's one mediocre and one very good program, or two poor programs."
This article originally stated that Jeff Bezos is Netflix's chief product officer. This position is held by Neil Hunt, while Bezos is the CEO of Amazon.