'Clash of Clans' 7th Anniversary Adds Birthday Surprise & Party Wizard
Clash of Clans seventh anniversary festivities have begun, bringing the Birthday Surprise obstacle and Party Wizard to the game. Below, we recap the major changes clashers should know before starting their next war.
Party Wizard
The Party Wizard offers a slightly different spin on the mechanics of the traditional Wizard, and he's described the following way in-game.
"The distant echo of a kick snare or high hat can only mean one thing: the Party Wizard is making his grand entrance. Dropping phat beats and massive fireballs, he's the last soul of post-battle celebrations."
Here are his stats: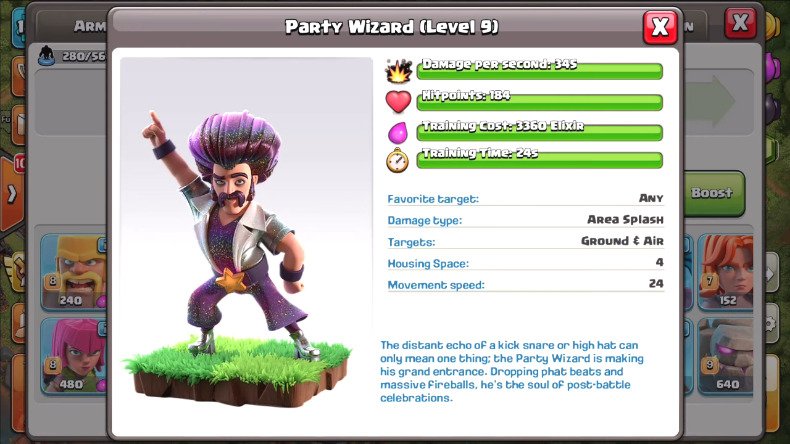 DPS: 345
HP: 184
Training Cost: 3,360 Elixir
Training Time: 24: seconds
Favorite Target: Any
Damage Type: Area Splash
Targets: Ground & Air
Housing Space: Four
Movement Speed 24
In short, the Party Wizard is fairly similar to the standard Wizard with a few key tweaks. Its health is a bit lower than the regular version, but its attack power and speed have increased pretty substantially. There isn't enough of an overhaul here that would prompt players to use them differently, but the Party Wizard should pack a little more firepower while it's available. At the very least, the new attack animations and effects are very fly.
7th Birthday Surprise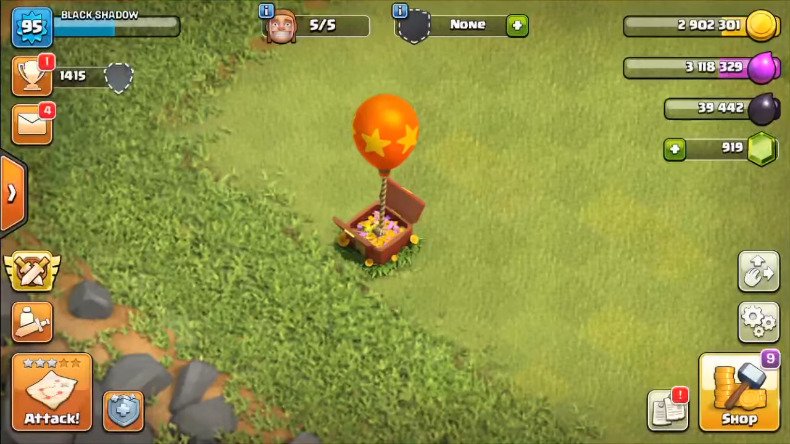 The 7th Birthday Surprise is this year's limited-time obstacle, and it features a birthday balloon. While you'll spend a handful of Elixir to remove it, you'll profit by 70,000 Elixir once it's gone. Other than the amount it yields, these are more or less a traditional Clash of Clans obstacle.
Other Promotions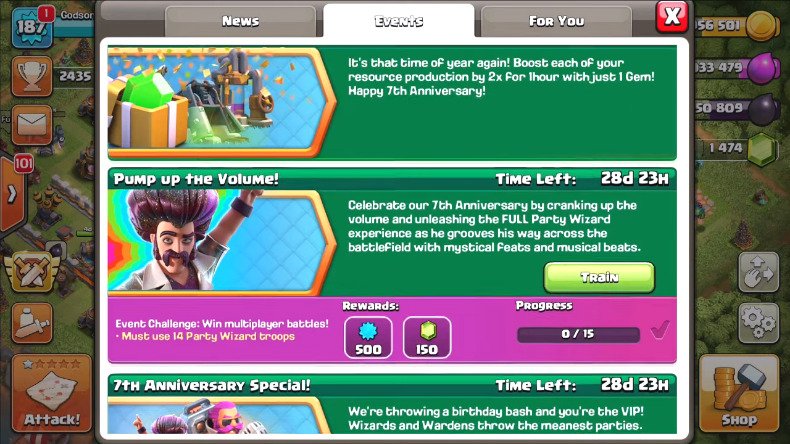 Pump Up The Volume: Win 15 battles with 14 Party Wizards - 500 Elixir, 150 Gems
1 Gem Boost: Double output for just one gem.
Compared to years past, the Clash of Clans 7th Anniversary event is pretty tame. The Party Wizard troop and Birthday Surprise obstacle are cool, but they're more of a universal cosmetic change and resource boost rather than features that offer a meaningful shift in gameplay. That being said, for those who are still dedicated to a clan after all these years, even small changes might prove to be exciting. While we certainly wish there could've been more content, Supercell has thrown a fitting party for its aging but iconic mobile game.
Clash of Clans is available now on Android and iOS. Seventh Anniversary festivities are active through the end of the month.
What are your thoughts on the Clash of Clans 7th Anniversary celebration? Is the Party Wizard enough to bring you back? Tell us in the comments section!