'Clash of Clans' Construction Reduction Event Explained - Rewards & What It Is
Clash of Clans has a new Construction Reduction event set to begin at 3 a.m. EST November 16, and some players may be wondering what it means for the associated challenge and the reward offered for completing it. Fear not, fellow clashers! While the exact event details haven't been disclosed, we've still got a pretty solid idea of what to expect from the promotion. We're here to provide the juicy details.
What is Clash of Clans Construction Reduction Event?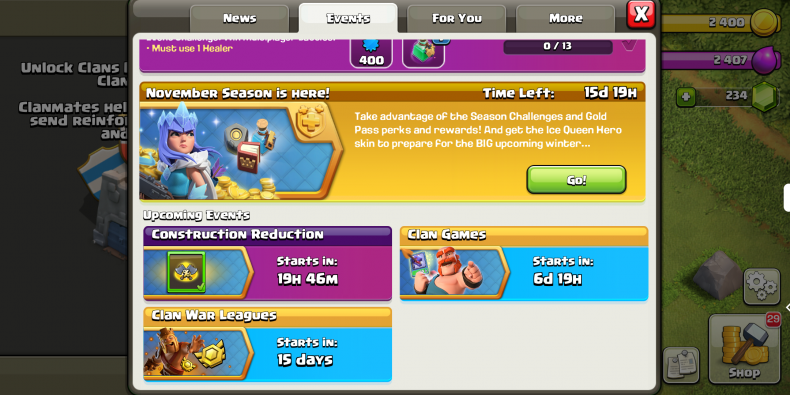 At first blush Construction Reduction sounds like it'd be an event that reduces build time for a few days, but that's actually not the case. When Clash of Clans held similar Construction Reduction events a few months back, clashers were asked to deal 800 percent damage in Builder Base battles to earn either a Rune of Building Gold or 40 Gems and five Wall Rings. Our best guess is that the Rune of Building Gold will be on offer this time around. Players will have until the event expires to claim their free prize.
For the unfamiliar, a Rune of Building Gold in Clash of Clans allows players to top off their Builder Gold storage in the Builder Base. In that case, assuming the upcoming Construction Reduction event offers the same reward, partaking in its challenge may not be worthwhile to everyone. The Builder Base has been a divisive part of the Clash of Clans experience since its debut a few years ago, so, if that short-burst mode isn't what you play, then Construction Reduction may not be very helpful at all.
Clash of Clans has been holding regular events like this Construction Reduction event for several years now, but the game's developers at Supercell haven't always been totally forthcoming about what these limited-time promotions entail. Especially for an event like Construction Reduction that's been held multiple times before, there's very little reason for the game's creators to be so coy about the offered challenge and reward. While there aren't any leaks that would help further confirm that offering, the explanation we've posited above should be enough to satisfy your curiosity.
Clash of Clans is available now on Android and iOS. The Construction Reduction event begins November 16 at 3 a.m. EST.
What are your thoughts on Clash of Clans' Construction Reduction event? Will you be hopping into the Builder Base to claim your cool reward? Tell us in the comments section!