'Clash of Clans' Hammer Jam Explained and What It Means for the Town Hall 14 Update
Clash of Clans surprised players with the start of the Hammer Jam event earlier today, but those who are new to the popular base-building game may not fully understand what it is. Below, we explain the basics of Hammer Jam and how it relates to the potential April release of the Town Hall 14 update. There's a lot to cover, so let's get right to it.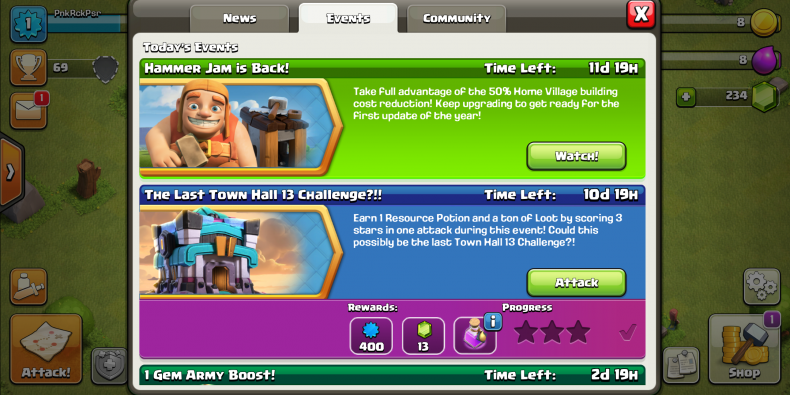 What is Hammer Jam in Clash of Clans?
Courtesy of Clash of Clans' in-game news screen, Hammer Jam features the following description:
"Take full advantage of the 50 percent Home Village building cost reduction! Keep upgrading to get ready for the first update of the year!"
The main thrust of Hammer Jam, then, is that all Home Village building upgrade costs have been cut in half. As with most promotional events, however, this one comes with its own share of restrictions that aren't explicitly stated here. Because only the Home Village is mentioned in the news post, that means these upgrade cost reductions don't apply to every type of upgrade in the game. If you're planning to upgrade your Heroes, Builder Base or Lab Research, for example, you'll still have to pay full price for that.
Still, if you've been looking for a time to climb to a new Town Hall level, this may be your best opportunity to do so for the foreseeable future. The last time Hammer Jam took place was in May 2018, two weeks before the Town Hall 12 update. In other words, Hammer Jam isn't something Supercell takes advantage of very often.
What does Hammer Jam mean for the Town Hall 14 update?
Given that Hammer Jam's last appearance in Clash of Clans happened right before a major Town Hall update, the fact that it's back has sparked lots of discussion among the game's community. Just like its previous incarnation, 2021's Hammer Jam is set to last two weeks. Could that mean the highly anticipated Town Hall 14 update might release on or around April 12, right as those festivities wrap up? That's certainly a distinct possibility.
Even the game itself seems to be teasing something, as The Last Town Hall 13 Challenge is active through April 11. Those who are able to three-star a base with eight Inferno Towers and seven Heroes have a chance to earn 400 Experience, 13 Gems and one Resource Potion. If this truly is the last challenge for Town Hall 13, that means the challenge system is being overhauled, there will be future challenges at lower Town Hall levels or there's a new maximum Town Hall on the way to replace 13. Given the evidence described above, we'd be inclined to believe the latter assumption.
During a recent Reddit AMA, Supercell officials said the studio aims to release its next big update to Clash of Clans in April. In social media posts, however, it's merely suggested that there's a "first update of the year that's coming soon." While it's possible we'll get one or two more substantial patches before Town Hall 14 leaves its permanent mark on the game, there's little doubt that Supercell is gearing up for some big Clash of Clans content in 2021.
Clash of Clans is available now on Android and iOS.
What do you think Hammer Jam returning to Clash of Clans means for Town Hall 14? Will the new level cap arrive in April? Tell us in the comments section!